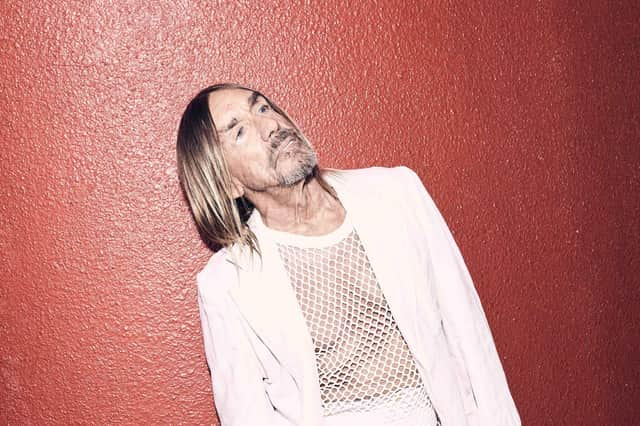 Iggy Pop: Every Loser (Atlantic Records/Gold Tooth Records) ****
Little Simz: No Thank You (Forever Living Originals) ****
Joesef: Permanent Damage (AWAL) ****
All hail the clean and mean Iggy Pop, healthy and fulfilled with music, nay life, as his drug, a septuagenarian survivor who can get away with just about anything through force of personality and a keen ear for suitable collaborators. Following diverse adventures in jazz, French, poetry and electronica (with Underworld), his latest album Every Loser is a return to wild man rocking, featuring 11 lean and loud songs to "beat the s**t out of you" and a supergroup musical line-up including Red Hot Chili Peppers drummer Chad Smith, Guns N Roses bassist Duff McKagan, the late Taylor Hawkins of Foo Fighters and various members of Jane's Addiction, Pearl Jam and Blink 182, all queuing up to play with the godfather of punk.
The results are fierce and funny, varied and limber. Opening track Frenzy lives up to its title, with Pop cussing and testifying through a garage metal blowout. What is he in a frenzy about? What have you got?
Next, he manifests in prowling crooner mode for the slick Eighties synth rock requiem to Strung Out Johnny, the addict he once was, then snaps back to the present day with New Atlantis, his climate change paean to Miami, "a beautiful whore of a city". He exercises his evocative speaking voice here and on advertising break The News For Andy.
Neo Punk offers what it says on the tin, a nosebleed-style, sneering satire on the commodification of the movement Pop had no idea he was spearheading back in late Sixties Detroit. Speaking of, Modern Day Ripoff launches with Stooges-referencing blistering guitar from producer Andrew Watt.
Elsewhere, Pop takes tangential shots at social media dependency and toxic culture within the music industry. "Do you get it?" he goads. We can only be grateful to receive.
Little Simz also gnaws at the hand that feeds with rueful reflections on her industry relationships on latest album No Thank You, announced and released in short order at the end of 2022, mere weeks after she scooped the 2022 Mercury Prize for its predecessor Sometimes I Might Be Introvert.
For all her confessional sharing of professional and mental health struggles, Simz sounds musically assured, her distinctive, articulate flow set against an intoxicating, slightly trippy suite of soul, jazz and gospel samples and percussive rhythm tracks created by her maverick producer Inflo, garlanded with bittersweet vocals by Cleo Sol.
Gorilla opens on an orchestral flourish, before Simz expertly rides the bendy bassline sampled from Jurassic 5. Silhouette blends drum'n'bass with psychedelic gospel before she drops out to allow for the soothing choral prayer that "time will heal you" and there is more longing for spiritual succour on X, another strongly percussive chamber gospel gem from an artist who won't play the accepted promotional game, making music which deserves to be heard by the widest possible audience.
Celtic soul boy Joesef also combines lyrical self-doubt with supremely confident musical style on his debut album. Permanent Damage is a mellow, seductive counterpoint to his braying peers – this self-confessed sad boy licks his emotional wounds with an angelic falsetto against a sumptuous string-laden backdrop which belies his roots as a home recorded artist.
Joesef grew up gay in Garthamlock but much of the album is inspired by an ill-fated love affair when he moved to London during lockdown and contrasts his personal restlessness with comforting music such as the rapturous, carefree soul pop of Last Orders. There is nothing sonically heavy about the luscious 80s-tinged pop funk of It's Been A Little Heavy Lately, while the limpid Just Come Home With Me is a tipsy swoon with strings to match.
Earthtones Trio: Sound Tracks (iOcco Music) ****
Sound Tracks emerged furtively at the tail end of 2022, so you may have missed it. Coming from the eclectic Glasgow-based Earthtones Trio – flautist Kathrine Bryan, cellist Betsy Taylor and pianist/composer/arranger Euan Stevenson – and with percussionist Tom Gordon adding flashes of rhythmic colour, the performances are tip-top. The music is by Stevenson – nine contemporary musings on his home town Falkirk and its environs in response to a commission celebrating the Falkirk Core Path Network – which explains the idiosyncratic blurring of lines between jazz and classical and an unceasing effervescence driven by characterful tunes, side-stepping rhythms and busy textural conversations. Physical references are explored in the filmic romanticism of The John Muir Way, a Satie-esque Wheel Slowly Turning and Antonine. Personality traits find voice in the boisterous Skirmish and elegiac Nostalgia. It makes for very pleasant, relaxed listening, just the ticket to brighten the January greys. Ken Walton
Catriona Price: Hert (Orange Feather Records) ****
Catriona Price's debut album, Hert, meaning "heart", brings to mind George Mackay Brown's long out of print An Orkney Tapestry. The Orcadian fiddler and composer weaves an intricate warp and weft of words and music around the themes of home, identity and environment, incorporating the poetry of Mackay Brown and other island writers. An admirable band includes her Twelfth Day partner, harpist-singer Esther Swift, jazz violinist and vocalist Seonaid Aitken, pianist Tom Gibbs and drummer Owen Williams. Things kick off with the title track's rumbustious layering of Kevin Cormack's evocation of the Kirkwall Ba' Game, while the dreamy harmonies of Swans have scarcely died away when Aitken launches into the full-blooded swing of No Such Thing As Belonging, Harry Josephine Giles's forensic enquiry into the meaning of "home ". This vivid aural collage closes with If …, a haunting vision of endangered islands – but also enduring music. Jim Gilchrist