Album reviews: Glasvegas | Stanley Odd | Demi Lovato
Glasvegas venture into some dark, previously unexplored musical alleyways on their new concept album, writes Fiona Shepherd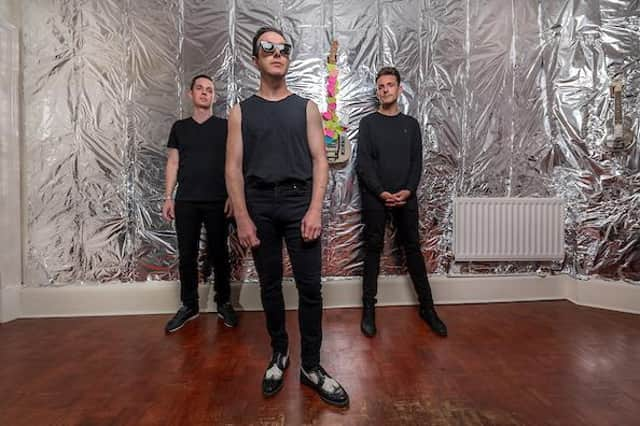 Glasvegas PIC: Stuart Westwood Photography
Glasvegas: Godspeed (Go Wow Records) ****
Stanley Odd: STAY ODD (Handsome Tramp) ***
Demi Lovato: Dancing With the Devil…The Art of Starting Over (Island) ***
With their idiosyncratic fusion of Scottish working class storytelling and epic Phil Spector-influenced pop, Glasvegas have always been fierce stylists – sufficiently so that frontman James Allan has turned latest album Godspeed into an intense auteur effort, which he started on the heels of 2013's Later…When The TV Turns To Static and only finished during lockdown.
Its stories and snapshots unspool over the course of a night, with Allan taking the music into previously unexplored dark alleyways. There is one clear sonic echo from their early days, however. Keep Me a Space is an older song which clearly adheres to their trademark spacey Caledonian Wall of Sound, with Allan cramming too many words into too few bars.
In the context of the album, it's the maudlin drunk at closing time. Elsewhere, we meet a fragile young sex worker on My Body is a Glasshouse (A Thousand Stones Ago) as well as one of her clients on the danse macabre of Cupid's Dark Disco.
We're in Marc Almond music of the night territory here, and not just because of the early 80s electro-pop influences on In My Mirror. The gothic guitars, pumping bassline and industrial glint of Dying to Live, the neon motorik groove of Shake the Cage (fur Theo) and the sexy electro pulse of Dive have a nefarious, nocturnal edge but there is also a bluesy torch song melodrama to Allan's wounded vocals which are overdone on the title track but hit the spot on the sparse aching waltz of Stay Lit.
Another cherished Scottish act returns after a considerable absence with a labour of love. STAY ODD is the latest extrovert exhortation from hip-hop band Stanley Odd, clocking in at close to an hour and accompanied by a 56-page lyric and artwork book The Magic of Everyday Things.
On that theme, they trace the semi-autobiographical journey of a bike, conveying the joyous liberation that comes with a set of wheels on the charming Recycling. Frontman Solareye pays tribute to a black magic woman on She's a Wee Witch, recalls his wild clubbing days on Undo Redo and ruminates on swapping all that for parenthood on Exciting Lives.
Love Letters chronicles his love affair with words (with a bonus point for getting that great Scots term "fankle" into a rap), The Invisible Woman spotlights the righteous grrrls of past and present and Killswitch is a wide-ranging appeal for bridges not bombs. While the pent-up political rage is to be expected, the witty free association of Bill Oddy and the languid love song Best Pals take the band into new, intriguing territory.
Even by tormented child star standards, Demi Lovato has had a rough ride of it – years of control, abuse and addiction culminating in a 2018 overdose, followed by three strokes and a heart attack. Now in her late twenties, she is more than ready to ditch the safe teen-friendly image and tell all – firstly in the documentary series Dancing With the Devil and now in the unflinching album of the same name.
"It's just a little red wine, I'll be fine", she teases on the title track, and it spirals from there. ICU relates waking up in hospital to discover she was temporarily blind. Melon Cake deals with image control to the point where she was "starving for attention" ("true story," she interjects after revealing an assistant was fired for giving her chocolate).
But these grim accounts are couched in the relatively chipper pop soul style of Whitney, Mariah and Christina, or recall the dippy electro pop ditties of Katy Perry and MOR confessional balladry of Taylor Swift, so at least the listening is easy.
Mozart: Violin Sonatas Fragment Completions (Channel Classics) ****
Who'd have thought there was still unheard Mozart to hear? The truth is these violin sonatas are completions from mere fragments the composer tantalisingly made during the final decade of his life. The archeological reconstruction of the four sonatas played here by violinist Rachel Podger and fortepianist Christopher Glynn - including alternative completions of three of them - has been undertaken by deputy principal of the Royal Academy of Music, Timothy Jones, and it's hard not to imagine them as echt Mozart. Jones' realisations sparkle because he doesn't allow himself to be creatively confined by the snatches of original material. Instead there is - as in an extensive and dramatic C minor Fantasia - that intoxicating Mozartian combination of startling surprise and comforting inevitability, which in turn inspires performances of supreme eloquence and style. This skilled period instrument partnership play their part in lending this speculative music unquestionable conviction. Ken Walton
Orange Claw Hammer: New Beef Dreams! (Clock Tower Records) ****
The music of the late Don Vlan Vliet, aka Captain Beefheart, has been likened to musical barbed wire. There was much more to it than that, of course and saxophonist Steve Kettley's quartet Orange Claw Hammer have their boisterously inventive way with it on this second album of Beefheart covers. Kettley, along with guitarist Stuart Allardyce, bassist Dave Beards and drummer Des Travis., transmogrify these songs into inventive and … well, beefy instrumentals, with a few suitably growly vocal contributions from Kettley. Here is Moonlight on Vermont given a muscular sax-guitar riff, while biting slide guitar launches Nowadays a Woman's Gotta Hit a Man and Low Yo Yo Stuff adds harmonica to shrilling sax and urgent guitar boogie. A closing live take on Frank Zappa's Willie the Pimp, with rumbling bass and waspish wah-wah sax, encapsulates the band's penchant for zesty groove. Jim Gilchrist
A message from the Editor
Thank you for reading this article. We're more reliant on your support than ever as the shift in consumer habits brought about by coronavirus impacts our advertisers.