Album reviews: Foo Fighters | Slowthai | Femi Kuti | Made Kuti
Foo Fighters may have had to miss out on their 25th anniversary world tour due to the pandemic, but at least it's given them time to record a new album, writes Fiona Shepherd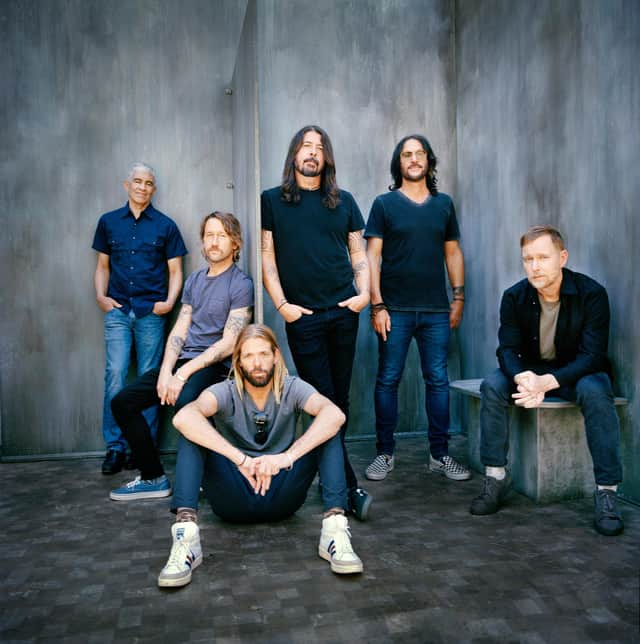 Foo Fighters
Foo Fighters: Medicine at Midnight (Roswell Records/Columbia Records) ***
Slowthai: Tyron (Method Records) ***
Femi Kuti: Stop the Hate (Partisan Records) ****
Slowthai PIC: Crowns & Owls
Made Kuti: For(e)ward (Partisan Records) ****
Of the many birthday parties postponed during the pandemic, Foo Fighters' quarter-century celebrations were set to be among the best attended, stretching around the world for 18 months. But don't cry for them Argentina (or anywhere else) – Dave Grohl's crew have the resources to prevail, not to mention the positive attitude. After a slight delay, they've decided to send themselves their birthday card anyway in the shape of self-styled party album Medicine at Midnight.
Grohl has alluded to strange hauntings during the recording process, which may or may not have curtailed recording – regardless, the upshot is a trim nine tracks delivered over 37 minutes. Kylie and Dua Lipa have nothing to worry about in the party stakes but Medicine at Midnight does at least meet the band's criteria to make a rock record with groove, as evinced by the lithe, muscular opening track Making a Fire and the whiplash syncopation and industrial funk of Shame Shame.
Cloudspotter flirts brazenly with Prince-style funk rock and breathy male/female unison vocals before giving way to a gritty Grohl holler on the amped-up chorus. Former single Waiting on a War is more typical Foos fare with its simple, singalong ode to atomic panic, while No Son of Mine is a recognisably punky garage number bolstered with soulful backing vocals and Love Dies Young is a streamlined gallop with skirling guitars.
In contrast, there are shades of INXS in the sultry shimmy of the slick, percussive title track while Grohl softens his delivery further to a croon on Chasing Birds, which is reminiscent of one of his buddy Paul McCartney's floatier confections. While the band sound reasonably at home with this different dynamic, Medicine at Midnight won't deliver the desired energy shot for those about to rock.
Northampton rapper Tyron Frampton aka Slowthai also holds his horses on the follow-up to his Mercury Prize-nominated Brexit autopsy Nothing Great About Britain, reeling in the punky rampage to look inward on the self-titled Tyron.
Playing on the notion of the divided self, side one of the album fronts with upper case song titles, while side two broods in lower case. Fellow grim star Skepta guests on CANCELLED, inspired by the fallout from a lairy appearance at the NME Awards and notable for rhyming "sock in me" with "Jodorowsky" (the most inventive of the album's litany of unexpected references), while PLAY WITH FIRE's confessional character is actually a recitation from Frampton's Twitter feed.
Side two continues the deceleration with the retro soul of i tried, the sultry vocals of Deb Never on push and another guest, James Blake, referencing Mariah Carey's Dreamlover on feel away. Frampton seems no closer to resolving his differences by the end of the album as the dose of perspective on the woozy terms ("shit could be worse") gives way to screams of frustration on the closing adhd. Better out than in though.
Father and son Femi and Made Kuti come together to release their new albums as one package called Legacy +, in reference to the enduring influence of their father/grandfather, the late Nigerian superstar Fela Kuti, on their lives and work.
Both men take up his torch, delivering clear-eyed political comment on Nigeria's woes in the most irresistible Afrofunk terms. The song titles on Femi Kuti's Stop the Hate – Land Grab, Show of Shame, As We Struggle Everyday – tell their own story but are eloquently underscored with glorious funk fanfares, glistening keyboards and restless rhythms.
Made Kuti composed, arranged and played every instrument on the accomplished For(e)ward, employing lithe polyrhythms, urgent declamatory horns and a bittersweet children's chorus across a cosmic jazz landscape of laments on child poverty and sexual harassment on campus.
Pelham Humphrey: Sacred Choral Music (Delphian) ****
The years immediately following the Commonwealth, with Charles II on the restored English throne and encouraging his Chapel Royal musicians to embrace the fruitier continental musical fashions he experienced during his European exile, witnessed an explosion of radical creativity in London's sacred institutions. Purcell was the ultimate result, leading on from the likes of John Blow and Pelham Humphrey, part of a precocious generation whom Samuel Pepys recorded as already seriously composing before their voices broke. The short-lived Humphrey (1647-74) is the focus of the service settings and anthems performed here by the Choir of Her Majesty's Chapel Royal and period instrumental ensemble under director Joseph McHardy. There is both intimacy and flamboyance in these performances, the latter arising from extravagant ornamentation practices, the former from the modest but confident choral forces. Among the rich pickings are such extended anthem settings as O Lord My God, its searing instrumental scoring gloriously illuminating the sung performances. Ken Walton
Simon Kempston: Hand on my Heart (Self-Portrait Records) ****
Simon Kempston, a distinctive if relatively unsung Edinburgh-based singer-songwriter, wears his heart on his sleeve, his querulously passionate vocals borne on masterly fingerstyle guitar. Back in the days when musicians actually played on stage, this troubadour's travels took in Canada, New Zealand and Uzbekistan. Not in the past year, however: as he suggests plaintively in one song, "There's still so far to go." Dedicated to "all who have struggled, through love, loss, life and lockdown", the album was recorded in an afternoon's take, and finds Kempston in persuasive form. There's a lean urgency to the opening title track, driven by percussive guitar and contrasting with the gently cascading chords of The End of It All. And if his songs can be suffused with regret, While Young offers upbeat consolation. As he declares in the catchy Better Not Care, "Resilience is my middle name." Jim Gilchrist
A message from the Editor:
Thank you for reading this article. We're more reliant on your support than ever as the shift in consumer habits brought about by coronavirus impacts our advertisers.
Joy Yates, Editorial Director