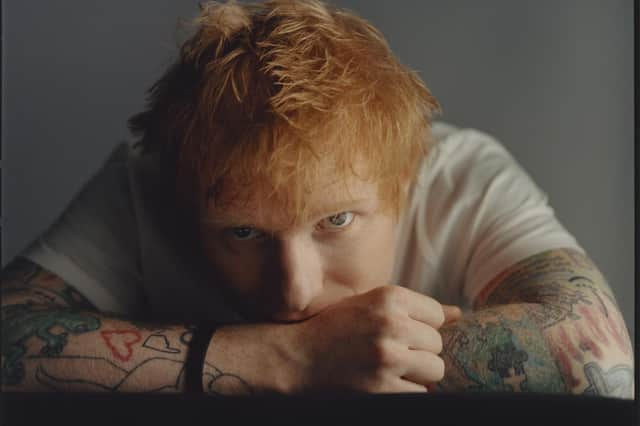 Ed Sheeran: - (Atlantic) ***
Smashing Pumpkins: Atum: A Rock Opera in Three Acts (Thirty Tigers) ***
HOUSE Of ALL: HOUSE Of ALL (Tiny Global Productions) ****
Ed Sheeran completes his mathematical series of albums with Subtract, by some way the most downbeat of his blockbusting releases to date – and with fair reason, as the songs were composed as he was grieving for his friend Jamal Edwards, while juggling the huge stresses of his wife's cancer diagnosis and a court case for plagiarism (which he has just won). The latter two traumas are detailed directly in bonus track Toughest and Sheeran is clear that this collection is about catharsis over commerce.
Still, it seems likely that these stripped-back songs will land and resonate – Sheeran trades in arithmetic, not trigonometry, after all. Subtract is awash with all-at-sea metaphors couched in gentle electric and acoustic arrangements conceived with producer Aaron Dessner, who also helmed Taylor Swift's Folklore and Evermore albums.
End of Youth is relatively trenchant, laying out his despair like a Biffy ballad but there is also solace in the limpid electro pop of Dusty as he and his daughter turn to the music of Ms Springfield. Colourblind is a slow waltz on electric piano with pizzicato strings and a nice, nuanced vocal before Sheeran rocks it up slightly on Curtains with broody electric guitar.
The old fashioned piano ballad No Strings has its charms as Sheeran resolves "if we make it through this year, then nothing can break us". The Hills of Aberfeldy meanwhile could be his bid to (further) ingratiate himself to a Scottish audience – it is certainly a more dignified appropriation of Celtic traditions than Galway Girl but only because it sails close to the tune of Wild Mountain Thyme.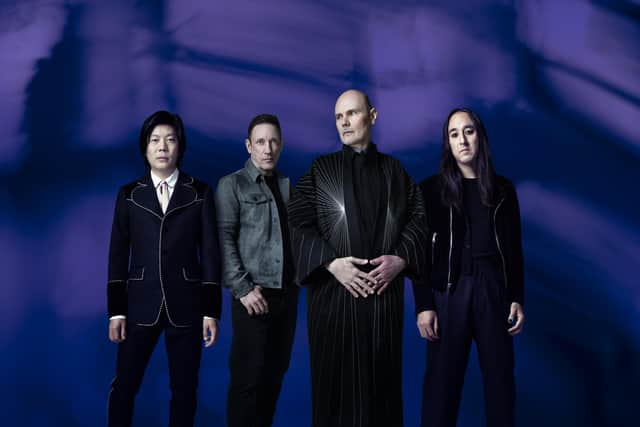 If Sheeran's troubles drag at under an hour, then buckle up for Smashing Pumpkins' latest epic – a three-part rock opera comprising 33 tracks which range wildly from the proggy analogue synth march of the title track to the neon synth odysseys Neophyte and Fireflies to the growling, downtuned guitars of Moss and the curt, Sabbath-like chug of Beguiled.
Frontman Billy Corgan's vocals continue to grate, rather impeding any intended narrative arc for Atum's protagonist Shiny – the latest incarnation of Zero and Glass who were respectively featured on previous Pumpkins concept albums Melon Collie & the Infinite Sadness and Machina/The Machines of God.
Acts I and II have already been released but much of the fun has been reserved for the third instalment, including the hokey pomp rock of That Which Animates The Spirit, the Vangelis vibes of the nine-minute Intergalactic and the ecclesiastical utterances on Of Wings. Apparently, Corgan would like to adapt Atum as a stage musical – you have been warned.
The knowingly monikered HOUSE Of ALL are a former Fall members supergroup featuring original guitarist Martin Bramah and long-serving bassist Steve Hanley among others. Their self-titled debut is an homage of sorts – check out the punk Wall of Sound drums, sinewy bassline and Mark E Smith-like delivery of Magic Sound, with its droll reference to "the Bay City Pistols". It may not be Smith and yer granny on bongos but it's a welcome reunion for some ace post-punk players.
Schubert: Symphonies, Volume 3 (Chandos) ****
Volume 3 of Edward Gardner's Schubert symphonic cycle with the City of Birmingham Symphony Orchestra takes us straight back to the beginning, with the composer's youthfully agile First Symphony. The music explodes with freshness, virility, more Haydn and Beethoven at this stage in Schubert's symphonic journey. Gardner's way with the orchestra he once presided over as principal guest conductor is direct, no-nonsense, with a robustness that is nonetheless unfailingly sympathetic to the music's sprightly, lyrical essence. The exuberant finale could so easily pass for gleeful Mozartian opera. Gardner then skips to the "Tragic" Fourth Symphony, the brooding rumination of its opening bars refreshingly discarded by the radiance in the ensuing Allegro vivace and the irrepressible colour and depth that light up the remainder of a truly arresting performance. The Overture to Schubert's opera Fierrabras, dating from later than even the "Unfinished" Symphony, provides a pungent postcript, wholesome, eloquent and dramatic. Ken Walton
Gabriel Latchin Trio: Viewpoint (Alys Jazz) ****
An established presence on the UK circuit, London-based pianist Gabriel Latchin brings a real freshness to the piano trio format with 11 of his own compositions – exemplary, straight-ahead piano jazz, delivered with crisp, unhurried purpose with the peerless assistance of bassist Jeremy Brown and US drummer Joe Farnsworth. Latchin can grab you with a slick hook, such as the opening Says Who? or the irresistible groove to Train of Thought, while Farnsworth's brushes skitter and whirr their way through the exuberantly up-tempo Stitch In Time. There's the affectionate, thoughtful balladry of A Mother's Love, while bass and drums lay down a taut opening flicker that recurs through the otherwise strolling Rest and Be Thankful. Tributes to Latchin's heroes include O Mito – a rollicking tribute to João Gilberto – as well as a nicely strutting nod to the late Cedar Walton and a warmly expansive Song for Herbie. Jim Gilchrist