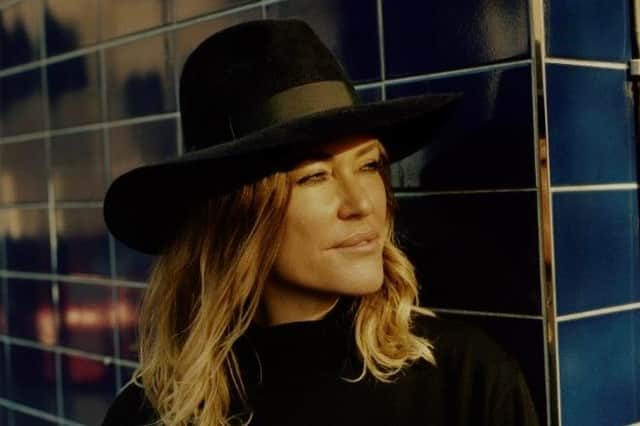 Cerys Matthews, Hidden Orchestra and 10 Poets: We Come From The Sun (Decca) ****
Sleaford Mods: Spare Ribs (Rough Trade) ***
Pearl Charles: Magic Mirror (Kanine Records) ****
Pom Poko: Cheater (Bella Union) ****
Singer and broadcaster Cerys Matthews starts the new year with a fresh and optimistic project marrying two of her great loves – poetry and music. Though her own lusty singing voice is absent, We Come From The Sun features Matthews in the role of curator and composer, selecting works by ten poets – some established, some lesser known – which embody the theme of birth and beginnings.
The poets were recorded pre-lockdown, speaking their own words with joy, wonder, gentleness, ardour and mystery to a complementary and dynamic musical soundtrack composed and recorded remotely by Matthews and Joe Acheson of Hidden Orchestra.
The album takes its title from the opening track, Belinda Zhawi's Flame Lily, in which the Zimbabwean-born writer explores her cultural lineage in strong women of faith against a backdrop of fuzzy synths and sonorous gourd percussion.
In contrast, the Ted Hughes Award-winning Raymond Antrobus takes an intimate snapshot of his childhood, recalling his father's patient and loving storytelling to his deaf son on the touching Happy Birthday Moon.
The brilliant Lemn Sissay provides a much needed shot of hope and possibility on Adventure Flight, his natural style resting on a bed of twinkling electronica and elegant chord changes.
Gamelan chimes and jazzy drum'n'bass provide the laid back canvas for Anthony Anaxagorou's Once I Had An Acceptance Speech, playful woodwind acccompanies Adam Horovitz's A House Built from Cloth, his evocative tribute to an upbringing thrumming with industry and activity, while Kayo Chingonyi captures the romance of the scenery and the heart in Loch Long by Ardgartan, Argyll.
Kim Moore and Liz Berry contribute two poems apiece. The irregular heartbeat of fluttering flute accompanies Moore's And the Soul, while mournful jazz trumpet and honking fowl embellish Sometimes You Think Of Bowness. Berry's visceral Connemara is a selkie story against surging surf before she moves from coast to inner city on Birmingham Roller, with haunting humming lending a devotional tone to her recitation.
This beautiful collection is intended as a springboard into a planned series of such collaborations on no less a theme than life on earth. Next up: the toddler years of discovery.
The tone may be different but there is punk poetry in the spartan sounds of Nottingham duo Sleaford Mods. Spare Ribs was recorded in three weeks during lockdown and owes its title to the idea of expendability, thrown into relief by the Covid pandemic. So there are no prizes for guessing the target of Short Cummings, a lo-fi danse macabre of tinny drum machine, lean bass rumble and a niggling guitar figure.
The skinny funk of Elocution tackles class tourism while Out There offers choice words on Brexit and lockdown observations over a stealthy syncopated sway.
A couple of pre-pandemic numbers, Mork n Mindy and Fish Cakes, capture ambivalent but disarming memories from frontman Jason Williamson's childhood, the latter a positively tuneful interlude featuring his most dulcet "singing" voice.
US singer Pearl Charles has previous form in a country duo and as a garage rock drummer. Striking out on her own, the sparkly disco pop of Magic Mirror's opening track Only for Tonight is a joyful red herring, as the rest of the album features exquisitely mellow MOR pop in The Carpenters/Rumer vein, embellished with luxurious pedal steel and trembling strings on Don't Feel Like Myself and playful baroque keyboards on Sweet Sunshine Wine.
Trim, bouncy Norwegian indie quartet Pom Poko are like your eager chum who wants to go out for a run in the snow. The grungey pop of Cheater, the seductive pop melody of Andrew and the invigorating sprint of My Candidacy blow the cobwebs away and help beat the January blues.
Paganini: 24 Caprices + 1 (Channel Classics) ****
If you want to test a virtuoso violinist to the limit, point them towards the technical Everest that is Paganini's set of 24 Caprices. The demands are infinite, from inhuman tempi to finger-twisting multiple stopping, acrobatic leaps to hair-raising octave scales. Conquer these and you're just about there, for it's important, too, to bear in mind the musicality of these showpieces. That's what puts the icing on the cake. Berlin-based Ning Feng recognises that in a sequence of performances that are convincing on a technical level – give or take the odd awkward confrontation with intonation – and also deliver on setting these miniatures out as colourful character sketches. The most testing encounter comes with the final famous set of variations, Caprice 24. Feng throws it off effortlessly, ending the album with an additional Caprice d'Adieu, a later, flirtatious composition by Paganini, written for the violinist Eduard Eliason. Ken Walton
Bancroft & Lyne: Monday Nights (Lisaleo Records) ****
Ensconced in the musicians' enclave of Pathhead, singer-songwriter-guitarist Sophie Bancroft and her husband, Canadian bassist Tom Lyne, started live-streaming weekly during lockdown. The result is this highly engaging album, with Bancroft's breathy but clearly and sinuously articulated vocals reinterpreting such chestnuts as Is You Is Or Is You Ain't My Baby?, which sashays louchly, while Cole Porter's You'd Be So Nice To Come Home To features limber scatting, which she repeats in a bouncy account of On the Street Where You Live. Bancroft's own songs paint striking images, such as an enigmatic nocturne, Fragile Moon, over delicately sketched guitar and bass, or the haunting, distant chorusing of Blue Room, while Lyne's Far From Mars is a funky little sci-fi tale. Tom Waits's Grapefruit Moon provides a wistful closer – late-night listening to relish, any day of the week, ideally accompanied by a hot toddy. Jim Gilchrist
A message from the Editor:
Thank you for reading this article. We're more reliant on your support than ever as the shift in consumer habits brought about by coronavirus impacts our advertisers.
Joy Yates, Editorial Director