Album reviews: Biffy Clyro | Alanis Morissette | James Dean Bradfield | Martha Ffion
Biffy Clyro mix things up while Alanis Morissette embraces middle age with a mature collection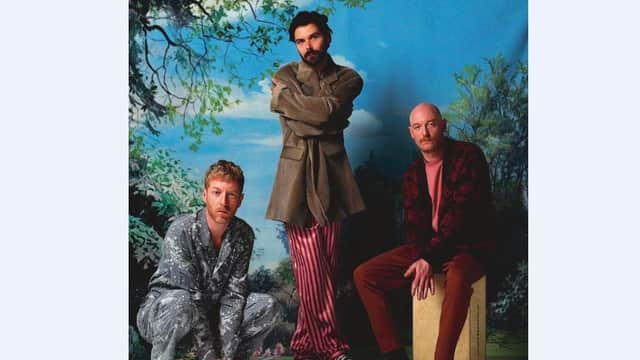 Biffy Clyro
Biffy Clyro: A Celebration of Endings (14th Floor Records) ***
Alanis Morissette: Such Pretty Forks in the Road (RCA) **
James Dean Bradfield: Even in Exile (Montyray) ****
Martha Ffion: Nights to Forget (Lost Map) ****
Be careful what you wish for. The title of Biffy Clyro's ninth album, A Celebration of Endings, refers to embracing change, waving goodbye to the old ways and forging ahead with barely a backwards glance. Well, now – or soon – is the time. The unleashing of this celebration was postponed from May but here we are with as direct and commercial a rock record as the Ayrshire trio has ever produced.
A Celebration of Endings is trimmer and more to the point than previous sprawling epics, with frontman Simon Neil giving free rein to his commercial songwriting sensibilities. The songs still change direction on a dime but there is a more freewheeling momentum, which suggests natural gear shifts rather than deliberately disruptive handbrake turns.
Still, longtime Biffy fans will be relieved to revel in the angular rhythms, funky downtuned guitars and oblique, introverted lyrics of North of No South. The baleful balladry of The Champ gives way to ELO-like symphonic pop, folding in references to climate change and the death of child refugee Alan Kurdi along the way, while the mighty alt.rock racket of Weird Leisure makes an appeal to a chaotic friend.
Grunge, prog and mainstream rock influences collide on Worst Type of Best Possible and there is a clear ear to airplay in robust radio rocker Tiny Indoor Fireworks, acoustic, string-laden rock ballad Opaque and the vacuous arena rock of Instant History – with epic ravey keyboards to boot. They recover a hint of punk savagery on the urgent End Of, which barely touches the ground, and having worked up a lather Neil is practically spitting feathers on closing track Cop Syrup, where a Jack White-like apoplexy gives way to romantic strings and a pacific expanse before this particular celebration ends on a 20-second raging reprise and the cathartic kiss-off "f*** everybody, woo!"
Alanis Morissette knows a thing or two about fury as a creative fuel but, 25 years on from her wrathful breakthrough Jagged Little Pill, she channels her traumas into candid confessionals to sweeten said pill. Such Pretty Forks in the Road, her first album in eight years, is a mature work, with all the middle-aged spread that implies. The resonant piano ballad Diagnosis addresses her postnatal depression, Pedestal faces love as a long haul, and there is a chiming levity to the healing Sandbox Love but Reasons I Drink is the one to cling to for that raging buzz of old.
Manic Street Preachers frontman James Dean Bradfield celebrates the life of Chilean poet activist Victor Jara on the rousing yet reflective Even In Exile, complemented by a three-part podcast, Inspired by Jara, available in weekly instalments thoughout August. Inspirational is the word – Jara's songs are sung to this day in Chile, he is referenced in The Clash's Washington Bullets, Simple Minds' Street Fighting Years is dedicated to him, and his Manifiesto has been covered by Springsteen.Bradfield tackles Jara's La Partida with a Morricone flourish but everything else was written by Bradfield to words by Patrick Jones, brother of Manics bassist Nicky Wire.
Occasionally his music is redolent of the Manics' AOR politicking but overall this is a more esoteric affair, with Latin inflections to Bradfield's lyrical playing on the tender acoustic instrumental Under the Mimosa Tree.
Glasgow-based Irish singer/songwriter Martha Ffion follows up her Scottish Album of the Year Award-nominated Sunday Best with a cohesive collection of light touch breathy pop, gently dusted with arpeggiated synths for that hazy, lazy summer feeling. But there are lyrical clouds looming. The title track of Nights to Forget sets a steely recall of negative encounters to a wistful pop backing and there is a dark ambivalence in the perky 80s synth pop of Walked Me Home.
Manuel de Falla: The Three-Cornered Hat – Nights in the Gardens of Spain (Linn) ****
The Orchestra of the Americas is a crack team, its transitory membership (they tend to graduate to the top jobs in top orchestras) drawn from a worldwide talent pool aged 18 to 30. That's evident from the start of Manuel de Falla's The Three-Cornered Hat, which opens this pairing of the better-known Diaghilev-inspired ballet with the more evocative Impressionism of Nights in the Gardens of Spain for piano and orchestra. The ecstatic fiesta-style cheering and clapping in the opening seconds is an electrifying clarion call that soon switches to an orchestral display of equally dazzling competence. Under musical director Carlos Miguel Prieto, Falla's fiery rhythms and sensual colourings are intoxicating. Nights in the Gardens... inspires equal commitment and rhapsodic vision, not always incisively matched by the otherwise snappy pianism of guest soloist Jorge Federico Osorio. Ken Walton
TRYPL (Ubuntu Music) ****
Saxophonist Paul Booth, trumpeter Ryan Quigley and trombonist Trevor Mires have done much gig and session work together and found they all had form playing Latin-American music, so they teamed up with pianist Alex Wilson, bassist Dimitris Christopoulos, percussionist Edwin Sanz and alternating drummers Tristan Banks and Davide Giovannini … and do they have a ball! From the opening syncopated rumpus of Booth's BoJo, with its horns sparring over staccato piano and clattering percussion outbursts, they thrive in each other's company. Quigley hits the highs in his composition Bailar Toda La Noche and Booth's Sacudido No Revuelto, while Wilson's Scallywag sees high-tension brass stabbing across its composer's frenetic piano. The only non-band-member composition is the dreamy Tres Palabras by Osvaldo Farres, with Booth and Quigley both in lyrical form, while the closing number is a Mires composition called Here We Go – and they do, they do. Jim Gilchrist