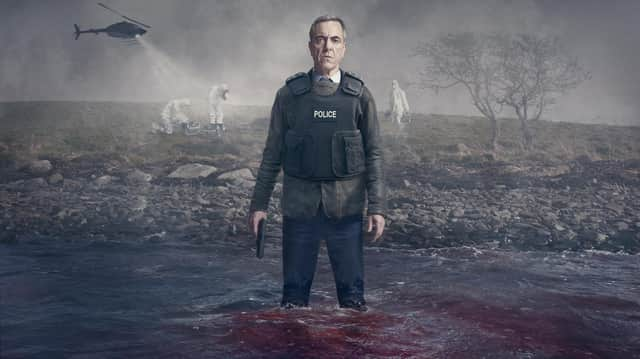 You'll remember Simon Day's character in The Fast Show. Monkfish was a "tough, uncompromising cop", played by John Actor, who was possibly as bored with the hackneyed sameyness of policiers as we were, which may explain why he was always shouting at the nearest woman: "Put your knickers on and make me a cup of tea!" Things didn't get any easier for Actor when he was then cast as a "tough, uncompromising doctor" and a "tough, uncompromising vet".
Most crime dramas are cliched enough. Boy, are they. The maverick tec with the chaotic or non-existent personal life. The last to leave the pub, he sleeps in his work-clothes, usually on the sofa, sometimes with a pizza-box for a pillow. He misses his kids - actually misses the pick-up from his estranged wife now living with her more reliable, and much less flabby, new man - and so our crimebuster consoles himself with his quirky habit (jazz, gherkins, Hibs).
Unforgotten (ITV1), back for a fourth season, does feature a takeaway pepperoni, wolfed down late at night by DI Sunny Khan (Sanjeev Bhaskar), still in his suit. There are problems at home for both the unsunny Sunny and DI Cassie Stuart (Nicola Walker) but they aren't battened-on. The set-up feels real and no one does seven rooms of gloom better than Walker.
I was worried when this show began: it just seemed so uninspired to lure one of the nation's, and the BBC's, favourite actresses over to ITV and plonk her in yet more grisly whodunnits. But while one of the biggest cliches of crime dramas currently is the big-speech boss in the incident-room surrounded by a group who, frankly, just look too diverse to be detectives, Unforgotten manages to avoid it, at least so far this series.
Maybe I'm showing my age and, rather than hipsters, am still expecting detectives to have the build of Stratford "Softly Softly" Johns but it's brave of the show, though typical of the avoidance of glamour, to begin with Walker's character arguing over her pension with her superior.
Cassie wants to quit. Sunny, investigating the latest cold case, looks lost without her. No one else in the reduced team knows that Snickers used to be Marathons. But then Cassie has a change of heart in time for a familiar Unforgotten technique: the gradual, clever linking of disparate characters, all police academy graduates who didn't stick at the job. One of them is played by Liz White which is Unforgotten's only link to Monkfish - she was WPC Annie Cartwright of fond memory in Life on Mars, whose big-speech boss would definitely have uttered a line like: "Put your knickers on and make me a cup of tea!"
The week's other new crime drama, because like investigating officers these usually arrive in twos, is Bloodlands (BBC1). "From the creator of Line of Duty," is the selling point, Jed Mercurio exec producing. Maybe for you James Nesbitt in the main role is the selling point; for me not so much. Though he was good in The Missing I'm less thrilled on the occasions when he plays smug, though of course he may simply be acting.
There's certainly no room for smugness in this Northern Ireland-set saga, and no room for that signature smirk, though when his medical-student daughter's attractive tutor mentions Viagra you may spot the hint of a raised eyebrow. Presumably it elevates without the assistance of any blue pills.
His character DCI Tom Brannick doesn't have much to smile about and after some years I think I may have found the polar-opposite cop show to Miami Vice. The latter was automatically sunshine, all peach blousons with rolled-up sleeves. In Bloodlands Brannick smothers the flames of a firebomb attack on a fellow officer with his favourite old jacket then resumes wearing it through the grot and the gloom.
An ex-IRA member has been kidnapped and the calling card left at the scene suggests "Goliath" - an assassin rumoured to be a policeman who vanished 20 years previously - is at large again. One of his earlier victims was Brannick's wife Emma, never seen again.
Understandably Brannick is very keen to re-open the files. His boss, played by Lorcan Cranitch with marvellously silent-movie-dramatic eyebrows, much less so. There's good tension between them with Cranitch's Det Super Jackie Toomey - part of the decision to overlook the final skirmishes before the Good Friday Agreement so as not to jeopardise it - telling our man: "You'll start a war. Emma's gone." When a mass grave is found you might want Brannick to get together with the uni lecturer to relieve some of the misery of this show. Yes, even if it means a return of that smirk.
How stir-crazed and bevvied-up was that lockdown programme-pitching Zoom session to have produced a game show as demented at Gordon Ramsay's Bank Balance (BBC1)? It's Jenga on a four-way seesaw with trivia questions. So that no one feels exploited by the state broadcaster there's lots of cuddly chat with the contestants. Then one admits: "I don't even know what 'Pastimes' is." Another, asked for five capitals more northerly than London, plumps confidently for Manchester. I could be kind and say that, stuck inside four walls, Covid has shrunk everyone's worldview. Or I could say that this is the worst show I've seen in the whole of the pandemic.
A message from the Editor:Thank you for reading this article. We're more reliant on your support than ever as the shift in consumer habits brought about by coronavirus impacts our advertisers. If you haven't already, please consider supporting our trusted, fact-checked journalism by taking out a digital subscription.