Aidan Smith's TV week: Devils, Behind Her Eyes, Framing Britney Spears, Crime Scene
The first disconcerting thing about Devils, the new Sky Atlantic thriller, is a key character being called Ed Stuart. Though spelled differently from the old Radio 1 DJ and kids' TV presenter, every time his name is mentioned I want to shout out "Stewpot!" and "'ello darlin'!" and "Crackerjack!" This is not very helpful when I'm trying to follow a tricky plot.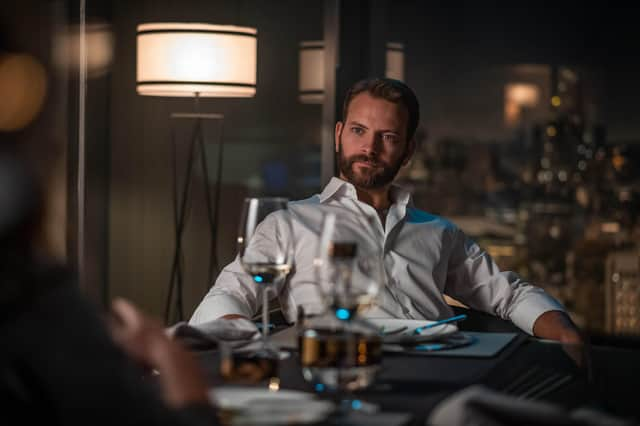 Tricky, because Devils concerns investment banking, about which I know nothing and care even less. Apart, obviously, when these clowns almost destroy the world. Then there's the second disconcerting thing: Devils comes soon after Industry, which was also about investment banking and was brilliant.
It's not Devils' fault to be following the earlier show, of course, but it suffers in comparison. Where is the sex? Where are the drugs? Obviously, Industry was about trainee masters of the universe and these dudes are at the top of their game and trading in millions daily, but still, a deal's a deal. When there's a big one why not celebrate with a few threesomes or everyone down the nightclub to dance badly in company-logo-ed gilets?
I don't expect Devils to copy Industry exactly but I was hoping for some humour. Unfortunately there are no funny lines, just portentous ones like "This business takes your soul" and "You're not like other men" and "These are the new gods!"
Because this is Sky there's a sheen: Positano, Bavaria and other glamorous locations are all upcoming. It's like Devils is saying to Industry - almost entirely office-set, with the characters using the workplace for sleep and shagging - "Hey suckers, this is what a foreign locations budget can get you!"
The wives are all full-lipped and beautiful and so, come to think of it, is Massimo Ruggero, played by the smouldering Italian, Alessandro Borghi.
Massimo is the star trader and the show turns on his relationship with his mentor Dominic Morgan (Patrick Dempsey) and his non-relationship with his rival for deputy CEO, the selfsame Ed (Ben Miles).
Ed hates Massimo - for being Italian and for not being old-school like him, the great-grandson of a Bank of England governor, who looked after little old ladies' savings books rather than risking them in a gambling hall. Devils plays out against a backdrop of real events such as Greece's financial meltdown with a sinister Wikileaks-type organisation lurking in the shadows. That should give the drama pace but it's stilted and plodding and at odds with the numbers whizzing around the screens you rather feel it would prefer us to admire grandiloquent guff like this: "I have looked into his eyes and seen the terrifying blackness of my own soul, reflected in his."
Devils should be a satire. As a drama we're invited to care for the characters and empathy for bankers is a big ask. Almost as big, indeed, as empathy for journalists.
What are the chances of this: a woman in a bar spills a drink on a man, which leads to them chatting, which leads to them snogging. They part awkwardly - he's married - and don't tell each other their names or what they do for a living. She's front of house at a psychiatry practice which is then joined by a new shrink - the bloke from the pub.
Maybe this would happen in Skinflats, but London? Stick around because at the end of the first episode of Netflix's new psychological thriller Behind Her Eyes, Louise bumps - literally - into David's wife Adele.
Louise (Simona Brown) knows it's Adele (Eve Hewson) from the photo on David's desk and she's becoming obsessed with him. This is surprising considering that replacement drink was a Macallan at £12 a shot (London prices, obviously, not Skinflats) which is a lot of money for a single mum. But then David (Tom Bateman) does have a particularly husky Scottish accent (also not Skinflats).
Where is this going? Louise and Adele, as well as a fondness for a big porridge-fed lump, also have night tremors in common. Adele has been in rehab where everyone wore flowing white and upon release she continues with this look in a Stepford Wife-type dwam. There's a clunky oddness to Behind Her Eyes, perhaps not all of it intentional.
Book a room at the subject of Crime Scene: The Vanishing at the Cecil Hotel (Netflix) and night tremors would seem a given. More chance of them, indeed, than a chocolate on your turned-down bed. The Cecil is in downtown Los Angeles. Something the guidebooks don't say is that this is Skid Row where thousands of ex-prisoners and mental patients are dumped. This lurid documentary focuses on the 2013 disappearance of a Canadian student but was spoiled for choice: the Cecil has a Wiki page just for its murders, suicides and other grimness.
If ever a programme needs a flashing-images warning it's Framing Britney Spears (Sky Documentaries), a 90-minute excoriation of celebrity culture showing how, in the words of someone at her old record label, "it's so easy to take a young, beautiful, talented girl and rip her to shreds". The film focuses on the legal arrangement which gives her father Jamie power over her medical treatment - oh, and her £42 million fortune. He doesn't come out of it well and nor do prurient chat-show hosts (Is she a virgin? Has she had breast implants?) or ex-boyfriend Justin Timberlake or gossip mags or the paparazzi who chronicled every nanosecond of her breakdown.
A message from the Editor:Thank you for reading this article. We're more reliant on your support than ever as the shift in consumer habits brought about by coronavirus impacts our advertisers. If you haven't already, please consider supporting our trusted, fact-checked journalism by taking out a digital subscription.
Comments
 0 comments
Want to join the conversation? Please or to comment on this article.