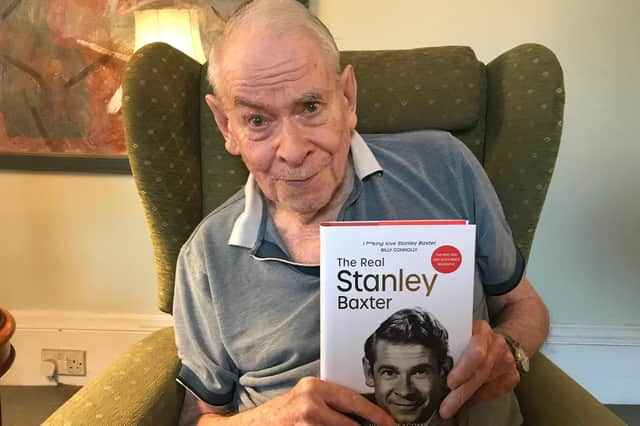 The Glasgow-born actor and comic has told for the first time of his struggles to come to terms with his sexuality, his efforts to keep it secret and the effect his troubled marriage had on his life.
Baxter, now 94 and living in London, discusses his private life at length in a new authorised biography by Brian Beacom, who has spent 20 years working on the book with the star.
The Real Stanley Baxter explores the complex relationship with his wife Moira, his early sexual encounters as a teenager, and the strenuous efforts he made to maintain his privacy in later life, including taking legal action over the publication of the diaries of actor Kenneth Williams, a long-time friend, after he had passed away.
The book charts the career of Baxter, who was born in Glasgow in 1926, from his early days as an entertainer in the Army, where he met Williams, and a spell at the Citizens Theatre in Glasgow to his hugely successful BBC TV series and a long reign as one of Scotland's leading panto stars.
The book recalls Baxter's long infatuation with a school friend who became his lover in Glasgow, with the actor admitting: "I used to almost faint at the thought of him.'
The biography recounts how "apprehensive" Baxter was when he began to forge a close relationship with a fellow Citizens actress, Moira Robertson, with the "defining point" in his life arriving when he realised that she wanted them to get married.
Baxter says: "I couldn't entertain such a thought and I felt the relationship simply had to stop, so I broke it off. However, Moira was very, very upset. I kept getting those sheep's eyes every time she passed me in the theatre and she appeared to be heartbroken."
The biography states that Baxter "reckoned the only way to break off the relationship once and for all was to be entirely honest with Moira and underline his true sexual predilection."
The actor says: "I told her my preference and said, 'That's why I am breaking off the relationship. This would be NO life for you, married to someone who is essentially and primarily homosexual."
The book recalls how he only agreed to keep their relationship going after Moira threatened to jump out the window of their second-floor flat.
Baxter says: "By that time, I had so many tender feelings for her. I thought she would be still be heartbroken. But of course I should have been stronger. It was real weakness on my part."
Baxter recalls how he would be allowed by his wife to bring men home, at a time when homosexuality was illegal in Britain.
He says: "She was very good about letting them go to bed with me. She would go off to our bedroom and let me take the one opposite."
The book recalls how Baxter's life was thrown into turmoil in 1962 when he was arrested in public toilets and charged with soliciting. The actor failed that his career would be ruined, and even considered taking his own life.
He said: 'I was going to top myself,' he says, his voice solemn. I thought, "My career will never survive this. And if I don't have a career, what do I have?"'
However the charges were dropped when the police officers who arrested him admitting he was on his own at the time.
Baxter would go on to have a secret long-term relationship with a German accountant, but remained married to Moira until she died of an overdose when he was overseas in 1997.
Reflecting on his private life, Baxter tells Beacom: "Anybody would be insane to choose to live such a very difficult life. There are many gay people these days who are fairly comfortable with their sexuality, fairly happy with who they are. I'm not. I never wanted to be gay. I still don't."
A message from the Editor:
Thank you for reading this article. We're more reliant on your support than ever as the shift in consumer habits brought about by coronavirus impacts our advertisers.
If you haven't already, please consider supporting our trusted, fact-checked journalism by taking out a digital subscription.
Joy Yates
Editorial Director