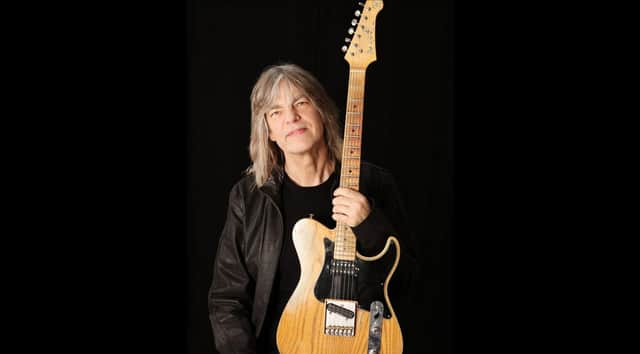 Mike Stern
Venues, jazz and otherwise, may remain despondently silent, but the synapses of the wired world are fairly jumping with online gigs and downloadable releases. And this month brings the first major date in the Scottish jazz calendar, Aberdeen Jazz Festival, which runs online from 25-28 March, with promise of a later phase of live and online performance once Covid restrictions are lifted.
Aberdeen's forthcoming online bill (tickets on sale at www.aberdeenjazzfestival.com) looks an impressive one, given the circumstances. Headlining is the American jazz-rock guitar hero Mike Stern, no stranger to Scottish audiences, who has assembled a formidable band in New York, including his wife, guitarist and percussionist Leni Stern, specifically for streaming during the Aberdeen event, plus home-grown saxophone star Tommy Smith, who teams up with pianist Pete Johnstone for an evening of music by Chick Corea to mark the hugely influential keyboard maestro's passing last month.
Also appearing are vintage jazz specialist Ali Affleck, celebrating trad and swing jazz with pianist Brian Kellock and trumpeter Enrico Tomasso – expect the unruly shades of Bessie Smith, King Oliver, Louis Armstrong and others to be invoked.
Guitarist Graeme Stephen, meanwhile, straddles jazz and folk, in a trio with Lau fiddler Aidan O'Rourke and young Glasgow drummer Stephen Henderson. Also from Glasgow's hotbed of youthful talent comes the "doom jazz" power trio of saxophonist Harry Weir's Aku!
Tommy Smith has also just released five short, downloadable solo saxophone tracks under the title Solow, inspired by the unique heterophonic Gaelic psalm singing of the Isle of Lewis, where he apparently spends every Easter. Its distinctive call-and-response technique, he suggests, has had a wide influence on music and he employs it here, multitracking responses to his solo statements to striking effect in. tracks ranging from the medieval polyphony of Perotin to the old Kirk psalm tune Montrose (see https://tommysmithsaxophonist.bandcamp.com/album/solow).
Meanwhile, the aforementioned pianist Pete Johnstone, known for his work with Smith and with the award-winning young Glasgow quartet Square One, takes the organ stool in the gutsy Prime Trio, whose debut EP has just been launched online. Johnstone joins guitarist Kevin Mackenzie, whose playing credentials extend back to the 1980s with the innovative jazz-folk fusion of the John Rae Collective, and drummer Doug Hough, whose collaborators have included guitarist Ant Law, saxophonist Martin Kershaw and US pianist Louis Durra.
Guitar-organ-drums is something of a classic format, and the EP's five substantial tracks find the trio fulfilling it in style, the distinctive contrast of clean guitar lines with grainy organ tones sounding over Hough's limber drumming. It features compositions from all three, such as the appropriately springy zest of Johnstone's Bounce and a wistful ballad, Reclamation, by Mackenzie as well as a full-ahead cover of Bronislaw Kaper's movie theme Invitation (see http://www.kevinmackenzie.co.uk/Kevin_Mackenzie/PRIME.html).
Further emerging jazz talent was highlighted earlier this month as part of the ever-industrious Soundhouse organisation's online Spotlight Sessions, in partnership with the Royal Conservatoire of Scotland and Newcastle University. The session featured four young musicians currently on the RCS's highly productive BMus jazz course – saxophonists Josie Girgis (alto) and Rachel Duns (tenor), Rusty Wishart on five-string bass guitar and drummer Chun-Wei Kang. Presenting their own compositions, the performance could only suggest yet further stoking of Glasgow's current hotbed of emergent jazz creatives.
Another jazz gig in the ongoing Spotlight series featured Brazilian music specialists Trio Magico, with pianist Paul Harrison, bassist Mario Caribé and drummer Stu Brown. Originally streamed earlier this week, the trio's ticketed gig can be accessed online until Monday.
Soundhouse's ongoing Spotlight programme continues until 26 April with acts including the Cathal McConnell Trio (22 March), Iain Morrison (5 April), Dean Owens (19 April) and McFall's Chamber on the 26th, while a further Soundhouse Session on 12 April, this time highlighting new folk talent, will feature Scots/Gaelic vocalist Evie Waddell, experimental instrumentalist Jenna MacRory, vocal duo Janice Burns and Jon Doran and the instrumental pairing of Chloë Bryce and Luc McNally (see www.soundhouse.org.uk).
A message from the Editor:
Thank you for reading this article. We're more reliant on your support than ever as the shift in consumer habits brought about by coronavirus impacts our advertisers.