50 Cent Glasgow Hydro gigs: Fiddy stage times, support, age restrictions, tickets and likely setlist
One of raps most charismatic performers is playing a Scottish double-header.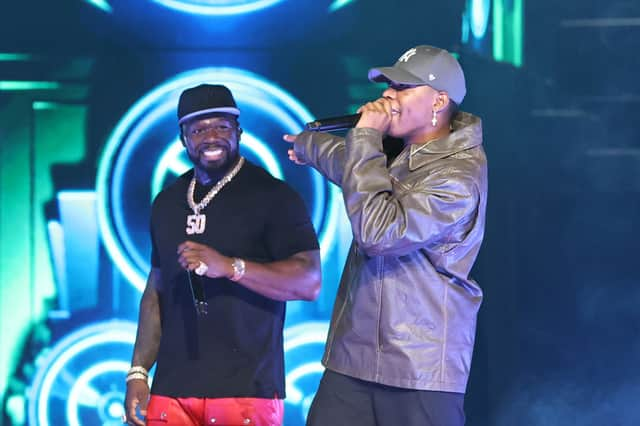 It's been 20 years since 50 Cent released his 9x platinum-selling major label debut album 'Get Rich or Die Tryin'' and he's celebrating with a huge tour entitled 'The Final Lap'.
The Eminem protege (he 'discovered' Fiddy after he was dropped from his label after a shooting which saw him, famously, hit by no fewer than nine bullets) is playing a career-spanning set covering his five studio albums and various other collaborations.
Rap fans will be delighted to hear that he's playing not one, but two, shows in Glasgow. Here's everything you need to know.
When is 50 Cent playing Glasgow?
50 Cent will play Glasgow's OVO Hydro on Thursday, November 9. Doors are at 6.30pm.
He'll then be returning to the same venue for a second night 10 days later on Sunday, November 19, with doors again at 6.30pm.
Is there a support act?
Two acts will be supporting 50 Cent at his Hydro gigs. First up will be American singer and record producer Jeremih. Then the crown will be treated to a set by 12-time Grammy nominated rapper Busta Rhymes.
Are there age restrictions?
The standing area is only for those over the age of 14, with those under 16 needing to be accompanied by an adult over the age of 18. You must be at least eight years old to be in the seated areas, and again those under the age of 16 must be accompanied by an adult over the age of 18.
What are the stage times?
These are the full approximate stage times which, as ever, are subject to change.
Busta Rhymes: 7.45pm-8.30pm
Can I still get tickets?
Limited tickets for the both Hydro gigs are still available, starting at £86.85 here.
What will 50 Cent play?
50 Cent is playing a broadly similar setlist every night of his 'The Final Lap Tour'. Expect to hear the majority - if not all - of the following songs they played at their recent gig in France.
I'm On Some Shit
What Up Gangsta
I Get Money
Hate It or Love It (The Game cover)
If I Can't
Magic Stick (Lil' Kim cover)
Hustler's Ambition
How We Do (The Game cover)
P.I.M.P.
Candy Shop
Disco Inferno
Window Shopper
Best Friend
21 Questions
Just a Lil Bit
Big Rich Town
The Woo (Pop Smoke cover)
Ayo Technology
Down on Me (Jeremih cover) (with Jeremih)
Birthday Sex (Jeremih cover) (Performed by Jeremih)
Baby by Me
Many Men (Wish Death)
I'm The Man
In da Club
Hate Bein' Sober (Chief Keef cover)
Patiently Waiting
Cuffin Season (Fabolous cover)
Statute of Limitations (Uncle Murda cover)
Wanksta
Stunt 101 (G‐Unit song)
Poor Lil' Rich
Back Down
Southside
I'll Whip ya Head Boy
Comments
 0 comments
Want to join the conversation? Please or to comment on this article.