This Rugby World Cup has been the best but it's about to be diminished - Aidan Smith
I'd like to blame the mushroom soup. This was the "catering" in Murrayfield's Bill McLaren Suite for the press corps and, on a perishing afternoon when anything hot might have been welcome, the visiting English journos were hugely unimpressed and one reaction was typical: "Did this come off the bloody pitch?"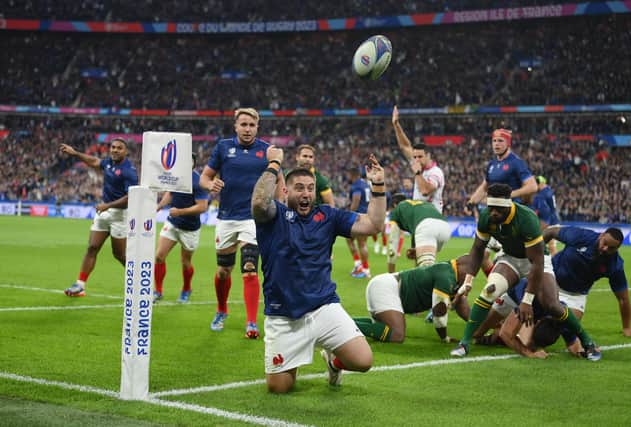 You might remember that in 2014 we had worms. That is, the turf did. Not very much went our way - not the playing surface or the soup or indeed our rugby. Scotland couldn't muster a single point, and the story as far as the Daily Telegraph were concerned wasn't the 20 scored by England but how we'd been lucky to get nil. So their correspondent - the same man who'd dissed the soup - raised the dread spectre of Six Nations relegation. "Scotland," he wrote, "should be told to start taking the Six Nations seriously or step aside for another country to have a go."
It was the first time I'd heard the R-word. Our wonderful - and wonderfully cosy - rugby festival had featured the same five nations for ever. Italy were allowed to join at the start of the new century but no more, the tournament was full. The likes of Georgia could hammer on the door all they liked but they weren't getting in.
Except … what if there was relegation? The threat of demotion for under-achievers who would be replaced by a frisky coming nation could banish complacency and add frisson, incentivising rugby beyond the Six Nations and grow the game.
Now, I'm not suggesting the Telegraph picked on us that year. Sure, we were poor but 12 months before we'd come third and it was France who collected the wooden spoon. And I'm not going to make a big thing of what's happened since. Yes, Scotland have sorted themselves out and come to dominate the Calcutta Cup. Meanwhile England have recorded just two victories in each of the past three seasons which, given their resources, suggests they're the ones who might need to "start taking the Six Nations seriously". No, I'm not going to say much about this at all. But, finally, relegation is coming to rugby.
Not right away and not in the Six Nations. Starting in 2026, the new Nations Championship will feature two divisions of 12 teams with the best of the second tier having the chance of entry to the top flight from 2030. On the face of it, this looks like rugby being magnanimous, benevolent, inclusive. Well, it might be growing the game but it's also an attempt to grow revenues. Last night's World Cup finalists, New Zealand and South Africa, plus Australia and our friends in England, are all in the red.
Thus, let's have more games, please, and more reason to charge top whack for seats. And, thinking about this, maybe Scotland vs the All Blacks in a contest for points with an ultimate conclusion, as opposed to an autumn Test and basically a friendly, is a more tantalising prospect, not least if it could deliver us a victory in a fixture of hard-luck losses and hammerings going all the way back to 1905 at Edinburgh's Inverleith.
But what will this biennial, upstart, crowbarred-in competition mean for the World Cup and what will it do to players' heads and limbs? Coming up hard and fast after the World Cup, just one year later, the Nations Championship might produce the same victors, but if not, who truly gets to call themselves the best of the best?
Rugby's World Cup does not have the exalted status of the football one, which has been around for 57 years longer and easily squashes newby competitions like the round ball's Nations League. The oval ball's Nations Championship could just as easily diminish its World Cup and was that really what rugby's rulers envisaged should happen when the latter kicked off at Eden Park in 1987?
Football's expansionism which has turned into gargantuanism with more tournaments and expanded ones has come in for fierce but ultimately futile criticism for flogging players mercilessly. It's a pity that rugby is copying with the Nations Championship which will necessitate the removal of a vital rest week from the Six Nations and ultimately pave the way for a bigger, 24-team World Cup where there will be no more fortnightly breaks from the bump 'n' grind. Because really this is a time when football should be following rugby, if only it would be brave enough to mic up its referees for a better understanding of contentious moments.
That bump 'n' grind, it can't simply be demanded of the players to sell yet more corporate hospitality. Here's Conrad Smith, All Blacks great and now union rep for rugby braves everywhere: "As soon as we don't put players first, don't say player welfare is the priority any longer, say commerciality is. Players are getting tired of it, they've had enough."
I treasure rugby's beautiful brutality and feel guilty about revelling in it. Three titanic struggles in France had ensured this World Cup would be the ultimate expression of the sport even before last night's final - Ireland vs South Africa, the Irish vs New Zealand and the hosts vs the Springboks. But there's a limit.
Rugby needs to give league structure and upwardly mobile opportunity to Georgia, Uruguay and Portugal but, much as I hope to be watching South Africa slug it out with New Zealand when I'm in the old folks' home - on a strict soup diet - there's no desire from this devotee to have them square up any more than they do right now. That's just greedy.
So if the Nations Championship is going to offer promotion and relegation should we ultimately ditch the World Cup? And did I really say that?
Comments
 0 comments
Want to join the conversation? Please or to comment on this article.