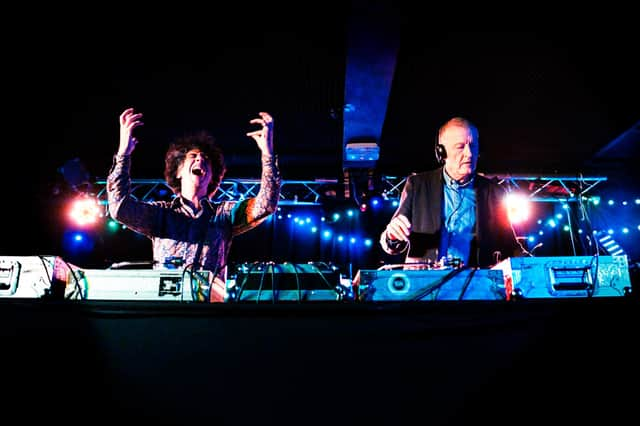 Steve Davis, with musical chum Kavus Torabi, in his phantasmagorical other life
Steve Davis as a DJ, rockin' the house? The fact he once played snooker - exceedingly well - for a living makes confirming his identity difficult enough, although just because these fellows go to work in dinner-suits doesn't necessarily mean they're all as straight as a cue.
But Steve "Interesting" Davis as he was so dubbed when what everyone meant was Steve "Boring" Davis? Well, it's him, all right. I search far and wide for sportspeople with hinterlands or hobbies beyond the usual. None has ever come close to matching Davis and the way-out weird music he loves. He plays it on club nights like this. On the radio. And now, in his band, The Utopia Strong.
The other bloke in the photo - definitely not Dennis Taylor - is Kavus Torabi, an Iranian-born musician with a c.v. from numerous underground groups who's been by Davis' side throughout this psychedelic adventure. The pair bonded at a gig by Magma, crazy sonic boomers from France who in the 1970s dressed all in black, brandished heavy medallions and sung in a made-up language about the destruction of the world.
Leo Sayer (Photo credit: Larnce Gold)
They out-progged every other prog-rock band. They came with the warning: "Never take your girlfriend to a Magma concert." But the teenaged Davis in his smelly Afghan coat loved them. Of the first time he saw them perform, in London in 1974, he's written: "The whole night is etched in my mind in a spiritual way. I haven't a clue how I got home. It didn't matter how long they played, I'd have stayed forever. And in a way, I have."
So The Utopia Strong, they must be like Coldplay, yes? Not quite. "Britain's leading harmonium/bagpipe/modular-synth power-trio," Davis laughs when we catch up via Zoom. Torabi is in on the call just like he's collaborated on the new book Medical Grade Music. With the third member, Michael J. York, they had a Glasgow gig cancelled by Covid but hope to be touring again this winter.
In what is a joint musical memoir, Davis writes amusingly about youthful cultural references remarkably similar to my own: Pogle's Wood, Fireball XL5, Raquel Welch in One Million Years BC and Subbuteo, though I never had a Great Dane invade the felt pitch, "smashing his cock and balls into my face … I'd been too preoccupied with discussion about whether the crouching goalkeeper was better than the diving one". I'm with Davis in his admiration for Gentle Giant and Caravan and right up until the moment when he first enters a snooker hall. Notices above the tables warned: "No whistling, no coin-tossing, no spitting." Music was obviously verbotten, too.
Punk rock is supposed to have killed prog but Davis tells me that for him it was snooker. To become as good as he was the game had to be the grand obsession at the expense of everything else. And he never discussed music, the challenging stuff he liked, with his rivals on the green baize. "Although once, flying back from a tournament in China, Terry Griffiths was intrigued by the noise leaking out of my Walkman and asked for a listen. It was Magma, and to be fair to him, he stuck with it for the whole album. He told me he quite liked it. Terry's a bit alternative, although you'd never know it."
But when Davis quit snooker and delved back into music, even DJ-ing seemed a bit of a stretch. Playing an instrument? In a band? No way. He'd had several music-themed nightmares at the height of his fame when his every utterance - "I prefer snooker to sex" - made banner headlines. On The Leo Sayer Show he accompanied the star on piano - disaster. He tried again on Australian TV with French and Saunders - disaster. He switched to harmonica but Jools Holland was unimpressed.
Then he discovered an instrument more to his liking: "Kavus and I were at a gig. The support band, Hirvikolari, came from Finland - translated, it's 'Deer that has been killed by a car' - and this guy was playing a box with wires coming out of the back. I was agog. There was no keyboard! You didn't need dexterity!" He bought himself a modular synthesiser, carried it around for a while, too scared to give it a go. "Then," adds Torabi, "we were DJ-ing in Thailand when Steve played me some stuff he'd recorded on his phone. It was great."
The Utopia Strong's debut gig was, bizarrely, a modular synthesiser trade show, in surroundings so cramped that Davis kept thinking of the scene in Airplane! when a flailing guitar results in the sick child losing his drip. Still, all bands have to start somewhere.
"I never thought I'd ever be in one," he beams. "As a teenager it wasn't even a dream. I suppose there's a connection between what I used to do and improvised music because in snooker you never know how a match is going to unfold. Still, this is mad."
Steve "Excited beyond belief" Davis adds: Maybe it's all a dream and I'll wake up in Romford Snooker Club playing the 1982 Lada Classic again, but I hope not. What would my old chums make of what I'm doing? Stephen Hendry, I know, thinks I lost it a long time ago. I did give a CD to Alan McManus but he never told me what he thought of it. Funny that!"
Medical Grade Music (White Rabbit) is published on 15 April, price £20.
A message from the Editor:
Get a year of unlimited access to all of The Scotsman's sport coverage without the need for a full subscription. Expert analysis of the biggest games, exclusive interviews, live blogs, transfer news and 70 per cent fewer ads on Scotsman.com - all for less than £1 a week. Subscribe to us today