Rugby World Cup: Reviewed, refined, rewritten loads of times, yet still as clear as mud - Aidan Smith
The fastest boy in the Broughton High School 2nd XV was Kenny Armstrong. The rest of us simply gave him the ball and watched him go. At first we called him Road Runner after the Looney Tunes character but later, when we all got into rock music and Kenny decided Deep Purple were his favourite band, one of their anthems became his nickname – Speed King.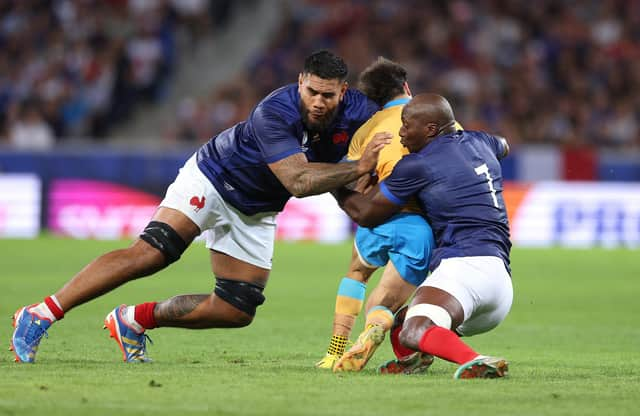 In my very first experience of having to question the arcane rules of rugby union, Speed King left the entire opposition coughing on his vapor trail and touched down for a try in the nonchalant manner we'd come to know and love, But …
"Insufficient force," declared the referee. Eh? As captain I sought clarification. "Your winger needed to be more definite, more decisive. This was the action of a boy – a boy who doesn't play rugger – stooping gently as if to pick a daisy."
The official was Trinity's games-master and his sneering tone only made us more suspicious of an adjudication which ultimately cost us the match, would be recalled at reunions for years after, and provided Kenny with one last nickname before he passed away far too soon – Insufficient Force.
And those rules now? They've been reviewed, refined and rewritten loads and yet there are times when they end up seeming as clear as mud. One of those times is this Rugby World Cup, which is unfortunate to say the least.
The tournament should be the showcase, the celebration, the golden ticket to grow the game, win hearts and thrill. Instead, we have a situation where the most crucial law – designed to protect heads and prevent concussion – has become the one provoking the most intense controversy and argument.
Sir Clive Woodward is among the elder statesmen frustrated by the inconsistencies. They're confusing, confounding and – if he had any – would be causing him to tear his hair out. The World Cup-winning coach is part of ITV's coverage this year, working alongside ex-refs, and says: "When even the experts aren't sure what's going on, I think rugby is in a bit of trouble."
Scotland's Jack Dempsey was hit by Jesse Kriel of South Africa in a near-identical tackle to the one that did for Tom Curry. The England flanker had a yellow card upgraded to red for his head contact and was banned for two matches but the Springbok received no sanction at all.
"Rugby got the Kriel incident badly, badly wrong," insists Woodward, "and left itself open to ridicule as a result." There have been others, France's Romain Taofifenua and Chile's Martin Sigren also escaping with yellow or no action after blows to the head of an opponent. Fears have been voiced that this World Cup is in danger of being defined by refereeing decisions.
Of course these days it is not just one man making the call, as it was for my old team that Saturday morning on the school-fields (no offence to Trinity Academy, by a way, a fine establishment currently teaching two of my kids). At elite level there have been TMOs – television match officials – for more than two decades. And France's tournament has the bunker.
Stationed at Roland Garros, its FPROs – foul play review officials - remove red-card rulings from the on-field refs. Extra pairs of eyes, and additional time to review, should help. That's the theory, but in practice the process has not prevented dispute and muddle. The men with the ultimate say are reluctant to be named, fearing abuse and threats. Suddenly their bunker assumes its wartime aspect, one that wasn't anticipated.
I love rugby and have written before how I may even love it more than football. Football is simple – that's its beauty. But rugby is a game of courage and – despite the width of the thighs and the thickness of the necks – complexity. I listen to coaches and players post-match at Murrayfield analyse and dissect intricacies, subtleness amid the great ferocity and things I simply did not see happen. Fleetingly, I've wondered: are these guys just pseudo-intellectualising grunts and dunts? But no. Football is pop and rugby is jazz.
The complexity cannot be underestimated. Rugby is a collision sport – a huge appeal - attempting to somehow apply brakes to itself. Situations will dramatically alter in a millisecond. The Uruguayan hit by Taofifenua was suddenly falling as a result of a team-mate's intervention. Even so, many observers concluded that Taofifenua's tackle was in any case illegal. Many, but just not those in the bunker.
Scotland coach Gregor Townsend argues the "scattergun" fashion in which rugby's rules are being applied does the sport a "disservice". He asks whether the law on head contact is only being applied on a "whim". Australia coach Eddie Jones contends the use of technology is "fraught with danger". Ex-ref Owen Doyle expands on this, pointing out the absurdity of the most-qualified person to make a red-card decision – the man on the park with the whistle – being "clearly more than content to pass the buck to the bunker" where judgement comes from officials with less experience.
Such controversies may be exercising the minds of the rugby nerds but for casual watchers already struggling with the rules they must be baffling – and for those the sport would be hoping to interest, a turn-off. Football has discovered with VAR that the intervention of technology does not settle all contentiousness and supplies only ersatz excitement. Rugby hardly requires any additional stoppages but needs technology more, and for the outcomes to be the right ones.
And in my playing days, if the bunker had been in operation, I'm in no doubt that Speed King would have been awarded The Great Lost Try. He deserved it.
Comments
 0 comments
Want to join the conversation? Please or to comment on this article.