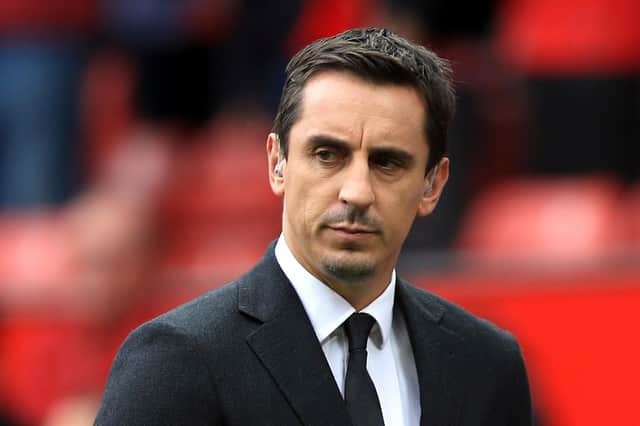 Gary Neville has urged footballers to take responsibility for their own social media. Picture: Mike Egerton/PA Wire
Hard to believe it was a quarter of a century ago that a celebrated American author pitched up in a tiny town in the Abruzzo mountains of central Italy following the "miracle" of their football team winning promotion to Serie B.
Inspired partly by the 1994 World Cup in the US, McGinniss had developed an obsession with football, particularly Italian calcio, and almost spontaneously – but also, apparently, to avoid writing a book about the OJ Simpson trial, for which he had been offered an enormous advance – he went to Castel di Sangro to live and follow the team's adventures in Italy's second division.
The story he tells in the subsequent book is extraordinary. Absolutely amazing. But reading it again, I am struck by how dated so much of it feels, even though 1996 is hardly ancient history.
The Stadio Teofilo Patini in L'Aquila, Italy, setting for Joe McGinniss' book, The Miracle of Castel di Sangro. Picture: Giuseppe Bellini/Getty Images
Or so I thought. But in his undertaking McGinniss now seems like an adventurer, a polar explorer, a sailor heading into uncharted water or a mountaineer setting off to climb unconquered summits. The internet had only just become a thing and doesn't merit a mention in the book. The players of Castel di Sangro get in enough trouble without having Twitter to contend with.
It's been a weird, discombobulating experience to be immersed in 1996 while simultaneously absorbing some of the sports news stories of a week in which football clubs have imposed social media bans, Gary Neville has implored players to take control of their Twitter accounts, and, in an episode that even McGinniss would have struggled to imagine, Dulux got themselves in trouble for embarrassing Tottenham Hotspur shortly after being unveiled as the club's "official paint supplier," Tweeting jokes (or "jokes") at the club's expense.
Tottenham will now need an official bleach supplier to clean up the mess created by the paint manufacturer's social media team. Or will they?Maybe I've been poisoned by the cynicism that sours the later part of The Miracle of Castel di Sangro, but I smell a rat with the Dulux faux pas. Would we know the club had a "paint supplier" were it not for the Twitter stushie? I can picture the social media operative behind @duluxuk twirling his moustache like a cartoon villain.
It reeks of the kind of inauthenticity that Neville has been railing against. It was in early April that Neville issued his first plea: "Reading some of the England players tweets last night. Do any of the lads post themselves? They don't sound authentic. It's a real shame they don't manage their personal connection to the fans and media. #independentthinkers."
This week Neville was provoked by Phil Foden's "fury" after a tweet from Foden's personal account, but sent by the PR company he had charged with developing his "brand," appeared to (mildly, in a Dulux way) disrespect Kylian Mbappé.
"I mentioned on here a few weeks ago about players having their accounts run by social media companies," wrote Neville. "Lads run your own accounts! Your independent thought and authenticity is at stake . It's your voice, not anyone else's."
What does any of this have to do with The Miracle of Castel di Sangro? It's the disconnect that's so striking. And that reading it feels like being transported back to a different era – one that seems so much more distant than the (mere) 25 years since these events actually took place.
McGinniss' journey, to a place that was relatively inaccessible, where the only way to get a proper understanding of what was going on was to spend nine months there, seems like the kind of mission that wouldn't be undertaken today because it wouldn't seem necessary.
The internet has created the illusion of demystification in which there are no untold stories, no mysteries, no secrets – everything is just a Google search away. And yet, as the sage-like Neville contends, so much is not as it seems. Truth but also authenticity is being suffocated beneath the weight and sheer relentlessness of social media and its corrosive waves of nonsense, bile and abuse (there is some good stuff there, but good luck finding it).
Reading McGinniss's book again feels like being cast back to a more innocent time, which is quite remarkable given the seediness, corruption and chicanery that is never far from the surface – and which eventually (spoiler alert) spills over, leaving the reader's head spinning and the author with a horribly bitter taste. Mind you, McGinniss was doomed from the first Castel di Sangro game that he attended.
"As soon as the squad took the field," wrote McGinniss, "I felt all traces of objectivity and detachment vanish."
"They" became "we". He was smitten, becoming so emotionally invested in the club that when they let him down he wasn't just disappointed, he was crushed. The curse of the fan. McGinniss wasn't supposed to be a fan, though curiously the story that he tells – not just observer but participant – is somehow better for that.
McGinniss died in 2014 and in an excellent piece about him in the New Yorker written a couple of years later by his son, also Joe and also a writer, the "soccer" book is mentioned only in passing.
"He didn't write the Simpson book," writes Joe Jr. "He wrote a very different one instead, which got good reviews but which few people bought, called The Miracle of Castel di Sangro, about a minor-league soccer team in Italy. His public tirade about its sloppy marketing, in 1999, sealed his reputation as a publishing pariah."
Probably just as well for McGinniss that Twitter didn't exist in 1999.