Next Hibs manager: Which are you, the pro-Lenny lobby or the not-on-your-Lenny faction?
If you know Peter McDougall's Just a Boys' Game - and it's one of the finest pieces of TV to ever come out of Scotland so you really should - then you'll be aware of the significance of the line: "You don't go back."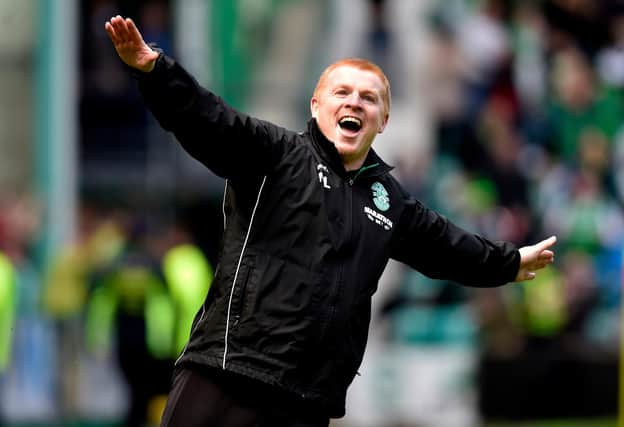 The Play for Today is essentially a cowboy movie relocated to 1970s gangland Greenock where the biggest toughnut must face up to a challenge to his crown so in every other sense there's no connection to football. It's just that line: should a manager ever return to the scene of former glories?
The Hibernian support is asking the question right now. Not about Shaun Maloney, an experiment which ended abruptly. Not about Jack Ross, although his time in charge looks better with every passing failure. And not Paul Heckingbottom, now managing in England's top flight. I mean, of course, the guy before all of them: Neil Lennon.
Amid the speculation, rumour, intrigue and snap polling over who might replace Lee Johnson, the liveliest debating concerns Lenny. He is the one who's exercising minds the most. Who's polarising opinion the most. Who's provoking the most extreme reactions. Who's causing the social media equivalent of a stairheid rammy.
It would be brilliant! No, it would be a disaster! There is as much support for the first argument as there is for the second. There is nothing between the pro-Lenny lobby and the not-on-your-Lenny faction and also nothing which would make anyone defect from either.
I don't know how you settle this. Apart from it suddenly becoming a non-story. Lennon rules himself out. Or he never actually ruled himself in. Or he doesn't get the job. In the end the most feverishly-discussed contender who might not actually have been a candidate in the first place probably won't walk back into Easter Road. Which makes all of this academic. But still: fascinating. He's that kind of character. Even when he's not managing. The resting actor who remains box-office.
And that's what all of this is about, really: entertainment. Not being dull. Sure, for Hibs fans it's about their team not being rubbish anymore and getting off the bottom of the league, but for everyone else it's about football being the branch of showbusiness it claims to be but very often isn't.
There's a school of thought that right now Hibs need to be dull. Or to be getting back to basics. Remembering how to defend. Hard to beat. If you want entertainment, as a former incumbent of the dugout once said, go to the cinema. This doesn't sound like Lenny's kind of gig, or how he would approach the job, if successful, if he even wants it.
How did he approach it last time? "Boyband" is what everyone remembers of his unveiling as Alan Stubbs' replacement in the summer of 2016. He was thinking of the Hibs he encountered during his own playing days at Celtic: flash haircuts, flattering to deceive. The team he inherited could have been insulted by that: they'd just won the Scottish Cup.
In any case he toughened them up for the challenge of finally exiting the Championship. Marvin Bartley, a player in his own enforcer image, was given many more games than under Stubbs. But so, too, Martin Boyle, as Lennon went hell-for-leather with two wingers. I think Stubbs if he'd stayed would have got the team promoted but fair play to Lennon, and the best of him was yet to come.
His Hibs were pretty good in the first half of 2017-18 back in the top flight. But in the second half they were pretty sensational. They beat Brendan Rodgers' Celtic, something only Steve Clarke's Kilmarnock could equal that season. They said to Killie: you score three, we'll score five. They said to Rangers: you score five and we'll match you. It was full-on cavalier that campaign with an away double at Ibrox and a home double - "Sunshine of Leith" cranked up to 11 - over Hearts.
And then: the comedown. John McGinn left (anticipated), Dylan McGeouch left (less so) and Scott Allan returned to parent club Celtic. Lennon's midfield - the best in the league - was gone, gone, gone. Then came frustration, fall-outs and flying chairs (allegedly). Hibs and Lenny had seemed like a wild and crazy fling. The fans woke up wondering: "Did that really happen? If so, don't we get a kiss goodbye?" But by then Lennon was back with Celtic.
You don't go back, said Just a Boys' Game's Jake McQuillan. Celtic the second time for Lennon started well but finished dismally. Just like at Hibs. So why risk that happening again? Well, football the Lennon way involves risks. Two wingers, total creativity in the midfield. He would argue that's what gets you three points at Ibrox, what encourages the hoisting of a "Natural order?" banner to taunt the Edinburgh rivals. Above all else it's memories of those victories over Rangers and Hearts, the teams Hibs most want to beat, which are driving the pro-Lenny lobby.
Last time, though, Lennon inherited a vibrant team. This time, not so much. The not-on-your-Lenny faction would contend he isn't the man for a crisis. But, hang on, wouldn't he give the players a bloody good shake? Wouldn't he fix basic errors and remove the determinedly right-footed Elie Youan from the left wing? Wouldn't he make Hibs sexy again?
So goes this seemingly endless debate. But this just in: the two camps, not yet in the mood for coalition, have proposed a deal. Give him the rest of this season and see what happens, Just an idea …
Comments
 0 comments
Want to join the conversation? Please or to comment on this article.