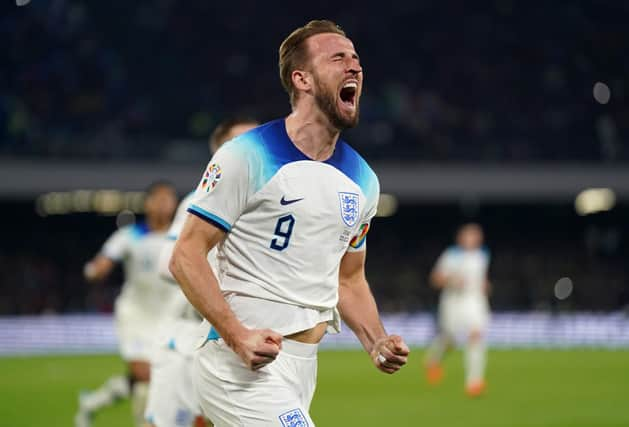 There's the classic desert scene, maybe a plane crash with a solitary survivor, boiling sun, relentless dunes and in the shimmering distance the poor wretch who's been face down in the sand thinks he spies a tree which could mean … water!
There's the classic haunted house scene, the last remaining nubile student after a bloody terror spree hoping the fall down three flights of stairs has finally done for the psychotic slasher, only … a twitch! He's not dead and he's coming back for more!
Or there's Maria Schneider in Last Tango in Paris sprawled on the wooden floor as Marlon Brando reaches for the butter.
Or from TV Monty Python's Flying Circus, the title sequence, when the long-bearded lunatic in rags emerges on hands and knees from the wilderness and only has the strength to gasp: "It's … "
Who was the England captain emulating when he crawled back onto the pitch during the Euros qualifier against Italy? What a moment this was. Weird, vaguely disturbing but in the end plain hilarious.
There's time-wasting and there's what Sir Harold of Kane did in the 46th minute, slithering across the grass to where an "injury" might be treated in the hope of disrupting the Italians' revival.
Presumably he wanted the Azzurri to be so bamboozled by his actions that their next dangerous attack would come to a juddering halt and, as one, they would exclaim: "Hang on, this is what we do! What we've done since 1961 when you English last won a Italia! You cannot steal our tradition!" In effect, this is what happened.
Now let me say that I bear Kane no grudge. Away from football, he seems like a decent fellow. Indeed, away from football he doesn't exist in the way some of his England team-mates past and present do. No lockdown-flouting sex parties and crashing of cars. No out-of-control wags and lost libel actions costing £1.5 million in legal fees. None of this is permitted in Sir Harold's world and his only affectation seems to be when he pulls his hosiery up and over his knees.
Stop crawling! You'll get grass stains on thos lovely white socks! This was my first reaction on Thursday night to the Three Lions leader's panther-like advance. My second reaction was: what about the children?
Kids love to mimic the superstars of the game and Kane is the clean-living role model of which many parents would wholeheartedly approve. Just imagine, though, public parks and school fields full of boys and girls copying his ponderous, theatrical all-fours shuffling.
Sir Harold's was so slow and deliberate that there must have been moments when he wondered whether it was the best idea to continue. Unfortunately for him it would have been the worst idea to suddenly stop, either short of the line or just the other side. He realised this. He's not captain for nothing. This is why guys like him get paid the big bucks.
Football's a team game but the English always want to put one man, one loyal adherent to the cause of St George, on a pedestal and to promote him among the true world greats of the game, deservedly or otherwise, and Kane is merely the latest to have icon status thrust upon him.
But that pedestal has wobbled for his predecessors. David Beckham and Wayne Rooney were sent off in tragic World Cup quarter-final defeats. In his tragic Euros quarter-final defeat Becks at least bequeathed to the game the accusatory glare at the turf after ballooning high over the bar. Now everyone does it.
John Terry was stripped of the England captaincy having offered little challenge to Bobby Moore in the dignity stakes. But when he disregarded a Champions League final ban to quickly change into his strip, plus shinguards, for the celebratory photos, the meme which turned him into momentous history's ever-present bystander - the fall of the Berlin Wall, the freeing of Nelson Mandela etc - was very funny indeed.
Social media wits were quick to respond to Kane's crawl with clips of sleekit domestic cats edging along ledges. Some remembered dramatic moments from childhood: knocks at the door for the collecting of unpaid bills, everyone ordered onto the floor to pretend there was no one at home. More heroically for Sir Harold, though, another reminisce likened his stealth to a highly dangerous secret mission for Action Man.
In the context of modern football, what did Kane do wrong? Nothing, I suppose. He was simply running down the clock (you know what I mean). There was a lot of time-wasting by England in the match but then there's a lot in every match. The experts call it "managing the game".
Maybe I'm being churlish here because this is not going to stop. I could try and claim that in rugby there's less conning and conniving and that's true. But Kane's counterpart at Twickenham, Owen Farrell, will squeeze out every last permitted second when lining up a kick, although this habit - which infuriates opposition fans - did not do his team much good in the recent Six Nations.
England's round ball practitioners, however, have just laid a hoodoo to rest. See Naples and make like you're half-dead? Doesn't matter. The whiteshirts have won on Italian ground again. And the big No 9, after his tragic quarter-final in Qatar, has scored with a penalty again. It's … Sir Harold of Kane! He's not dead and he's coming back for more!