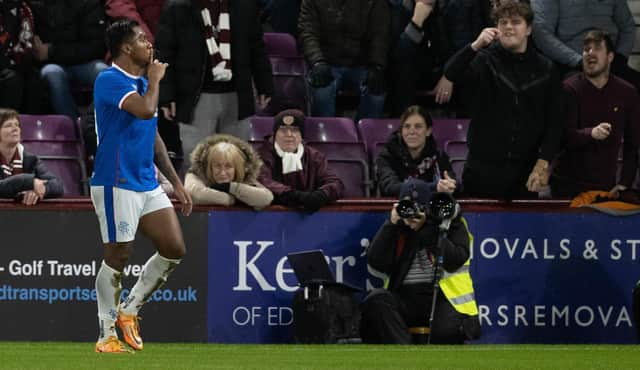 You'd love to be an opposition player entering that scenario. Fevered anticipation just waiting to be burst. And that's exactly what Neil McCann did in the seventh minute with a cheeky finish which he was entitled to feel very pleased about. So he set off on a celebratory run which he arced right past the home fans, cupping an ear to them.
Fast forward to last Wednesday when McCann was a pundit on BBC Scotland's Sportsound for the Hearts-Rangers game at Tynecastle. Alfredo Morelos scored and marked the goal with a knee-slide in front of the Wheatfield Stand before putting a finger to his lips requesting silence, pretty much like a kindly spinster schoolteacher adjudicating in an exam (minus the knee-slide, obviously).
Provocative? Hugely, reckoned McCann. There was some chat about the assault on Neil Lennon at the stadium a few years back. Not when he was struck by a coin but the previous incident when a nutter vaulted the barrier to attack him. McCann reckoned Morelos' gesture could have sparked similar trouble and called him an "idiot".
To be fair to McCann, he wondered if his words might have been too strong, but when Morelos did the same thing following his second goal McCann called him out again. But provocative?None of us knows the Colombian. I don't think I've heard him speak, ever. But provocativo – that's the Spanish translation, I've just checked – seems like it might be the guy's middle name. He probably wakes up provocatively, spreads his toast provocatively, turns the ignition key in his Lamborghini provocatively – okay, button-start, you sad Jeremy Clarkson groupies – to roar out to Murray Park for training.
This is schtick, his Morelos operadi. He's done it from day one in Scotland and whatever you think of him you might consider agreeing with me about this: he lights up our game – darkly.
There's another issue here. How is that footballers must tread carefully and never do anything which could upset fans when it's the latter's fetish for being appalled and offended which is the real problem, allied to a lack of self-control?
McCann, going by his current thinking, would have to admit his celebration all those years ago was just as provocative. But – even though his goal proved to be decisive and a reality check for the Hibees, who would go on to win just once more in '97 and ultimately be relegated – I was not bothered by what he did. Similarly I was not bothered by what Morelos did.
Neither was the junior Jambo in the crowd who was captured on TV laughing and applauding instinctively when the striker skited across the turf. He was too young to know any better. Or rather, too young to be aware that never mind this rubbish about football being entertainment, the supporter's default position is coiled spring, antennae finely tuned for opportunities for outrage.
Neither was Morelos' manager, Michael Beale, who insisted players should be allowed to enjoy their goals. He didn't add "however they like" but I'm guessing that, as long as guns are not fired into the sky, this was what he meant. Otherwise, are we really going to have to compile a handbook on acceptable celebrations?
The one mild grumble I have is about the specific gesture. Can't Morelos come up with something better than "Shoosh"? It's been around for a while and it's boring – and you could say the same about "Sorry, I didn't quite catch that". This one, paw to lug and remembering McCann, has been around for 26 years at least but still has its users, Hibs' Kevin Nisbet among them.
In his case, though, not only is the gesture naff it also seems to jar with the general positivity around him following his long injury layoff, with fans of other clubs openly admiring his talents and some coveting them. Then again, it's sometimes tricky being a Hibs striker who isn't Lawrie Reilly or Jimmy O'Rourke or Alan Gordon.
Joe Harper discovered this and I remember the wee man being booed after completing a hat-trick against Airdrie. His response was the V-sign which was absolutely fair enough in the circumstances. Leigh Griffiths did likewise when detecting irony in the cheers greeting some of his goals, having mucked up earlier chances. And Nisbet himself, just before his injury, marked a late winner by jamming his fingers in his ears, a riposte to those fans who'd been questioning his commitment. Unfortunately he was hurt in his midweek game but the suggestion he asked to come off because Sportsound's commentators were repeatedly addressing him as "Nesbitt" seems wide of the mark, even though any reference evoking Govan guttersnipe Rab C. would be bloody annoying.
So guys, how about some originality in your celebrations? How about some wit and self-deprecation like we saw from Drey Wright against Motherwell? The St Johnstone man four days before at Ibrox had been certain to score until he tripped over his feet and tumbled to the turf. He must have wanted the pitch to swallow him but at Fir Park there came redemption with a slick finish. He sprinted off to replicate his fall perfectly. Brilliant.