John McGinn's return to Easter Road: 'What a backside,' the Hibs fans will sigh wistfully, 'it used to be ours'
I remember it well. A cold winter's day, the snow falling. And all around the ground the fans were truly inspired.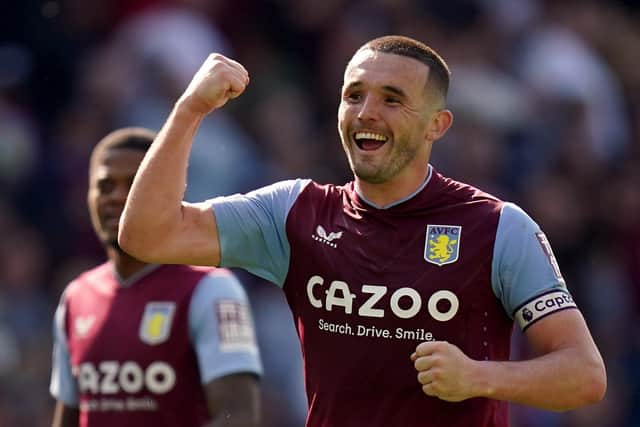 The mere fact of being allowed all around the ground – access to parts of Tynecastle occupied every other week by the doughty, debentured denizens who twirled maroon scarves – was inspiration for a wizard wheeze which, for comedy in a football context, I don't expect to see topped.
Four supporters of Hibernian were moving through the Wheatfield Stand with solemn purpose. They were wearing what appeared to be DIY nuclear fallout onesies, the backs of which read "Gorgie Survival Suit". These jolly japesters believed they were protected from any after-effects from having to spend 90 minutes in a Jambos enclave but were keen to alert their fellow Hibbies watching the match to the potential risks. Each of them waved a cardboard cutout arrow pointed upwards with the warning: "Fragile roof."
A lot of thought, effort and sticky-back plastic had gone into the stunt, delivered with all the aplomb of agitprop performers from the Edinburgh Festival Fringe. And just as inspirational was the chant unveiled that day – 23 January, 2016 – in celebration of the player who scored the winning goal.
Tynecastle was the neutral venue for the League Cup semi-final between Hibs and St Johnstone and the man was John McGinn. Super John McGinn, as the song went, to the tune of Billy Ray Cyrus's "Achy Breaky Heart". "He's Alan Stubbs' man," the ditty continued. No doubt about that; Stubbsy signed him from St Mirren at the start of that season and gave him his debut at Dumbarton, a 2-1 defeat in the Championship opener. "Better than Zidane"? Well, half-shut your eyes in the blizzard that had enveloped the stadium by that stage, and you could see what the composers of the refrain were getting at: a pirouette in the centre-circle to shrug off a couple of opponents and then a charge to the edge of the Saints box for a clobbering drive. So began the love affair.
Now for the reunion: McGinn's return to Leith with Aston Villa on Wednesday will cast him in the unlikely romcom role of the smart girl who left a boyfriend behind, desperate for new experiences and adventure, and suddenly comes back, having been much missed, with new admirers in tow and stories to tell about the great world outside.
It's going to be wistful. The Easter Road faithful, at least those who were around seven years ago, will gaze at that classic Scottish ba' face and think it's barely changed. The scuttling, sloping, sunken-head running style they'll remember well. And they'll watch Super John set like a sumo wrestler to flex the gluteus maximus then count the number of their own players bounced away like half the Spurs team including whatsisname Harry Kane in an outrageous performance last season and they'll sigh: "What a backside. It used to be ours."
Others can lay some claim to the backside. He started with St Mirren. He still looks out for the Clydebank results. He comes from a Celtic family. Now, like the Raging Bull outside New Street railway station, he belongs to Birmingham.
But Hibs fans who saw McGinn at Dumbarton and Alloa and Morton, who watched him help topple six Premiership teams in runs to two cup finals from the division below, and when on one day in May he repeated that pirouette against Rangers leading to the opening goal, began to believe that the greatest hoodoo in football might finally be at an end, will insist that his three years in green and white were special in the long and traumatic history of their club. And they'd be right.
So how's this going to go? How do his old admirers want it to go? How much do they want Hibs to win or will a McGinn-inspired Villa triumph be the least painful reverse they could ever suffer, and almost an S&M indulgence for some?
For the Hibees there's previous in former favourites returning, often to haunt, although when Joe Baker brought his Torino side to Easter Road in 1961 for a friendly their former goal hero was kept quiet and Hibs won.
In 1968 Colin Stein stepped out at Ibrox in Rangers' blue for the first time and scored a hat-trick in a 6-1 thumping of his old team-mates. Seven years later his crashing header at Easter Road won the Gers the league. Muted celebrations out of respect and maybe some sympathy weren't in vogue in 1975 and in any case Steiny was never muted about anything.
In 1975 Peter Cormack playing for Liverpool couldn't stop Hibs emerging victors in his first game back at Easter Road, although the Reds turned the Uefa Cup tie around at Anfield. Then in 1977 Pat Stanton became a title-winner at his old home – as a Celtic player – a feat he would repeat three years later with Aberdeen as Alex Ferguson's No 2.
More recently Anthony Stokes, also for Celtic, dismantled Hibs in the 2013 Scottish Cup final but Jason Cummings' only game for Rangers against the Hibees was a defeat, McGinn being instrumental in that.
No Hibs midfielder since has scored a goal like Super John's that day – another thundering run, another piledriver – but then which Scottish club boasts someone who can do what he does? There's a feeling – a fear – that on Wednesday he could evoke the title of Billy Rae Cyrus's daughter Miley's No 1 hit and be a "Wrecking Ball". So maybe Sportscene's Michael Stewart is right: a few nights out with his mates beforehand could be the only way to stop him.
Comments
 0 comments
Want to join the conversation? Please or to comment on this article.