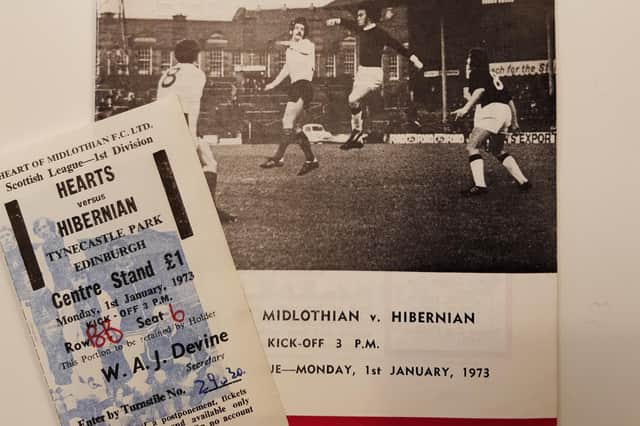 Could my father phone Uncle Don and ask? The game was at Tynecastle so it was his turn. He normally lets us know he's got them and … what, he hasn't? They're all sold out? Disaster!
Don't worry, the message came back, being high up in the Lothian and Borders Polis – later rising to the rank of deputy chief constable – he would call in a few favours and, Dad joked, squeeze a few hands that special way.
They were best pals despite everything. Dad was Labour and Uncle Don was Tory. Dad was Hibs and Uncle Don … well, I think he pretended to be Hearts for the ritual banter. What he really liked was our two families getting together every New Year's day, maintaining a friendship which for the parents went all the way back to amateur dramatics and a holiday pre-kids on Soay off the coast of Skye, warmly reminisced every time.
And Uncle Don did get the tickets. And my stub is right by my side, as per the instruction of Hearts secretary W. A. J. Devine: "This portion to be retained by the holder." I've kept it all this time, along with the match programme. They're now 50 years old. Checking eBay, the going rate for the prog – cover price 5p – seems to be £125. Would I get slightly less for the stub … or even more? After all, only the centre stand required tickets, cost £1, so there must be fewer of them, and despite the direction of Mr Devine, they'd be less likely to have been preserved as mementos.
Of … the greatest game in history? The best £1 ever spent? A scoreline which I'm accused by Hearts fans of endlessly referencing (though note that I haven't mentioned it yet)? A pair of numbers which, when combined with another pair from another scoreline, would enable Ewan McGregor to empty my bank account, just as "1690" for all those Rangers supporters in Trainspotting 2 was just too easy a code to crack? All of that, probably, but these days something else …
First some context: half a century ago the New Year celebrations were rather different. Edinburgh was not the self-styled Hogmanay capital of the world, revellers did not descend from the four corners for a gigantic party and the Pet Shop Boys did not perform in Princes Street Gardens. Instead, purely locals congregated outside a church in the Old Town and waited for the toll of bells. If a whisky bottle hurled skywards did not crash on your head requiring a visit to A&E, you set off with your Agnews carry-out in search of light in a window indicating a house-party. If Billy Connolly's ruse – "Jimmy said it would be okay" – didn't work then you trudged home.
The next day no one swam in the Forth. No one had brunch in a bistro because neither had been invented and nowhere was open, only Tynecastle, so along Gorgie Road and down Robertson Avenue they came, drawn by the four floodlight pylons peeping through Auld Reekie's grot and gloom.
Auld Reekin', more like. Apart from me, my little brother and Uncle Don's son John, another Hibby, was everyone else still drunk? We giggled at the valiant attempts at forward motion: one foot anchored, the other tapping out a circle. Observing something similar in a different town, the Big Yin would hit upon another gag.
The game, what about the game? For Hearts in the opening minutes Donald Park could have scored, Eric Carruthers should have scored and then for Hibs Jimmy O'Rourke did. Jimmy died last year, along with Alan Anderson, foxed for the second goal by Alan Gordon, who's also passed away. It's RIP Wilson Wood, another who fluffed his lines for the Jam Tarts as they were known then, plus his skipper Eddie Thomson and Erich Schaedler, who thundered into Jim Jefferies and spun through 180 degrees en route to the final goal.
I remember pretty much everything. Squeezing my eyes tight shut I can even picture the sky, although this may be because the sun, presumably suffering its own hangover, never got up. Anything I've forgotten John can usually remember, and vice versa.
Our parents long gone, and my chum now exiled in Sydney where he's a playwright, we maintain the family bond via email. There's rarely a message between us which doesn't mention the game – hardly ever the current Hibs – so it's primary function these days is as items one, two and, yes, all the way up to seven on the agenda of our long-distance heritage society with the aim of keeping the old grey matter functioning.
"Embassy Regal!" declared John the other day, convinced he'd identified the Centre Stand's distinctive pong. Did I know that the lad sat next to him, maroon scarf and mittens, wouldn't oblige with a peek at his programme then left at half-time in tears? Did I agree that, the match played now, Pat Stanton setting up the penultimate goal would have been swiftly chopped down? Did I agree that, played now, Hibs wouldn't have scored as many, preferring keep-ball?
And, more importantly, he asked, exactly what were our mums and dads doing on Soay that so amused them for years afterwards? Naturism? Swinging? The am-dram production they dreamed up about swinging naturists? …