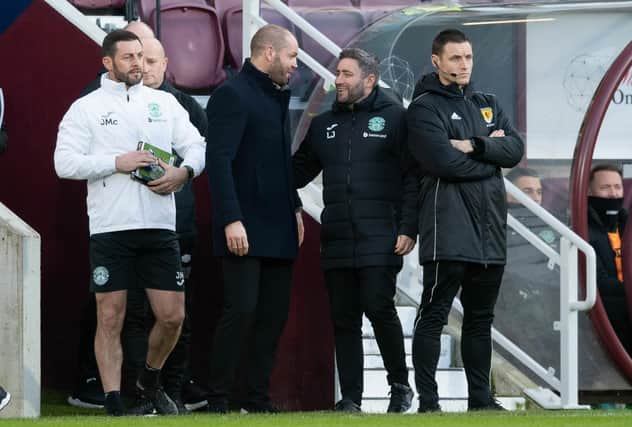 Now, I'm aware that almost everyone calls Scottish football crazy most of the time. There's a risk, I think, of the term being diluted by overuse. This is similar to the way too many games producing notable results are instantly elevated to the status of being "for the ages". Here's a phrase which has a strict door policy; there aren't degrees of uniqueness. Scotland beating Spain will only really be a victory for the ages, as it was hailed by many, if we go on and qualify for the Euros.
But back to craziness and back to rabbit holes. Until someone comes up with an alternative, crazy will have to suffice. And it fits, doesn't it, when applied to the bampots who've vandalised the big Hearts crest on the ground outside Tynecastle. "It's crazy," said Craig Levein, content with the language at his disposal. "You would never get angry and spray-paint your own house, would you? It's just stupid." Tynecastle is the Jambo faithful's own house. The club are fan-owned. As Robbie Neilson, the target of the aerosoled message, pointed out, the promenade had been paid for by supporters who contribute money to Hearts weekly and now repairing it will have to come from these hard-earned donations.
The rabbit hole? Here it is now: I was trying to think of an old cartoon, maybe a Looney Tunes, where the closing shot was the eternal loser contorting himself so he could indulge in some self-flagellation, but couldn't remember the poor schmuck's name. YouTube drew a blank but did manage to come up with a corking alternative: newsreel footage dated 1937 where a small crowd in North Carolina gathered under a sign reading: "First in USA – Tom Haywood's kicking machine". The inventor of the contraption bent over, turned a handle and four boots on a wheel dunted him on the backside. This, is essence, was what the Tynie vandals did.
Before I knew it I was Googling Haywood's home town of Croatan. Then I was Googling Hearts in 1937. How did they do that season? There was a 15-0 mauling of King's Park and complete domination over Hibernian, beating them each time in the league and the finals of both the East of Scotland Shield and the Rosebery Charity Cup. But they could only finish fifth in the old First Division.
It is crazy that Neilson, who's steered Hearts to third in the Premiership, is facing calls for his dismissal, however inarticulate they might be. It seemed to be worth checking the graffiti to see if his name had been spelled correctly. The club finished best of the rest last season and are still favourites to repeat the feat. But repeat the feat of '37, especially if Hibs were to be one of the teams to usurp them, and the pressure on the manager might prove intolerable. Such is football, the craziness of it.
Hearts could be caught by Aberdeen but I cannot see Hibs doing this. Indeed, if the Hibees lose to Dundee United today and again in the derby on Saturday then the pressure will shift right across Edinburgh to Lee Johnson. Defeat at Tannadice – and Hibs haven't beaten the Tangerines all season – will make it four in a row. Twice previously this campaign there have been three-match losing runs, provoking unrest and talk of a mini-crisis. 2022-23 for the Leith team does not look like it will be one for the ages, as it were, especially when the chaotic League Cup exit is remembered, along with Hearts ruthlessly ending their interest in the Scottish Cup in what for them was the opening round. Bizarrely, in all competitions Hibs have only won twice at home when the opposition have been able to keep 11 men on the park - against St Mirren and lowly Clyde.
The latest series of reverses has followed the death of owner Ron Gordon which reminded fans there are more important things than football. As a result, Johnson has not endured as many grumbles as before, when everyone was wondering when Harry McKirdy was going to come good or whether the striker accorded the pop-star fanfare would turn into the new Chris Mueller (Light), not to be confused with Gerd. They're still wondering, by the way. If Neilson cannot afford to not make third in some supporters' eyes then how will it look for Johnson if Hibs bomb out of the top six, suffering another convincing derby defeat along the way? Not good, not good at all.
As consolation for shortcomings in the league – which is every team bar the Old Firm, of course – there have in recent times been regular visits to Hampden for both Edinburgh clubs including three domestic finals each. This term, though, it's been early exits all round and all at home as well. As consolation for that there are the capital bragging rights. Hearts will claim they have loftier aspirations than simply being tog dogs in the city but come Saturday the Gorgie faithful won't want Neilson returning to the indecisive derby form of his first spell in charge. Meanwhile, Johnson badly needs to win against Hearts for the first time.
Both can with justification point to bad luck with injuries but that can't be used as an excuse for every poor result suffered. Both could still end up calling the season a success but both could also end up having failed in their original ambitions. And if that was to happen, then in the crazy world of Scottish football it will be Neilson and Johnson kicking themselves.