Forget the Celtic trio - there is only one man who should be winning PFA Player of the Year award, and his name is Kevin van Veen
At the exact moment the Scottish PFA Player of the Year nominations were announced I was listening to my favourite podcast. A Word in Your Ear concerns music not football, but for me they're never very far apart.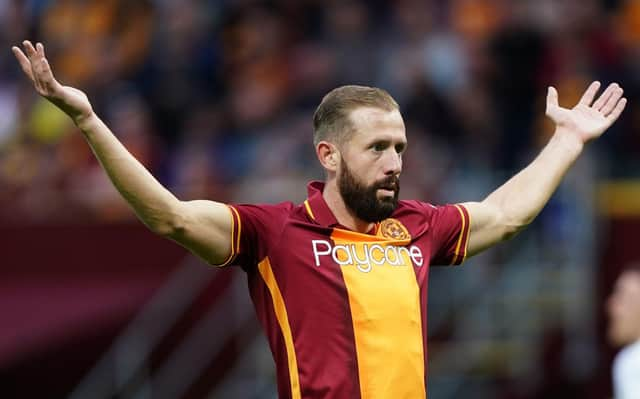 In this edition veteran rock mag journos Mark Ellen and David Hepworth were discussing hair and in particular the barnet which blew up the world – Brian Jones' bowl cut. The Rolling Stones founder's immaculate helmet with its heavy, visor-like fringe would be instantly copied. Michael Clarke's replica got him the drumming gig in the Byrds and 30 years on from the Swinging Sixties, it seemed to be a Britpop stipulation for every combo to have at least one member rocking the same look.
Now, 30 years on from that, here's Kyogo Furuhashi, a contender for the award, with his take on the Jones classic. It clearly gives the Celtic striker "Satisfaction". Asked to explain its advantages he might answer: "Gimme Shelter". There have been times this season when it's seemed too low over the eyes. When, in answer to the question "Have you seen your mother, baby … ", the answer would surely be: "Not recently." When even the most besotted fan, taking their cue from another Stones track, might have pleaded: "I Just Want To See His Face". But the hair hasn't impeded the Japanese's goalscoring. Or, at the end of a game, running to the right end of the ground to lead the fans in a bouncy-bouncy celebration of victory.
Will he win? Oh probably. He has two fellow Celts as rivals for the prize – Reo Hatate and Callum McGregor. The former has been a classy support act while the latter won last year. Never in the history of the award for players' player has the same man been crowned in successive years. The closest anyone came was Henrik Larsson who collected in 1998-99 and 2000-01 with clubmate Mark Viduka squeezing in between those campaigns. Larsson remains the only double winner.
So the Premiership champs have a three in four chance but what about Kevin van Veen? We need to talk about Kevin. His first name figures in popular song. There's "Cousin Kevin" from The Who's rock opera Tommy, although the subject was a casual sadist. Coincidentally, the Undertones' "My Perfect Cousin" was also called Kevin. Closest to football was the Wedding Present's "Give My Love to Kevin" from the album George Best with its alluring cover image of the "fifth Beatle", all mud-spattered and moody.
Now, I don't have a vote – my best season for Edinburgh Sunday Churches League scuffers Dynamo Mince was some time ago – but give my love to the SPFL's Kevin. Since 2003-04 the award has been handed out 18 times, missing a season through Covid. No less than 15 Celts have got their hands on it, John Hartson only getting one hand in a share with Rangers' Fernando Ricksen. I've no doubt they were all richly deserved, and this isn't a sympathy vote, but hasn't Van Veen's effort, by the very business of being a Motherwell man, been greater?
I'm not saying it's easier coming by goals in this team but, well, it is. Clearly Kyogo has fashioned some of his out of nothing. On occasions he'll have provided all of the heavy lifting regarding ingenuity. That's a certainty; he's a fine player. But when you turn out for a team like Motherwell there's a requirement to be metaphorically sweeping the terraces of fag butts as well. Not that there are terraces anymore and nor should there be fag butts, but hopefully you get my drift.
Look at Van Veen's two most recent strikes before the nominations were announced. Against Celtic he collected the ball in his own half and, from far out wide, turned Scottish PFA Team of the Year left-back Greg Taylor inside out before angling a vicious shot past Joe Hart. Similarly Kilmarnock couldn't cope with Van Veen even when beginning his assault on their goal from some way back. It was his tethering of the hoofed ball which did for them – such a featherlight touch for a big man. Last week, the Scottish football twitterati were asked which player from the rest of the league they'd like their club to sign this summer. The majority plumped for Van Veen.
Another big man representing Motherwell was the last from outwith the Old Firm to win the award – Michael Higdon in 2012-13. But that was Rangers' first season after being booted from the top flight, the Steelmen finished runners-up, so Higdon's supply lines would have been more efficient. Van Veen's goals have saved his Fir Parkers from relegation bother and in that he has something in common with Raith Rovers' Gordon Wallace.
In 1967-68 Wallace scooped the other Player of the Year gong, voted by the Scottish Football Writers' Association, despite Bobby Lennox and other Lisbon Lions in a title-retaining Celtic side being highly persuasive candidates. When I interviewed Wallace a few years ago, the silver trophy still proudly on display in his Monifieth home, he told me: "I've got a pal who's never stopped asking me: 'How come Bobby scores 43 goals for the team who finish champions and some wee numpty who gets 30 with a bunch of diddies nicks the prize?' Well, the answer is that Bobby got served a banquet but I had to live off scrag-ends."
Those 30 ensured Raith toes curled over the trapdoor edge but the club ended up third from bottom of the old First Division and didn't plummet. A noble effort properly rewarded and it would be heartening if Van Veen was similarly honoured.
Comments
Want to join the conversation? Please or to comment on this article.