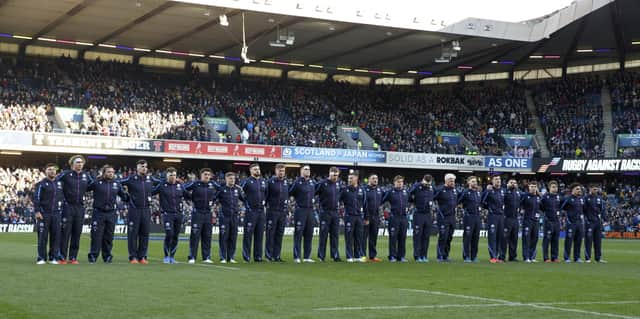 How many bagpipes will be allowed? Not the whole caboodle at an away ground, obviously, but hopefully enough for a decent skirl. It's unlikely, though, that we'll be permitted our showstopper - the last verse performed acapella. Never mind: the following Saturday at home against Wales the music will be cut and 60,000 souls will carry the song through to the end, demonstrating that while choir practice at school was invariably viewed as a skive, they did learn how to hold a tune.
But for how much longer will "Flower of Scotland" be sung? Jim Telfer, the man responsible for engineering many great days at the stadium, wants it replaced. The former coach disapproves of the anti-English sentiment and says it would show "maturity" if we could choose an anthem which revealed us standing for something rather than against - in this case, proud Edward's army, sent up to bed after Bannockburn with smacked arses and no supper.
Telfer has said this before and others have echoed his views. Never mind the thistle-prickly words, some don't like the tune. "A dirge" is the usual complaint. Well, next to "La Marseillaise" or "Il Canto Degli Italiani", it's slow (though not as slow as "God Save the Queen-slash-King"). Maybe there were times at Murrayfield, against France or Italy with their exuberant anthems, or Wales who have the lovely, rising chords of "Land of My Fathers", when I was self-conscious about "Flower of Scotland". But then someone had the brainwave to let the fans go naked.
Reporting on the rugby, I've heard it sung stirringly five or six times a year for the past ten. Some might view the acapella as cheesy - the potency of cheap music and all that - but it never fails to tingle the spine and, more, unpick the tartan lining of the Barbour (not that I have a Barbour).
Even Telfer admits the anthem gets him sometimes. Maybe in a weak moment, if you can imagine him ever having one. "'Flower of Scotland' is a great song in a way and it does get the hairs on your neck straightening and standing up," he says. It got the British Lions who made it their rallying cry in South Africa in 1974. And in 1982 it got Wales who sang it to the Scots after we'd handed them their first home defeat in 14 years - "Magnificent," remembers John Rutherford.
I guess Telfer likes the hymn-like melancholy but clearly the words stick in the craw. What, though, makes them so different from the lyrical sentiments of other countries around the world? Take a spin through Now That's What I Call National Anthems!, if you have this album, and you'll find plenty of references to bitter conflicts, battles, wars, uprisings and proper massacres. These never-to-be-forgotten struggles involve copious amounts of blood which is not found in "Flower of Scotland".
In France they sing of "impure blood". In Algeria "streams of generous blood". Italians admire a blood-supping eagle. At key moments in their history, Hungarians haven't fainted at the sight of the red stuff, and regarded spillage as unfortunate but necessary - same with the Turks and the Vietnamese. Honestly, at the end of this record you might feel like you've sat through an all-nighter of Roger Corman's splatter films.
Here I should probably declare an interest. "Flower of Scotland" was written by Roy Williamson, one half of Scottish folk duo the Corries and back in the 1960s my father, a BBC Scotland producer, put him and sidekick Ronnie Browne on the telly. As well as their Tuesday tea-time appearances on The Hoot'Nanny Show, they were often round our house, lugging weird and wonderful instruments for rehearsals in the sitting-room. The Corries outlived the programme but the friendship remained, and I remember the moment of Dad telling me about how Roy was working on a song which he thought could be anthem-worthy.
But if we're not to sing "Flower of Scotland" anymore, then what? Something different. Something not about "them" but "us". Something forward-looking. Yes, but what?
No one is suggesting we revert back to "Scotland the Brave", which I first heard during the 1970 Commonwealth Games when the Stewarts, Lachie and Ian, raced to gold medals. Neither competitor nor spectator sang it then or indeed after and it's quite heedrum-hoodrum ("High in the misty Highlands, out by the purple islands … "). No one is suggesting "Scots Wha Hae" either, and anyway, that one namechecks William Wallace and Robert the Bruce and the b-word (blood).
The one song which has been mentioned is "Highland Cathedral". Nice tune - played on the pipes at our wedding by my brother-in-law - but lyrics about "one dream to share" seem generic and bland. It's been nominated by Murdo Fraser, the Conservative politician and Rangers fan, who asserts about "Flower of Scotland" that it "does little to stir the emotions".
Fraser won't have heard the song at Ibrox but is he not aware of what it sounds like at Murrayfield? And what's this about it being anti-English? He should check YouTube for the comments: "Goosebumps. Amazing anthem. And I am not even Scottish … By far the best anthem in the world. Huge love from France … As an Englishman I love it! Always sing along when I hear it!"