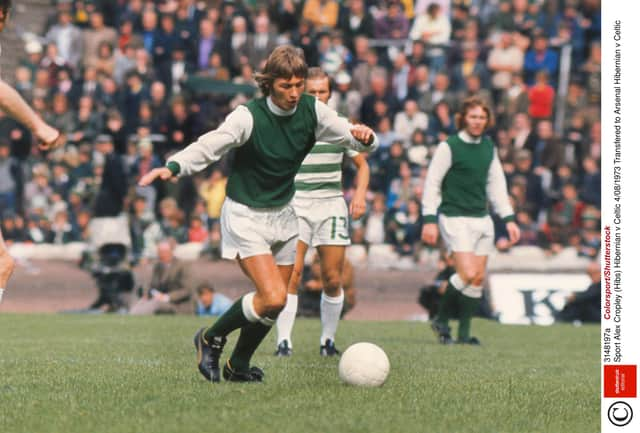 Alex Cropley turns on the style in 1973 to help Hibs beat Celtic and retain the Drybrough Cup. Picture: Colorsport/Shutterstock
I am remembering this as the greatest and most outrageous expression of the little playmaker with the killer left foot and the giant-sized courage. Hibs fans will have other favourite memories of a player who, it's just been revealed, is suffering from dementia. Arsenal fans will remember the fragile-looking lad who joined them in 1974, possibly thinking someone else would have to do the tackling for him, only they were wrong. And Aston Villa fans will certainly recall the bravery on top of the sweet skill he displayed for their club until the fourth and most shocking of his leg breaks - with some able to hear the awful crack - which all but ended his career.
It seems heartlessly cruel that Sodjer, as he was nicknamed at Hibs, has been struck down like this, given the setbacks he endured on the pitch. But dementia, just like a virus we could name, doesn't discriminate and certainly doesn't favour. Still, all aficionados of classic Scottish inside-forward play - and by the way, that should be every single one of us - will wish Cropley well as he faces his latest challenge.
So: 11-1. This wasn't a full-scale match but the semi-final of a five-a-side tournament in the early 1970s, most of the big Scottish teams competing, at the Capital's Haymarket Ice Rink, long since gone. The ice was of course boarded over for the day. It wasn't as if the players were required, as in Rick Wakeman's prog-rock folly King Arthur, to perform on frozen water, though Cropley could probably have coped.
In 1974 Bertie Mee brought the Easter Road boy wonder Alex Cropley to Arsenal.
Now, younger readers will have to suspend belief here, and their normal blase attitude to tricks, stunts and innovations in football. Five-a-sides had, for Scotland, just happened. Before Meadowbank Stadium, handed over to the Capital's ratepayers after the '70 Commonwealth Games, there wasn't an indoor hall capable of embracing the concept. For we scruffs normally wading through mud in school cup competitions, this was, if we could cobble together the money for a booking, heaven. And here at Haymarket were the professional elite completely validating the reduced version of the game.
That drop-ball. I don't think it was for a foul. This, in my memory, some time before the Tennents Sixes, was how these mini-games were restarted after a goal had been scored. So Hibs had just increased their lead and then, in a flashing second, they'd increased it again. The crowd, or at least the Hibee contingent, screamed like they were on Crackerjack. Adidas were beginning their world domination but that wonderful left foot of Cropley's was clad in Puma. A legion of boys went home and amended their letters to Santa.
That same legion, in playgrounds and public parks, would copy the way Cropley ran, hands fluttering at his chest, a bit like Larry Grayson, although I'm pretty sure the "Shut that door!" comedian never stood his ground against John Greig, leaving the Rangers man to hobble away with a broken toe. Cropley did that.
Instead of that mythical goal, I could easily have chosen one from the Scottish League with which to remember his bonnie talents. A last-minute long-range equaliser for Hibs in a 3-3 draw with Dunfermline Athletic at East End Park. The first of eight against Ayr United after just 12 seconds. A goal against Hearts at Tynecastle, running one way and shooting the other across Jim Cruickshank similar to a famous George Best strike against Sheffield United. Or the fourth in the 7-0 game, caught perfectly on the volley, the Turnbull's Tornadoes team in excelsis.
Brownlie pictured at Easter Road ahead of the 1974/75 season
Or I didn't have to pick a goal at all, just an example of Cropley's adherence to the beautiful game even amid the glaur, maybe a swivel, a shimmy, then a switch of play out right to John Brownlie, already charging down the Easter Road slope in anticipation. Nowadays such a gifted player who could pass like a dream might be afforded special dispensation, a note for teacher, to miss out the rough stuff, but this wasn't the 70s way and it certainly wasn't Cropley's way.
Or I didn't have to pick action from a game, just the thrill of spotting him in Bruce's, the grooviest record shop in town. Once, the youngest and trendiest Tornado was coming out of the denim emporium Jean Machine as I was going in. "And he held the Wild West-style swing doors open for me!" I reported back to pals, dining out on the encounter for a whole week.
If you never saw Cropley play for Hibs, Arsenal or Aston Villa - the latter going on to make a habit of collecting brilliant midfielders from Leith with Des Bremner and currently John McGinn - then there are other more authoritative witnesses than this admirer. I've interviewed most of his Hibee team-mates about their careers, they all wanted to talk about the blond-haired crowd-pleaser in the No 10 shirt.
This was John Blackley on Cropley's debut: "The first thing the skinny wee kid did was clatter into the St Mirren right-back Bobby Duffy. He was utterly fearless." Jim McArthur remembered free-kick practice: "What a shot that slip of a boy had." Pat Stanton, mildly rebuked by Cropley in a documentary for being too quiet as captain, insisted: "I know what he said but I still think Alex was our greatest player."
And this was Jim Herriot from earlier this year: "Was there ever a footballer braver than wee Alex Cropley?" No, Jim, there isn't.
A message from the Editor:Thank you for reading this article. We're more reliant on your support than ever as the shift in consumer habits brought about by coronavirus impacts our advertisers. If you haven't already, please consider supporting our trusted, fact-checked journalism by taking out a digital subscription.