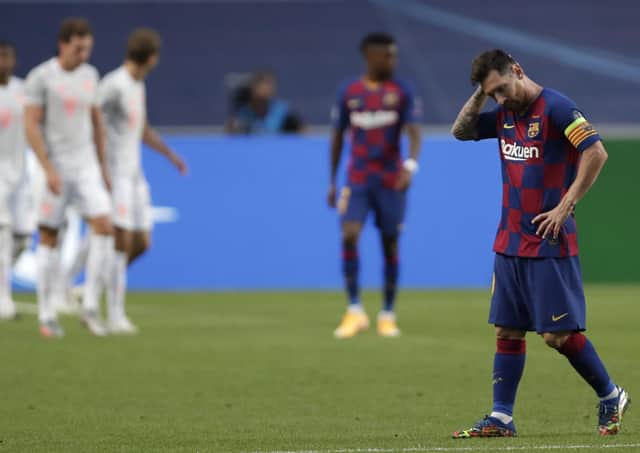 Lionel Messi hangs his head in anguish during Barcelona's 8-2 destruction by Bayern Munich. Picture: AP.
As with Celtic, Lisbon could be permanently etched in the Barcelona annals. Just not in the way anyone at the Catalan club would have liked or expected. .
The Portuguese capital is where Lionel Messi could have played the last of 743 games for Barcelona. It once seemed almost inconceivable that he would pull on another club shirt that wasn't the red and blue of Barcelona, with whom he's been associated since the age of 13. Now it is being reported as very possible.
Of course, this hinges on a club being able to trigger the reported release clause sale of nearly £600m. Indeed, whether they would be willing to bid this sum. For all that Messi could be one of the greatest players the world has ever seen, if not the greatest, he recently turned 33. Other reports claim that he can leave for nothing if he wishes providing he joins a non-elite club.
Everyone has a breaking point. For Messi, as a footballer, it seemed to arrive long before the final whistle and final flurry of goals in Friday's stunning 8-2 Champions League quarter-final defeat by Bayern Munich. He looked as bewildered and defeated as any of his team-mates at half-time, with Bayern leading 4-1. He barely featured in the second half when the situation called for someone with his ability to make something happen.
Luiz Suarez's goal 12 minutes after the interval offered Barcelona hope. But it said something for their waning powers that they could not take advantage of it, and almost immediately fell four goals behind again. Bayern then added three more for good measure, two of them coming from a player on loan to them from Barcelona, Philippe Coutinho. He only happens to be the second most expensive player in Barca history.
It's such clear evidence of a dysfunctional club that might drive Messi away. It's already done for the man who, ostensibly at least, was in charge of first team affairs. Quique Setien never seemed set to occupy the dug out on a long-term basis, and the club's first trophy-less season since before the Pep Guardiola era has sealed his fate. Even had Barca been able to fight off Real Madrid's La Liga title challenge it's unlikely Setien could have survived such a high-profile humiliation as Friday night.
He might as well have kept on walking when he went back in at half-time in Sporting Lisbon's Jose Alvalade stadium. Despite Setien's departure only being confirmed late yesterday evening, the conversation had already moved on to whether current Netherlands head coach Ronald Koeman is wise to return to the Nou Camp at this time, with presidential elections due to take place at some point before next summer. Josep Maria Bartomeu, the current president, cannot serve again and so Koeman's fate will be in the hands of someone else if he survives the first year of a reported two-year contract. One of the favourites to replace Bartomeu, Victor Font, favours bringing in Xavi, Messi's former teammate, as manager.
All this uncertainty cannot be attractive to Messi, who is now pondering such issues as his legacy as a player. He might have as little as another two years in which to win more honours. He swiftly revoked his decision to retire from international football in 2016 after Argentina lost in the final of the Copa America to Chile. He can't change country but he can change club. He might have to if he wants another tilt at Champions League glory.
With ten league titles and four Champions Leagues already to his name, as well as six Copa del Reys and innumerable personal accolades, can he really thirst for more? And will the prospect of further glory elsewhere trump seeing out his career at Barcelona, the club that nurtured him? It seems possible.
Life after Leo could be something Barcelona will have to get used to. He's always been the focal point of course. But in years gone by there were Xavi and Andres Iniesta to help share the burden. Even alongside him in attack he had Neymar and Suarez. Neymar has long gone while Suarez is not the player he was.
Both Messi and Suarez will be looking on as their old compadre Neymar seeks to win the Champions League again, which would help justify his own decision to push for a move away from the Nou Camp three years ago. His current side PSG face a fascinating semi-final clash with RB Leipzig in Lisbon this evening.