Analysis: Can Scotland find a way to accommodate both Finn Russell and Adam Hastings?
You always risk making a fool of yourself when you write on Friday morning for Saturday's paper about a match to be played on Friday evening. (All right, even more of a fool than usual.)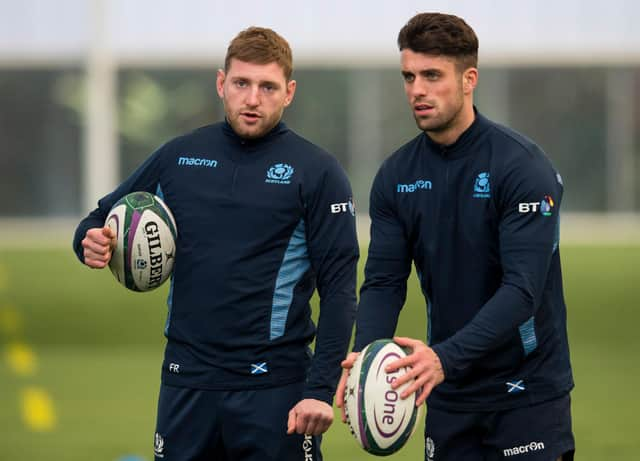 Finn Russell and Adam Hastings are vying for the No 10 jersey.
One might dodge the subject of course, and write, for instance, about the selfish foolishness of players selected for the Barbarians against England who have put that match at risk by breaking Covid-bounds. This was remarkable because these weren't naïve teenagers like some footballers who have got into similar trouble. On the contrary. One was the respected former England captain, Chris Robshaw; others were veteran Saracens, among them Scotland's Sean Maitland. Well, it should serve as a warning, a reminder of just how fragile this autumn's ambitious programme of international matches is.
When Gregor Townsend announced his team for last night's match, some were surprised to find that the returning Prodigal Son Finn Russell was to be on the bench rather than starting. After all, we know he's a genius, the French are pretty sure he's a genius, even English journalists have come to admit to his genius, and earlier this week Gregor said that Finn was now a better fly-half than he had been himself. I'm not so sure about that myself, finding it impossible to choose the best from the three outstanding Scottish stand-offs of the last half-century: John Rutherford, Gregor and Finn.
As it is, however, there is someone else whose position and state of mind deserved to be considered. When the now happily restored relationship between Gregor and Finn broke down in February, Adam Hastings stepped up and played very well in the four matches of the Six Nations and would have played in the fifth against Wales if it hadn't been called off in March. So he may be regarded as the man in possession of the number 10 jersey.
Finn Russell was criticised in some quarters for not attempting a late drop goal for Racing 92 during the Heineken Champions Cup final against Exeter. Picture: David Rogers/Getty Images
I assume that at some point Finn will have come off the bench. That assumption opens up possibilities. Might both be on the field, one at inside centre or, as they still say in New Zealand, second five-eighth? Adam Hastings has always seemed to me to be more like his uncle Scott as a player than his father Gavin, and Scott Hastings was one of the finest centres Scotland have had.
Gregor himself won a fair number of his 82 Scotland caps at centre, not fly-half, rivals, first, Craig Chalmers, then Duncan Hodge, and in his last international, Chris Paterson, being preferred at 10. Indeed he was at centre in 1995 when his ever-memorable flip-pass sent Gavin Hastings galloping under the posts to secure Scotland's first win in Paris since 1969.
1999 was Gregor's wonder-year when we won the Five Nations championship and he scored a try in every match. But he actually started that tournament in the 13 jersey and it was only after Duncan Hodge came off injured early in the second half of the first match against Wales at Murrayfield that he switched to fly-half where he played in all the other games.
There were reasons, persuasive enough at the time, for the inconsistency. Sometimes, Chalmers and Hodge were thought to be safer options at 10, more suited to a kicking game. Sometimes selectors simply wanted to get both Chalmers and Townsend in the starting XV. Gregor might now perhaps feel like that about Russell and Hastings.
While primarily a stand-off, Gregor Townsend won many of his Scotland caps at outside centre. Picture: Phil Cole/Allsport
Finn, however, returns to the Scotland fold after two contrasting matches in the semi-final and final of Heineken Cup. Both were fascinating. Against Saracens he played in conservative style, and it was only in the last ten minutes of the match that his delicate chip-kick created the only try of the match. Asked in an interview why he hadn't attempted this earlier, he explained that in such a tight match, against a team with a well-disciplined defence, you might get only one or two chances to create a try. So he waited for the moment when the Saracens defence was tiring and they were no longer looking to cover that sort of kick.
The final was a very different game because Exeter were as eager to play adventurous rugby as Racing 92 themselves. So there were more opportunities and, for much of the match, he was pulling the strings and making things happen. Some criticised him for conceding a try when his daring loop pass on his own 22 was intercepted. Replays showed that Virimi Vakatawa at 13 was calling for the ball, and I have wondered whether this was a moment when the absence of a crowd influenced the result, for the Exeter backs could hear Vakatawa as they might not have done against a roar from the stands.
That try put Exeter ahead. A few minutes later when Racing were battering at the Exeter line and failing to cross it Finn might have called for the ball in order to drop a goal. Stuart Barnes, former England fly-half, now astute journalist, thought he should have done so, and one supposes than Ronan O'Gara or Jonny Wilkinson, both masters of the drop-goal, would have done so. In extenuation one might say first that the Racing forwards came within inches of scoring and second that a drop-goal would have put Racing only two points ahead, leaving Exeter with three or four minutes in which to win a penalty and the match. Indeed they did get such a score to finish winners 31-27.
A message from the Editor:
Thank you for reading this article. We're more reliant on your support than ever as the shift in consumer habits brought about by Coronavirus impacts our advertisers.
If you haven't already, please consider supporting our trusted, fact-checked journalism by taking out a digital subscription.
Want to join the conversation? Please or to comment on this article.