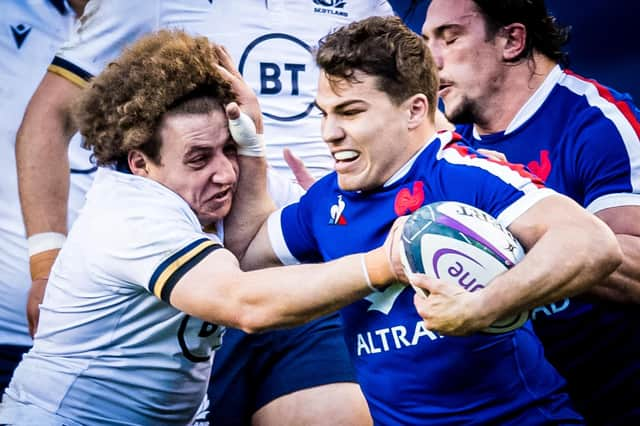 Scotland v France was hard-fought, as Duncan Weir and Antoine Dupont show, but there was little attacking imagination on display. Picture: Ross Parker / SNS
It seemed to be that both sides were overcautious, anxious to avoid mistakes. If this was the case with Scotland, it was understandable, for in the last round of the Six Nations against Ireland France had sparkled in counter attack. Once also sensed that the French, wary after their defeat at Murrayfield in the now distant spring, were equally determined to avoid mistakes, Teddy Thomas, who scored two brilliant tries at Murrayfield in 2018, not handling the ball till the 55th minute.
Indeed, while we are grateful to have had any rugby this wretched autumn, much of it has been far short of exhilarating. Weather and the absence of fans have doubtless contributed to this. There was the same lack of enterprise in the England-Ireland match at Twickenham. Having got a 12-0 lead by half-time thanks to Jonny May's tries, one of them certainly brilliant, England seemed to set any ambition they might have started with aside, and were mostly content to kick into the Irish half, saying in effect, "we don't think you can do much with the ball".
If that was their thinking it was sadly justified. Ireland kept on playing with spirit but with neither imagination or invention - at least till Billy Burns came on as replacement fly-half, dinked a lovely chip over the English line of defence, and saw it gathered by Jacob Stockdale who cantered unopposed over the tryline.
Christophe Dominici's nimble-footed talents were a joy to watch and news of his death was quite shocking.
It was so neat and easy that one wondered why it hadn't been attempted before. It's often difficult to change the way you are playing when it isn't working, but it is sensible to do so and professionals should surely be able to work this out for themselves even in the heat of battle.
Rifling through an old notebook this week, I came on something that Carwyn James, the great coach of the 1971 Lions, had written, probably late in life. "The boring unthinking coach," he said, "continually preaches about mistakes. The creative coach invites his players to make mistakes. The new midfield 'crash ball' is a disaster - hunks of manhood with madness in their eyes, battering-ram bulldozers happy to be picked off at the gainline by just-as-large hunks from the opposing side. For what? Just to do it all over again."
Well, Carwyn was a romantic of course, also a poet, and there isn't much poetry in the way the game is so often played now. We have so many matches in which the only plan is a frontal assault in an attempt to breach the defensive wall that stretches across the pitch. Of course, sometimes, the wall has a weak point that can be successfully attacked. More often, however, it holds firm until the attack breaks down either by a handling error or by conceding a turnover or penalty at the breakdown. Perhaps it is fear of losing hard-won possession that makes teams persist with this battering-ram bulldozer rugby, but if you don't score, you eventually lose possession anyway so it makes sense to try something different, to ask the defence a question it wasn't expecting.
At Twickenham Ireland had something like 70 per cent of possession and territory in the second half, and made precious little use of either. When statistics show that this forward made 20 tackles, that one 18 and the third 16, you can usually be certain that their opponents were putting the same question again and again, and that it was being answered with considerable ease because the defence knew just what to expect.
It was sad to read of the death of Christophe Dominici, all the more so because he was not yet 50 and the manner of his death seems to have been distressing. Nobody who saw his try in that astonishing 1999 World Cup semi-final defeat of New Zealand is likely to have forgotten it. Standing only 5ft 6in, nimble-footed as a cat, he couldn't have been further removed from a bulldozer winger. Like Shane Williams and young Darcy Graham today he showed that even in the modern game with its emphasis on power there is a place for quick feet, imagination and adventure. Whenever in recent years one has looked in vain for the once famous French flair one remembered Dominici as a player who incarnated the spirit of the game, a representative of the world of rugby we sometimes seemed in danger of losing.
A message from the Editor:
Thank you for reading this article. We're more reliant on your support than ever as the shift in consumer habits brought about by coronavirus impacts our advertisers.
If you haven't already, please consider supporting our trusted, fact-checked journalism by taking out a digital subscription.