Allan Massie: Jaco van der Walt has already made a considerable contribution to Scottish rugby
It's no surprise that the selection of Jaco van der Walt to face Ireland has provoked the usual argument about eligibility.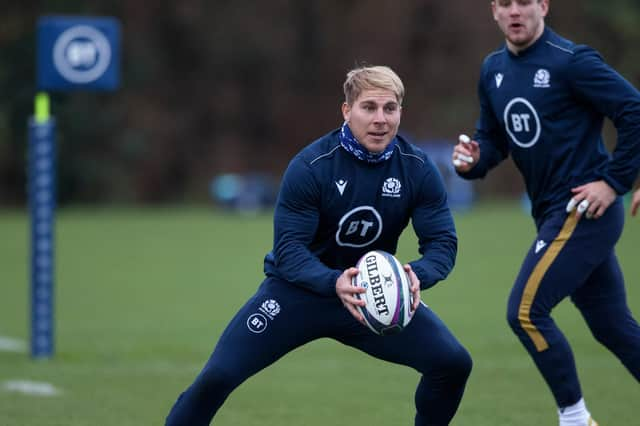 Jaco van der Walt will make his Scotland debut against Ireland after fulfilling the three-year residency criterion. Picture: Craig Williamson / SNS
Allowing players to qualify by residence is reasonable; it's only the number of years required that should be in question. This rises from three to five next year, which is why it is sensible to cap the Edinburgh fly-half now. In truth, even three years is often quite a sizeable chunk of a rugby career, and in any case since coming here in November 2017 van der Walt has made a considerable contribution to Scottish rugby. He has certainly helped to make Edinburgh a better team than the one he joined then.
As to the other criteria there are millions of people in the UK and Ireland who belong to families which qualify them for more than one of the four Lions countries, and even beyond these, as in the case of the young Welsh-speaking Gloucester scrum-half Stephen Varney who plays for Italy, thanks to his grandfather, an Italian prisoner-of-war here, incidentally one who helped build the beautiful Italian chapel in Orkney.
One may hark back lovingly to 1984 when only Jim Pollock of that Grand Slam winning team played his club rugby in England, and all the others were home-bred, home-born and home-reared, but to be honest one must admit that this hadn't often been the case in the amateur days and isn't like to recur again.
As to today's match the circumstances are unusual. It's certainly an international that both teams want to win, but there's a sense in which it resembles these internationals which serve as World Cup warm-ups. The result matters but not half much to most of us as it will when Ireland come to Murrayfield in March.
There isn't much between the two teams, but we are unhappily conscious that Ireland have won the last four games in a row, three times in the Six Nations and once in the World Cup. So there aren't many in today's Scotland team who have beaten the Irish. Moreover, all the Edinburgh and Glasgow players have experienced too many defeats against the Irish provinces.
Nevertheless, there is a feeling that Scotland are an improving side and Ireland one in a somewhat uneasy transition. Much will depend on whether the suspicion – hope even – that Johnny Sexton and Conor Murray are not quite the players they were, is well founded - though Sexton looked quite commanding for parts of the Covid-delayed last match of this year's Six Nations in Paris.
Ireland's pack certainly remains formidable. We were pretty pleased, - delighted even – by the dominance of our forwards against Wales. It was certainly impressive, but then the Irish forwards went on to dominate the Welsh in turn, while our pack struggled for the first half against Italy. One way or another therefore today's game will tell us just how much progress our forwards have, or haven't, made.
There has been a lot of kicking in last month's internationals, much of it at best speculative. Eddie Jones says that the team that kicks most usually wins. It might be more accurate to substitute "best" for "most". Good kicking is a way of getting round, over, or through the suffocating defensive line. Good kicks ask questions. Bad kicks merely surrender possession. We still talk of the Union game having adopted the Rugby League defence line stretching across the field. Players and coaches should however remember that a great many tries in League come from intelligent kicking.
Finally, other critics of van der Walt's selection say it's rough on Duncan Weir who hasn't played at all badly against Italy and France. True enough, but by playing van der Walt in this match, he is gaining international experience ahead of the Six Nations. Just suppose that neither Finn Russell or Adam Hastings is ready to return when the Championship begins, and then suppose that Weir is injured playing for Worcester. Who then would be available for the Calcutta Cup? Peter Horne who has always seemed better at 12 than at 10, or Nathan Chamberlain who doesn't need all his fingers to count the number of Pro14 games he has started? I would reckon that, unless Van der Walt plays outstandingly well today, Weir is still our No 3 fly-half behind Russell and Hastings, but, with Hastings apparently out for some time and the date of Russell's return to action still unknown, it's sensible to have a second experienced club player available. But I guess he will have to be very good in Dublin today if he is to leapfrog Weir. Maybe not, even if he is very good this afternoon. If Russell isn't back, Weir would be the sensible choice for that rather daunting place called Twickenham.
A message from the Editor:
Thank you for reading this article. We're more reliant on your support than ever as the shift in consumer habits brought about by coronavirus impacts our advertisers.
If you haven't already, please consider supporting our trusted, fact-checked journalism by taking out a digital subscription.
Want to join the conversation? Please or to comment on this article.