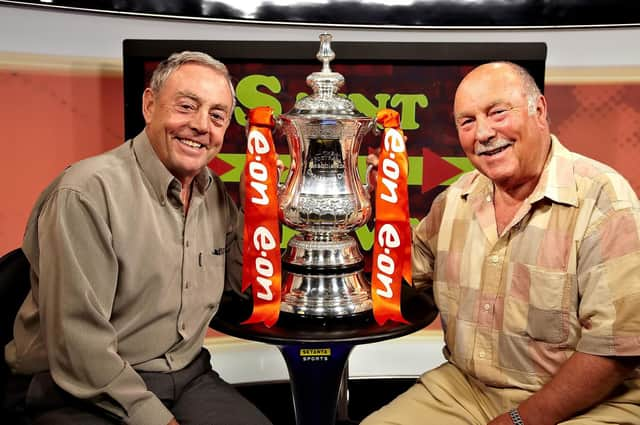 It's a huge growth industry, players who yabber and jaw, theorise and expostulate. The best of them get to wear the tight breeks and footballersplain what's just happened for we dolts who enjoy the sport but HAVE NEVER PLAYED IT. There's insightfulness here that would impress the codebreakers of Bletchley Park. Truly, for only being understood by a specialised few, it's dog-whistle quality.
Okay, I jest, some are good, but who was first? Which player blazed the trail for others to follow in switching from their feet to their mouths as a means of expression? I think it might have been the late, great Ian St John.
In 1970 for that year's World Cup ITV revolutionised football blather by signing up three players, still getting a kick at the ball, to chew the Mexico fat. Pat Crerand (Manchester United), Derek Dougan (Wolves), and Bob McNab (Arsenal) joined Manchester City's flamboyant assistant manager Malcolm Allison on the panel for the nightly knockabout sessions and they were a big hit.
But the previous year St John made a brave attempt at demonstrating that footballers could talk in proper sentences. This will have been witnessed - and doubtless noted - by ITV's sports impresario John Bromley, the man who went on to dream up the pros' panel.
"So you think you could be a soccer commentator?" That was the challenge posed by the Radio Times in January, 1969. The BBC wanted a new, fresh voice for their coverage of the World Cup with the successful candidate joining up with established mic-men David Coleman, Kenneth Wolstenholme and Barry Davies.
"This is no gimmick," the mag continued. "Every pub and club is full of the characters who honestly think they can do a better job than the present regulars. Few appreciate the high degree of specialisation required, but this is their chance to find out. The competition is open to everyone."
St John, still very much part of the first team at Liverpool alongside fellow Scots Ron Yeats and Tommy Lawrence, took the Beeb at their word and applied, although we didn't know this at the time. Some 10,000 did the same and then began what Sam Leitch, the Football Focus presenter, called "one of the most complex auditioning programmes ever attempted in BBC history".
Ten-thousand became 500 became 30. Checking St John's appearance record he was continuing in the day job as Liverpool chased Leeds United for the old First Division title and you wonder if he let on to team-mates about his telly ambitions.
Then 30 became 12 although, as I say, the identities of the hopefuls weren't disclosed, or even revealed until after the winner was chosen. I remember the grand final well: Sportsnight with Coleman, the big Wednesday night must-see, sometimes football but more often rugby league from 'uddersfield or 'unslet or 'ull, only this time an intriguing six-way voice-off, the men seen only in silhouette, competing for the chance in the summer to help bring the ninth Mundial into our parlours.
Coleman, who had the idea for the competition, told us that the sole footballer who'd battled through to the final was a Scotland international. Who could it be? I didn't recognise St John's voice and neither did my father but, no matter, we rooted for him, just as we would have done for Kenneth McKellar in the Eurovision Song Contest, Dundee in It's a Knockout! and Hearts in Quiz Ball (okay, maybe not them).
We didn't know it at the time but we were glimpsing the future of TV. Before too long, entire schedules would be full of talent contests presided over by ruthless potentates who revelled in dashing hopes with a thumbs-down gesture like Roman emperors in the Colosseum.
In '69 for Simon Cowell read Sir Alf Ramsey. The England manager chaired the judges and there was no way he was going to allow St John to win, even though our man was clearly demonstrating insider knowledge the other contenders did not possess.
Ramsey could never have been called a Scotophile; he bristled at the thistle. "Sir Alf would not have St John at any price," revealed BBC football director Alec Weeks. Indeed it's believed Ramsey threatened to walk out on Sportsnight and worse, withdraw cooperation in Mexico, harming the Beeb's coverage.
St John finished second, ahead of Ed "Stewpot" Stewart, host of Radio 1's Junior Choice, but behind Idwal Robling, a sales manager for a packaging company. A few years ago when I met him in Liverpool he recalled the contest: "Because it was 'blind' the judges didn't know our identities. But the casting vote went to Alf who could tell I was Scottish and he hated us, didn't he? 'Oh bad luck,' he said to me afterwards. I knew he'd had elocution lessons to make him less Cockney so I said: 'Maybe I should have had voice coaching like you, Alf.' He flashed me a right evil look."
I listened out for Robling during the World Cup but can only remember him being given the least glamorous of the group games, Belgium vs El Salvador, and then only the highlights. St John, what became of him? He had the last laugh of course, chuckling away as the straight man on ITV's Saint and Greavesie for seven hugely successful years.
He might have started the trend of the footballer who talks. Either way it's gone from a whisper to a scream.
A message from the Editor:
Get a year of unlimited access to all of The Scotsman's sport coverage without the need for a full subscription. Expert analysis of the biggest games, exclusive interviews, live blogs, transfer news and 70 per cent fewer ads on Scotsman.com - all for less than £1 a week. Subscribe to us today