Aidan Smith: Yes, Scotland lost, but when was the last time our football and rugby teams were both so vibrant?
We insisted it wasn't important, that it no longer bothered us. Yes, the fixture used to be yer actual raison d'etre as far as Scots were concerned, but not any more. It used to be the means by which we sought consolation for all manner of historical grudges – social, cultural, political. Now our strong feelings about it were just that – history.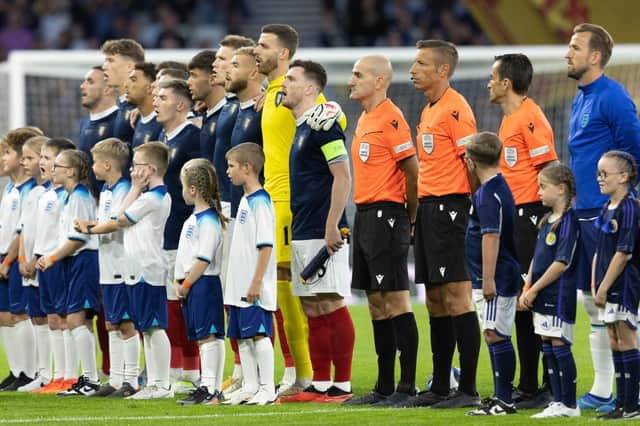 So why were we niggled by England coming to Hampden last Tuesday and beating us so comprehensively? Maybe there isn't one reason but many, and maybe a lot of them amount to noise and blethers and are not worth getting upset about, so let me try and tick a few off.
Firstly, obviously, we're Scotland and they're England. We have a population of 5,436,000 – the day after the game on Reporting Scotland some schoolkids held up the numbers to confirm the most recent census – and our dear rivals have many more millions from which to find the next Gazza so, frankly, how has it taken them so long to uncover Jude Bellingham?
Before we move on, a sub-clause to my first point: in Marseille on the Sunday we were Scotland and they were South Africa. In the Rugby World Cup commentator Nick Mullins remarked that beyond the 15 in green and gold on the pitch there were probably about a thousand more in that vast land equally as good who'd been left at home.
Secondly, back to the football, a number of those watching on TV seemed to have been irked by Ally McCoist. He was the Scotsman with the microphone so why was he so insistent ("I'll tell you what … ") on praising everything Bellingham did and everything Phil Foden did and Marcus Rashford, too?
I'll tell you what, it got to me a couple of times. And I hear all those who reckon he was keeping in with the English because he gets a lot of his work from the EPL. Well, I'm trying to find the positives here: isn't it better that he was even-handed rather than the TV equivalent of the "fans with typewriters", an old jibe directed at our fitba journos? And isn't it better that he proved himself knowledgeable about the game beyond our shores rather than some patronising English "experts" we could name?
Thirdly, you might have got too caught up in the row about anthems. So the England players and their supporters, plus some Daily Telegraph readers, were annoyed that "God Save the King" was booed by the Tartan Army, with Rangers legend McCoist also tut-tutting. Well, for the benefit of those not around in the 1970s when this was the only anthem available, it happened all the time. That doesn't mean it's right but, please, let's not get too woke about what goes down at a football match. In 2014, Celtic Park, the Three Lions contingent, complete with brass band accompaniment, bellowed "F*** the IRA" from first whistle to last.
Tuesday, though, has sparked a debate. Do England need to sing something else? Is there a suitable song from the English folk tradition which would creak less and involve crushing foes less? It's not my debate but I can't help thinking of Alan Partridge warbling Steeleye Span, hands unerringly at ten to two on the steering wheel in mesh-backed driving gloves, his Mondeo vandalised with a mild obscenity.
I want to say something upbeat about the anthems at Hampden and it's this: has "Flower of Scotland" ever sounded better in a footballing context? The rendition didn't quite have the mellifluousness of Murrayfield but much of that is down to schooling, choir practice and matron's bribes of extra plum duff for renditions which would make her chins wobble. It was, though, still impressive - even Kieran Tierney sang - and much as the heart might tell me this was because the skirmish with our neighbours still matters, the head persuades in the belief that we have something good going for us, less dependent on the parochial.
And we do. Watching Scotland is no longer a chore, an ordeal. Same with the rugby team. It's ages since they've both been this vibrant at the same time. The rugby team are world-renowned for being one of the most exciting out there. They're tremendous fun to watch and it's a compliment that South Africa hit us with the blitz defence, the Bomb Squad and neutralised Finn Russell, the same as how England's footballers neutralised John McGinn.
As Scotland were losing at Hampden McCoist and Dion Dublin jawed randomly about England being at the level we "had to reach". The team are trying, really trying, but - and this is not being defeatist - England have so much talent at the moment that we might not get there. Just as Bellingham & Co might not reach their next level, which would be to win next summer's Euros - the competition, don't forget, where we're definitely going to be represented.
The rugby post-mortem concerned Scotland's apparent inability to go full pelt for 80 minutes. Well, this is certainly apparent when coming up against the Springboks who can replace like-for-like, beast-for-beast, and we cannot. Rugby throws up fewer shocks. There's natural order. Rugby nations of the standing of Italy at football don't tend to flop like the Azzurri when failing to qualify for Qatar. And, oval ball, South Africa are world champs.
But, all that said, frustration when we don't win isn't a bad thing. It shows we're not indifferent to our national teams, as we've been in the recent past. It shows the pride still burns.
Comments
 0 comments
Want to join the conversation? Please or to comment on this article.