Aidan Smith: The choice is tight little grounds like Luton or Grealish's tight little shorts
Tell me about your week. I want to know if you did something similar. It would confirm, I reckon, that while all football fans are to some extent wilfully perverse, we in Scotland are the biggest perverts.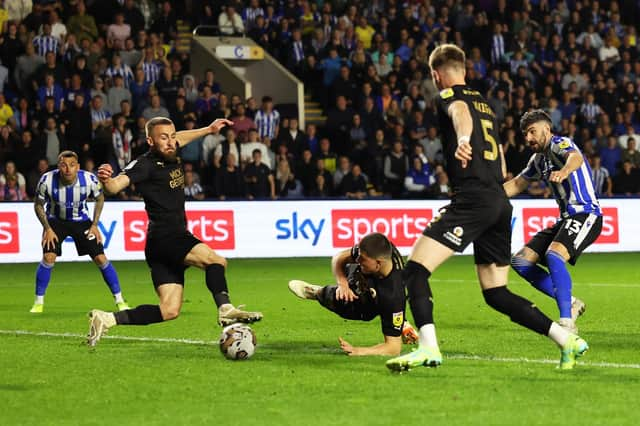 Did you on Tuesday, instead of the Milan derby or maybe after the first half hour when you realised that contest was dead, switch to Luton Town vs Sunderland? And, having got a taste for honest-to-goodness throwback fayre involving retro teams from the Shoot! era, did you on Wednesday – and I accept this might have been less likely, a true test of our perversion – forsake the celestial football of Manchester City for Middlesbrough taking on Coventry City?
And then did you on Thursday, despite being right behind good guy David Moyes and wanting him to win through to his final, and despite wondering how a team 0-4 down were ever going to make a game of it, find yourself in spirit at least on Hillsborough's yawning great Spion Kop for Sheffield Wednesday's seemingly hopeless task against Peterborough?
I did, and if you did too, then we should consider why.
Euro ennui. That might be a factor. The too-tall Jake Humphrey in the too-cavernous BT Sport studio inviting too-jejune opinion from Michael Owen about the Champions League which quite often can be the usual suspects being too elite, too familiar and – strange as it might seem – too beautiful.
Apparently Man City were beauty incarnate. But really? Maybe theirs is a beauty which is to be admired rather than loved. A beauty that's intimidating, almost scary (Naomi Campbell), over-the-top ostentatious (an eight-star hotel, the world's swankiest superyacht) and ultimately just seems wrong (the biggest diamond in the coronation crown).
You gawp at City and they appear, to the naked, scorched eye, wondrous but you don't know quite how to react to what you're watching. Even their fans in the stadium don't. The Etihad – the chummy shortform forced from the name of a luxury airline – can be awfully quiet. A few times against Real Madrid Pep Guardiola turned round and screamed, as if attempting to wake up the crowd or at least stop them taking photos with their smartphones.
Apart from the Gallagher brothers, who are the fans? Does anyone who stood in the rain to see City lose home and away to Wycombe Wanderers in England's third tier still rock up? And do they think their club have held on to its soul or should we all just agree that City are now the most brilliantly assembled AI interpretation of what a football team can be?
Back in 1998-99 when Man City were being turned over by Wycombe and York City and Lincoln City as well, Luton Town were in the same division but Coventry City and Sheffield Wednesday were both top flight. The following season Wednesday were relegated and the season after that Coventry left the Premier League. Until the turn of the century they'd all been Shoot! regulars: team pics, featurettes, player Q&As (Car: Ford Capri; favourite food: steak and chips). But then … where did these three go?
Until last week remembering the nicknames was a challenge. Coventry were the Sky Blues and – the badge offered the clue – Wednesday were the Owls but what were Luton again? "The Hatters," confirmed a colleague. And suddenly, one game away from Wembley, itself one game away from "the Prem", there they were, still to be found at their funny little ground, the one which must have been secretly transported to an estate of terraced houses and under cover of darkness squeezed between them.
"Until you have been to Kenilworth Road you cannot appreciate how cramped is 'cramped'," writes stadiums oracle Simon Inglis. In his bible, The Football Grounds of England and Wales, he goes on to describe entry from Oak Road: "through a gateway underneath the first floors of the houses, under their bedrooms and bathrooms, then through a small pathway and up some stairs where [supporters] can look down on the gardens below. Here they can throw things at people's washing, urinate onto vegetable patches and generally cause a great deal of upset and disturbance."
My copy of Inglis' book is from 1985. Is this still what happens? I think we should be told. Unfortunately Sky's commentator didn't mention the current state of the vegetable patches; he was too engrossed in the excitement of the game and the romance of Luton reclaiming a place in the footballing consciousness.
Luton fell right out of the leagues. Coventry almost vanished completely. At a particularly miserable juncture they were owned by a hedge fund and required to play at Northampton Town, with fans choosing to watch from the top of a hill despite only being able to see a third of the pitch. Yet they've revived, too, and will be Luton's opposition in Saturday's playoff final.
Sheffield Wednesday are a bit behind these two on the comeback trail but coming back from four down was magnificent. With each goal retrieved the TV audience swelled and Twitter crackled with the repeated pronouncement: "This is why we love football!"
Man City were exceptional in their game – I watched a recording later – though with all that wealth and power so they should be. The best stories last week were Luton Town, Coventry City and Sheffield Wednesday, a triumvirate of old-school clubs whose crests I still have in tinfoil, given away with petrol.
None of their players could get away with wearing shorts as tight as Jack Grealish's and long may that continue. I certainly don't want Callum Paterson getting any ideas …
Comments
 0 comments
Want to join the conversation? Please or to comment on this article.