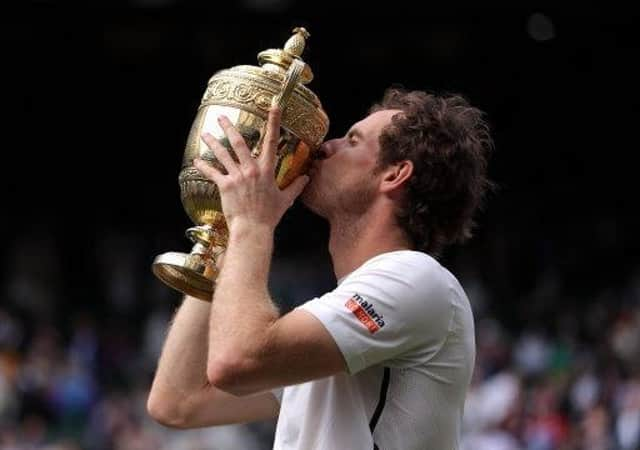 It was a new laptop and a new process for sending stories. No more could I simply file my poncey words and sit back. Some of the heavy lifting would be required of me as well. And into this highly fraught situation last summer stepped Murray, his return to singles action at Wimbledon after four injury-bedevilled years - back on Centre Court, the setting for that most thrilling moment: 2016, when he became champion again.
Second match of the 2021 tournament for him, second five-setter, second time he was edging towards the four-hour mark, only here he was threatening to bust my deadline.
His opponent, a hairy German called Otte Oscar, was pushing him all the way, playing the match of his life, while the Scot was trying to remember how he'd played matches like this before, how he used to dangle us over the precipice. I had two versions of my report ready to go - Murray wins, Murray loses. Then, just when I thought a third would be needed, outcome unknown, with the clock closing in on 11pm, he pulled us up by the ankles and plonked us back in our seats for match-point and an outrageous lobbed finish.
I could do without this sort of drama for what will be Murray's 13th appearance in the singles, the drama of the tennis being more than sufficient. But I'm ready for it because I'm addicted. There's nothing like it in sport. A single service game can contain more thrills than 90 minutes of football and especially now during the keep-possession tyranny. You cannot strike the ball sideways or backwards in tennis.
In a match of high quality it can be all killer, no filler. One stupendous shot after another, delivered with such seeming nonchalance that you almost become blase. Almost, but not quite. A match of such dizzying sugar-highs that you very nearly cry: "Enough, I can't take any more of this brilliance!" Nearly, but not quite.
In a Murray match - a too good to hurry match - you will try to find a moment to reflect on something that, all the way through these previous 12 Wimbledons, has amused and amazed: this fellow comes from Scotland, a puddle-soaked land of crater-strewn public courts! Only the fact there's a Jamaican bobsleigh team seems more - cue Dan Maskell - remarkable.
We have been tortured - benignly - by Murray many times. Not as many as we would have liked with all those Wimbledons missed through injury before his trip to the Six Million Dollar Man's remaindered shop and re-emergence with a metal hip. And we know that at 35 there won't be too many left.
For Emma Raducanu there should be many. If she and Murray were at the absolute top of their respective games right now, just think what this notable Wimbedon could be like for the home crowd. The Centre Court in its centenary year would be threatening to burst with hopes and dreams. Maybe just as well the hopes and dreams have been slightly dimmed by the pair having had to nurse injuries. The number of fainting cases might have overwhelmed the St John's Ambulance crews.
Those injuries for our Grand Slam champs have been strikingly similar abdominal problems. There seems more doubt for the prospects of the US Open winner after she missed Friday's training afternoon, but more hope for Dunblane's favourite son who, as observers at his session reported, seems to be over the worst of the strain which caused him to miss Queen's.
Murray, despite being unseeded, has the kinder draw as he prepares to face Australia's James Duckworth, the world No 77 and himself only recently returned from injury, while Raducanu, seeded No 10, must do battle with the muscular, in-form Alison Van Uytvanck from Belgium, ranked No 46 in the world.
Both Brits are due on Centre and it would be understandable, given her lack of matches never mind form, her lack of experience at white-hot elite level never mind that title from Flushing Meadows, if Raducanu, still only 19, was to be daunted by the expectation swirling around her - much of it in ignorance of the injuries and not just the latest one which have beset her since New York, plus all the chopping and changing of coaches.
For Murray, though, it's different now. He's won in SW19 - twice - and sated the lust, if that word is appropriate, of the All-England Club's polite constituency of debenture-holders for a home triumph. He'd love another title, of course, but to some degree the pressure is off. He can go out there and have fun, then who knows what might happen?
Last year the atmosphere on Centre Court - the crowds were rowdier than normal due to Covid keeping some of mature years at home and those in attendance feeling liberated from lockdown and keen to shout about it - seemed to play a big part in propelling Murray to the end of the first week. This time, though, he brings some form.
"The thing that has been frustrating for me in the last few years is going into matches and not being in a good place with my tennis," he reflected on Friday. "Or not being in a good place physically and able to compete at the level I believe I can. I do believe that if physically I'm in a good spot there are great performances in me."
Sounds like he's revving up the rollercoaster again. Come on, Andy, let's go!