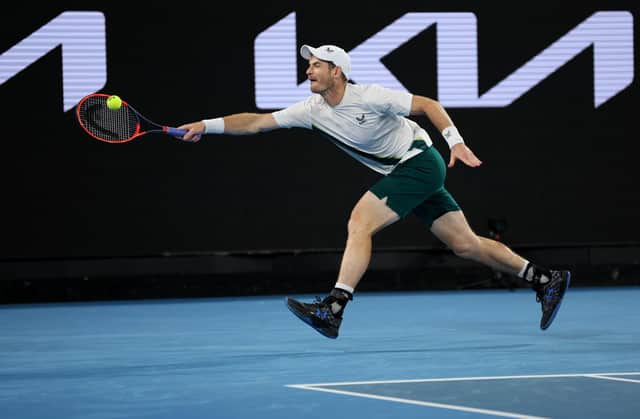 It's certainly the greatest involving a Scot, at the age 35, who doesn't need to bother anymore, whose immortality is assured, whose glories will never be topped – and who these days functions with the aid of one of Robbie the Robot's metal joints.
It's certainly the greatest involving a guy who not so very long ago was using his tennis racket as a crutch to hobble to excruciating defeat to a very tall and slightly goofy American – Sam Querrey – who'd previously appeared on a TV dating show, expressing doomed preference for an outdoorsy girl fond of hiking who liked wearing stilettoes.
That Wimbledon loss in 2017 looked like the beginning of the end for Andrew Barron Murray, a view which hardly seemed improved by the first hip operation, the next SW19 no-show, more injury setbacks, the second hip operation, the exhibition-like knockabout return in doubles, the tournament-nixing pandemic, the near-bagel and despite the retro thrills of last year at the All-England, the creeping sense that here were opponents who previously couldn't have lived with the Scot, except that for him charging down a drop shot had now become as tricky as, well, traversing rugged terrain in high heels.
I'm talking of course about that match at the Australian Open, the one after the match where Murray finally overcame a Top 20 player for the first time since My Left Hip became the gloomy main feature for his millions of admirers, screening on a loop … that match featuring that rally, the one which typified, explained and cracked the secret of his brilliance.
Not for the first time he's transcended sport. "Andy Murray puts work-shy Britain to shame," ran a headline on news pages yesterday. Now, I admit I'm still very much in the moment but will this rally, more than Flushing Meadows 2012, Wimbledon 2013, same place 2016, the two Olympic golds and the Davis Cup, be shown and re-shown as inconvertible evidence of the absolute best of him: who he was, the way he played and how he point-blank refused to give up?
It could, you know. It seems like his Robert the Bruce moment. At first he didn't succeed …
Now, we can't all be Andy but there's a lesson – for sport and life – in this phantasmagorical 45 seconds, chopped and cropped from the longest match of Murray's storied career for social media and still winging its way from Dunblane to Damascus to Dingzhou and all the way back again.
Don't give up. Dig in. Be bloody-minded, perverse and – yes, let's celebrate us – Scottish about the business of trying and trying again. Just look at what might happen if you do.
Let's study how those 45 seconds unfolded (because if nothing else I'm determined to spin close to 1,000 words on the subject, verily a spider suddenly finding itself committed to ambitious webbing). Thanasi Kokkinaskis, his opponent on Thursday long into Friday, Aussie time, served strongly and with his next shot pinned Murray to the tramlines on the forehand side. Get out of that, Andy Houdini. Well, he did.
With the Australian's next, looking to be a winner all the way, he sent our man scurryring out a side exit of the Rod Laver Arena, out beyond Melbourne's city line to the 'burbs where I have cousins who emigrated from Edinburgh as ten pound poms half a century ago (Hello Linda, hello Alaine).
Ridiculously, Murray retrieved. Kokkinakis smashed and smashed and smashed; Murray, pantingly, enquired every time: "Is this all you've got, pal?" Kokkinakis was like the knife-thrower at a Victorian variety theatre, except that Murray wasn't playing the silent stooge.
Suddenly, bogglingly, the man who I watched last summer coming up short had transmogrified into a videogame version of himself, a PlayStation super-athlete. Or, for older fans, he was stretching, clawing, reaching in impossible comic-book fashion like Wilson of the Wizard. Or maybe Andy of the Dandy. (But how the hell do you bend like that when you're part-cobalt and chromium alloy?).
From a match, don't forget, which lasted nearly six hours and didn't finish until 4am, the planet-circulating clip's run-time includes Murray's celebration, the cupping of an ear like he'd just scored the winner at the Hearts end at Easter Road in a Scottish Cup derby (Hibs today can only wish). The actual rally comes in at 23 seconds, which got me thinking about other contenders for the greatest moment and how they unfolded.
In my own personal time capsule there would, until Thursday long into Friday, have been flickering footage of Brazil's fourth goal in the 1970 World Cup final. From the moment Tostao breaks down an Italy attack, the move lasts 19 seconds.
The goal, scored by Carlos Alberto, is celestial. I love everything about it: the Azteca, the grainy, burnished hues, the heat you can almost feel, Brazil's at that moment refusal to boringly game-manage, Jarzinho's billowing shirt, Pele's perfect pass.
Maybe best of all, the supposedly defence-minded Clodoaldo selling those dummies. Three of them. In his own half of the field. But, sorry, after all these years, three returns from Murray, of overheads which bounce high, fast, wide and surely beyond rescuing, trump three shimmies of Clodoaldo's samba hips.
I was coming back from dropping off my five-year-old at nursery when I heard about Murray's win over Matteo Berrettini and don't mind admitting to suddenly having something in my eye. Now, even though his brave and brilliant run at the Australian has ended, I can't stop watching the rally – the greatest moment.