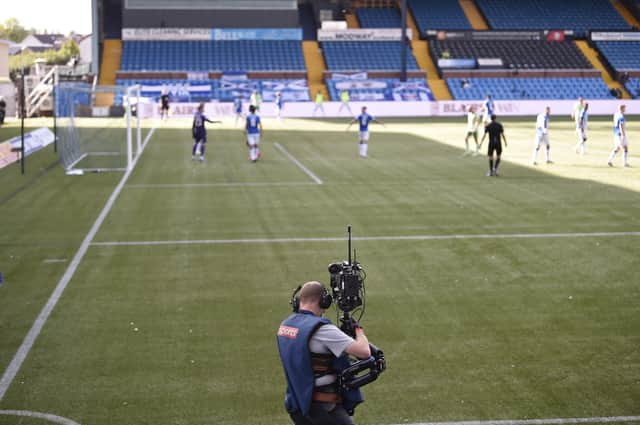 But I wish I'd been a bit more rigorous in my questions when I interviewed him in the summer of 2020, just as Scottish football was about to re-emerge from Covid.
Sky Sports had it covered. Up until that point they'd shared live games with BT Sport but the latest contract handed them exclusive rights. They were going to do Scottish football proud - all of it. In the first week of the new Premiership, on a Monday night, Walker would be heading to Dingwall for Ross County vs Motherwell. Next up: Dundee United vs Hibs. Every team would be featured during the month of August, he told me, and thereafter a rule would limit the number of times Sky could visit any ground.
This would stop Sky from screwing cameras to the floor of the gantries at Celtic Park and Ibrox - something fans of other clubs believe any broadcaster would do, given half a chance. Majoring on the Old Firm, making them the big story - the only story - every single blinking week.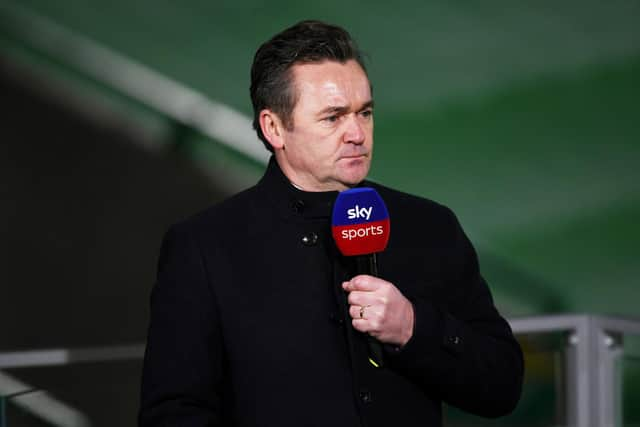 This has happened anyway. Sky may not be able to show every Celtic and Rangers home game but they cover the vast bulk of their away games. I think we all knew this would happen. I could have teased Walker about this but didn't. The interview was a profile piece, spanning his whole career in football, and Sky's intentions formed a small part. Now, though, how they cover football here is a big story as the post-split games begin.
Every match to be screened live comes from the top six and every one features the Old Firm. This despite the fact Celtic will definitely be champions and Rangers will definitely be runners-up.
Elsewhere things are far less clear-cut. Who else qualifies for Europe and how bountiful will be the prize - games right through to Christmas? Who's for the drop or the dreaded playoffs? These are the vital issues over the final weeks of the season but Sky aren't focusing on them.
They will argue that Aberdeen, Hearts and Hibernian feature among their live games. Yes, they do, but as opponents for the Old Firm. Sometimes it seems as if this is how the rest of Scottish football qualifies for screen-time and such an occasion is now. It's almost as if the other clubs need Celtic and Rangers to vouch for them. I'd liken it to the Old Firm giving the rest a "lift-over" if that wasn't a romantic allusion from football's past and there's no romance involved here.
Hearts vs Aberdeen on 20 May could be the key encounter in the race for third, indeed it's probably the most meaningful clash remaining in 2022-23, but Sky haven't deemed it worthy.
Most meaningful? Those in the bottom six battling relegation would doubtless dispute that, but then this struggle is so tight and, yes, exciting that the deciding game is not yet known. Whatever it will be, though, Sky definitely aren't showing it.
Nor will they be at the final Edinburgh derby. Just like they weren't at the previous one, or the one before that. The capital clubs must wonder who they've offended to be snubbed like this. Beyond the city walls the fixture has definite and distinct appeal. True, the ball if it could speak might squeal for mercy, and pine for some semi-tethering like this was a loving caress - but after the Old Firm rivalry here is Scottish football's most-vibrant. Not in Sky's eyes, though.
Now, none of this is Andy Walker's fault. The decisions over coverage will have been made above his head. Sky are a commercial concern and Celtic and Rangers bring them more subscriptions. End of, really, as far as they're concerned. The BBC, if the national broadcaster were responsible for live coverage, would be more egalitarian about it. At least I hope they would.
Would BT Sport? Possibly not if they had the field to themselves because the bottom line would apply to them too. But they undoubtedly did a good job when they were around. I miss their coverage, right down to the quirky graphics at the start of games. The post-match debriefs on the pitch were invariably sparky, mainly thanks to Michael Stewart who at least is still on the scene (for the Beeb) and Chris Sutton who sadly isn't.
When Sky and BT shared games the former always flexed sufficient muscle to nab Celtic vs Rangers. I challenged Walker about Sky obsessing about the fixture, that it was the only one which mattered to them, and he denied this. "Of course we'll sell the Old Firm derby, it's the biggest game we've got, but we want to showcase all of Scottish football," he said.
I also admitted to him that I'd preferred BT's coverage and that his network, with a free run, would have to seriously up its game. "I don't think you're alone in thinking that," was his response. "We've had group calls during lockdown about how we can improve our coverage and I think it will be better."
Well, sorry Andy and Ally McCoist when he's at the mic and commentator Ian Crocker, but despite your best efforts it's not. Kris Boyd as a pundit is no Chris Sutton but I could just about live with him if Sky hadn't been so conservative, predictable and downright boring in how they've chosen to portray our game as the season reaches its climax.