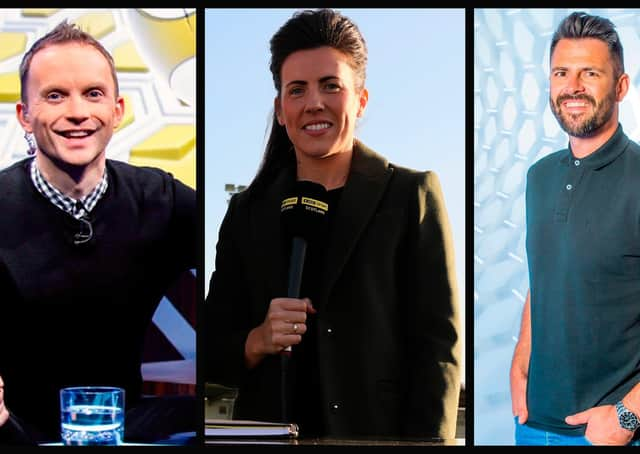 Sportscene presenters Jonathan Sutherland, Leanne Crichton and Steven Thompson.
The future may be unclear. The Queen's lockdown promise that "We'll meet again" still remains tantalisingly vague for Scottish football fans who don't yet know when they'll be allowed to gather together to cheer for their teams. But one thing is certain: Sportscene is back where it belongs on Saturday nights.
When the new Premiership season kicks off on 1 August – very definitely without any supporters in the stands – an hour-long highlights show will air at 7.30pm on the BBC Scotland channel.
Okay, so it's not BBC1. It's unlikely the programme will have the cantering signature tune which told the armchair audience that the great Archie Macpherson was about to pronounce, using big words and lyrical phraseology. And – tragedy for Scotland, even though Arthur Montford used to say that – Archie won't be presenting.
Sportscene pundit Michael Stewart. Picture: Craig Williamson / SNS
There seems little chance, too, of the classic Saturday goggle-box schedule being revived, even just once, for fun, to celebrate the reintroduction of match action: The Generation Game, The Two Ronnies, Kojak (or Starsky and Hutch) and Parkinson. We will just have to make do with Sportscene, but in these dark times, that's something, isn't it?
Not just Saturdays but Sundays, too. Anchorman Jonathan Sutherland, late of Sundays, moves to Saturdays. Sundays will now be hosted by one of his regular pundits, Steven Thompson.
BBC Scotland are promising that these shows and others running throughout the 2020-21 campaign will have a "wide range of pundits" but, as yet, there are no names. Presumably Michael Stewart will figure, but where?
Surely it will be the Saturday edition; he's too sharp and provocative not to be involved in what will become the flagship programme.
Livingston's Marvin Bartley has been doing punditry on Sportscene. Picture: SNS
Does he do both? In the age of diversity and the Beeb needing to have many voices, that would seem unlikely. It's true that a man with red hair once presented, commentated, interviewed and postscripted the blood and snotters out on the park, but there will only ever be one Archie and that was a long time ago.
In any case, while Stewart and Thompson enjoyed good banter on Sundays the nature of that relationship could change were Thommo to effectively become Mikey's boss. Surely Marvin Bartley has a regular telly gig if he wants it, notwithstanding that pundits can be compromised about what they say while they're still playing the game.
The good news for stay-at-home fans – and for the foreseeable that's all of us – is that on Saturdays when most matches still happen we will be able to watch highlights within two and a half hours of the final whistle sounding around the country. That we used to have to wait a whole day for them – and especially in this rapid-fire media age – was hugely frustrating and had to stop.
BBC Scotland aim to be much quicker off the mark. While Sky hold the main rights for screening live matches, the Beeb will follow quickly behind transmission of the Ross County-Motherwell game on Monday week with their highlights. A week later there will be Tuesday and Wednesday highlights. Then on 17 October when the Championship makes its delayed entrance there will be regular Friday night second-tier action, hosted by Sutherland and Leanne Crichton.
Mention of Crichton brings to mind Only an Excuse and the last Hogmanay edition's skit sending up her occasional double-act with Thompson. Crichton was impersonated by Joy McAvoy – James' sister – and sporting a near-identical high-fronted hairstyle Thommo was sent up something hilarious by Jonathan Watson.
Thompson will be hoping that his anchorman debut gifts the funster no more opportunities to portray him as just a bit glaikit. Sportscene may not be perfect but it's ours, and as of next Saturday it's restored to its rightful place.