Aidan Smith: Rugby's pay-TV dilemma - does it want the money or does it want the audience?
Completist that I am, lover of great Scottish sporting near-misses that I am, it bugs me that one of the most thrilling scores by a man in a dark blue rugby shirt in recent times has become "the lost try". In 1999 at Twickenham Alan Tait took a pass in the midfield from John Leslie and bulleted for the England line. Taity was all radical running angles, all swerve, swagger and smash. Two England players got a hold of him but really they were being dragged along. Then, at the decisive moment, Dan Luger stood before our man. But the guy with the gun in his name was woefully unarmed for this confrontation. Luger was done with a thumping chest-bump and the Scots had their try, even if that season they wouldn't quite get their Grand Slam.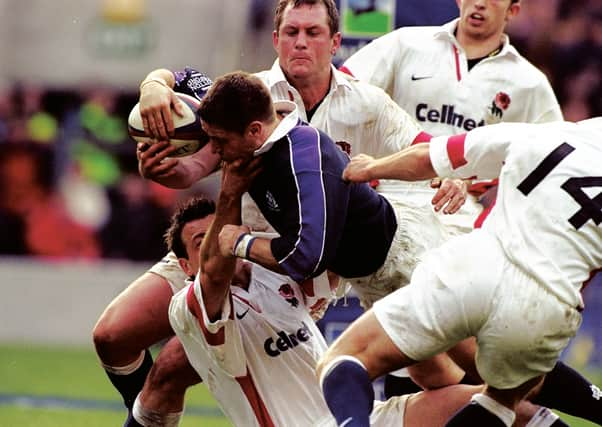 So why is it lost? Because the match was shown on Sky during the previous flirtation with pay-TV by what was then the Five Nations. Because of that it never turns up in the reminiscing and build-up for subsequent clashes, these always being on BBC or ITV.
Until now. The next round of rights for the tournament is up for sale and the reckoning is that some games will end up on a non-terrestrial network. Rugby therefore is heading for the same dilemma as cricket, golf and boxing. Does it want the money or does it want the audience? We all know which way these sports went, and if you don't have Sky or any of the other pay-TV channels – and most of us still don't – then you could reasonably ask how far they've drifted from the national consciousness and conversation. Meanwhile, at grass-roots level, clubs could explain how far participation has slumped.
With its current concerns over concussion, rugby would seem to need another threat to its profile like a blow on the head. Yes, but think of all the dosh the sport would get for selling its soul, or part of it, to pay-TV! Doubtless the new rights owners would be keen to tell us how a large chunk of the money goes to the unions with the specific, locked-in purpose of "growing the game". But what's the point of new facilities if the interest has dwindled because the skills were no longer available to inspire on freeview?
Rugby, just as much as cricket and golf and even boxing if we go all the way back to 'Arry Carpenter and 'Enry Cooper, is associated with the state broadcaster, the BBC. Possibly the association is even stronger because of Bill McLaren. ITV's entry into rugby was viewed by traditionalists as the end of civilisation as we knew it but they have grown into the job of presenting the sport. They know that another network was there long before them, and that rugby – with its soulfulness and reverence as well as its excitement – isn't football and won't benefit from the station's traditional brashness, and certainly not their traditional froth.
So what would pay-TV do for rugby apart from make with the readies? If it's Sky, I fear for the sport and it could lose more than Taity's try. A few years ago he told me: "It was probably the best of my career and I just wish that game had been shown on the BBC as Sky made a bit of a mess of it. It would have been lovely to have had Bill getting a wee bit excited."
Comments
 0 comments
Want to join the conversation? Please or to comment on this article.