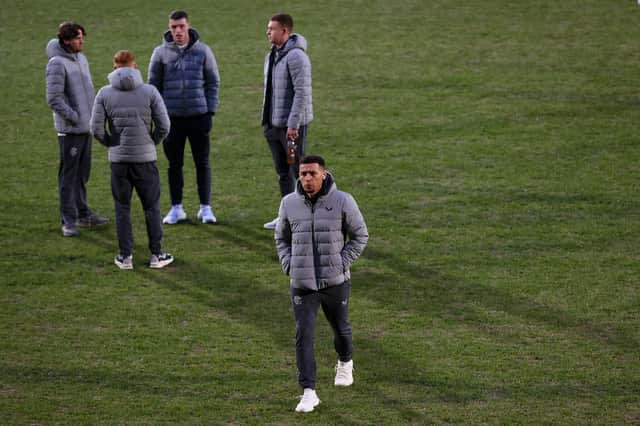 The one for the opposition is huge and designed to make their captain look tiny when faced for a few brief seconds by Harry Kane emerging from his much smaller opening like Gulliver squeezing out of a doll's house. Can this really lend Spurs a psychological advantage?
Another feature, more easy to appreciate its worth, is the retractable pitch. The grass can be rolled away and replaced by a synthetic one, thus preserving the football surface from any monster truck rallies the club might want to permit. The disappearing act, enabled by 1,388 custom-made steel wheels, takes just 25 minutes. An undoubtedly impressive feat of engineering, and I thought of it the other day when McDiarmid Park was dubbed a "cow field".
I was disappointed by Michael Beale. The Rangers manager has not put a put wrong. Okay, there was that moment right at the start when he wouldn't mention Celtic by name and you might have wondered if he was adopting the traditional Ibrox siege mentality and preparing to launch into the fond refrain: "Nobody likes us, we don't care." He apologised, insisted no offence had been intended, and since then his comments have been smart and worthy additions to the fitba chitchatterama. But "cow field"?
He knows about Scottish football, having been here before with Steven Gerrard. He knows therefore about the modest budgets of clubs outwith the Old Firm and he knows about Scottish weather. It's especially not been kind to our pitches this winter and no club here enjoys the luxury of a roll on-roll off park. But I'm sure the groundskeeping department in Perth is considerably smaller than the one at Ibrox and that they hardly deserve their pitch being slagged off. Unsurprisingly St Johnstone have not let the grass grow under their feet on this, calling Rangers "unprofessional".
It is easy to have sympathy for the smaller club when a much bigger one throws its weight around. Generally, life works out fine for the much bigger two in Scotland; they win most of their games and usually all of the trophies. When they're suddenly inconvenienced by something niggly, the reaction from elsewhere is usually: "Just suck it up."
On this specific issue, though, what could St Johnstone have done differently within budgetary limitations to protect the surface from so much rain and frost? And Beale might have chosen his words better. "Cow field" infers negligent upkeep and I'm sure he didn't mean that.
St Johnstone could of course have gone plastic. But history tells us that wouldn't have pleased Rangers very much. In the Championship there was a period when Mark Warburton seemed to be complaining about synthetic pitches non-stop. Indeed there was a period when the team were playing on them non-stop - Alloa Athletic, Kilmarnock and Queen of the South all in quick succession.
As befitting their nickname of the Wasps, Alloa were a considerable irritant to Rangers during the latter's time away from the top-flight, and to Hibernian, too.
The season before Warbs they returned from two visits to Govan undefeated and dumped Rangers out of the Petrofac Cup after giving them two goals of a start at Recreation Park, as I'll always call it, on an artificial surface which Archie Macpherson reckoned had been laid with "carpet remnants off a stall at the Barras".
There was no disputing that the pitch at that time – it was replaced later – was diabolical. Players were at risk of choking on the black pellet dust-clouds every time someone risked a slide tackle. Alloa further annoyed Rangers by reducing its dimensions but had a great retort, pointing out they were merely copying former Ibrox boss Graeme Souness who sneakily cut back on space for Dynamo Kiev's flying wingers after watching the European Cup opponents train on his park. The ill-feeling between mighty Rangers and little Alloa continued with balls being deliberately booted out of the Clackmannanshire ground and onto the railway line and the Wasps, quite rightly, sending through bills for replacements.
But, really, complaints about the state of pitches today just make me laugh. We've got too used to the ones featured in televised English Premier League games which positively glisten at all times of the season. You could eat a prawn sandwich off of Old Trafford and the same goes for Anfield, Emirates and the rest. There is never mud in January anymore, or bare, brown goalmouths in April.
Thankfully social media pretty much exists as far as I'm concerned to remind everyone of a time when players somehow created magic on gluepots, in dustbowls and right across snowy tundras. Clips of games from the 1960s and 1970s induce shock and awe in boys who get to glimpse up close how the pitch is always perfect for the likes of Harry Kane, and that when they tumble for a penalty or an advantageous free-kick the landing will unfailingly be soft.
They want to know: how did George Best manage to dance across these quagmires? How did Charlie Cooke avoid drowning? How was Eddie Gray in the 1970 FA Cup final on the "cabbage patch" that was Wembley still able to produce his wonderful deedle-dawdle?
They just did, son. That was the way it was and how football coped, survived and thrived. Progress – and 1,388 custom-made steel wheels – is not always what it's cracked up to be and the grass is not always greener.