Aidan Smith: Lee Johnson has called out Hibs 'mediocrity'. He must hope this doesn't come back to bite him
Let's go back to the Edinburgh derby of January 2. No, not last Monday, I mean January 2, 2013 when Hibernian were managed by Terry Butcher. For I can detect some chiming between the actions of Big Tel ten years ago and the intentions of Lee Johnson now. It is not a joyful sound; rather a dull clank. And if the outcome turns out the same then be afraid, Hibbies, be very afraid.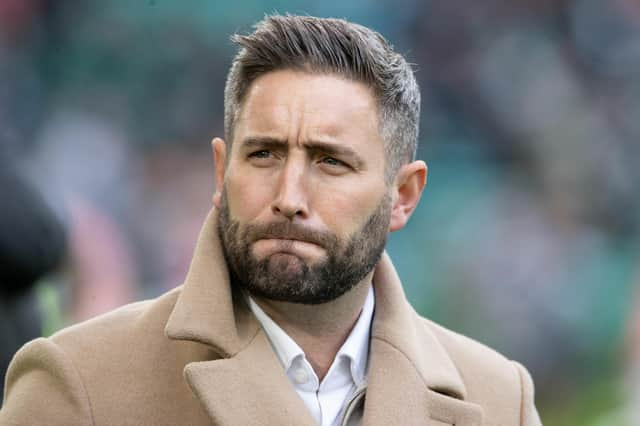 Butcher actually won his derby. His Hibs at the turn of the year were in European contention and the next game at Dundee United should have been four wins on the bounce - but they contrived to toss away a two-goal lead in the closing minutes. The team would blunder through the second half of the season, winning only once more before crashing out of the top flight.
Now, either just before the Hearts game or right after, Butcher informed a number of first-team players they would not be part of his plans going forward. Not only do we not know when the manager pronounced some Easter Road careers to be over, we do not know how. What language did he use? How damning was he?
What is known about Butcher's fellow Englishman Johnson is that the Tynecastle groundstaff hadn't yet taken down the nets hit three times by Hearts in the latest derby before he came out swinging. Wee Lee was damning, all right.
"We can't accept mediocrity … I'm sick of it," he said. A "revolution" was needed to remove the "deadwood". There were too many players at the club and too many "average" ones. "I'm quite willing to be ruthless," he vowed, and if as many as ten are shipped out, then fine.
Now, there's a long history in football of an under-pressure manager's very public criticisms of his men being pretty much his last act before being bulleted. In these situations the boss is cornered in a low-ceilinged room under the stand. Just before opening his mouth it dawns on him how repetitive and, yes, boring his post-match excuses must sound, so he tears up the script. I did my best with these clowns, he's more or less saying, but if they can't stick it in the net from eight yards, hell mend them.
Johnson is not going to be sacked - yet - but he must know that an equally emphatic defeat by the capital rivals in the Scottish Cup a fortnight today will have his coat-peg shoogling in the manner the goalposts do whenever the Hibs strikers get close and may indeed spell the end.
He can take some solace from the fact that in Leith the blame is being shared around. There are as many fans unhappy with the owner, the chief executive and the head of recruitment - often all three - as there are those fed up with the boss and just two wins in the last 12.
So what happens next? Scenario 1: Johnson gets his wish and pretty much a whole team exits. But even though he says he'd be happy with ten departures if there could be a solitary arrival of "quality", one guy is not going to save the season and the boss's job.
Also, ten leaving would be a very bad look for Johnson and/or recruitment chief Ian Gordon if a good number come from last summer's splurge - a whole team in themselves. Exactly who signed who? That debate could get very messy. Already one player has gone: Momodou Bojang, destined to be remembered not for any association with the song "Mr Bojangles" – he did not "jump so high" or "dance a lick" – but for a stinker of a miss against Kilmarnock.
Bojang, it seems, had been part of the grand plan of amassing, often from abroad, young prospects who can be developed and sold for profit. But this is a football club faced with challenges and demands weekly; it cannot be a laboratory for a protracted experiment. A number of the recruits - and I include pre-Johnson ones like Chris Mueller, the Owlman of Illinois - have looked pretty feeble out there. Meanwhile, Hearts with Robert Snodgrass and their muscular Aussies continue to progress. I'm loathe to use a phrase coined by Boris Johnson but this one fits: the Jambos are "oven-ready".
Alternatively, this Johnson is confronted by Scenario 2: there's insufficient player movement, out or in, and he must carry on with what he's got. The January window is a tricky one and the manager has already mentioned the "financial implications" which could stymie his desire for a "reset".
Ten years ago Butcher had to carry on. "We made the mistake of being too honest," No 2 Maurice Malpas told me later. "We let it be known we were going to decimate the team and start again. In hindsight we should have cajoled the players to the end of the season. We thought we were being kind to those who weren't going to be in our plans. But some of them put their tools away and there was a bad atmosphere.
"They either couldn't or didn't want to find other clubs. That was their prerogative but they then sat in our dressing-room and caused mayhem. One or two of the senior players just couldn't be bothered and some of the younger ones copied them. But we got hit by injuries and had to go back to those guys. After we'd shafted them, they shafted us."
For Hibs right now that word "mediocrity" is hanging in the air. It applies to lousy finishing but not only that. Johnson must hope it doesn't come back to bite him.
Comments
 0 comments
Want to join the conversation? Please or to comment on this article.