Aidan Smith: Is Boydy about to be Monster Munched by Chris Sutton? Bring it on ...
This is a big season for Kris Boyd and you might even call it epochal. That's epochal as in defining. In case you've misheard I am not saying pochle, the good Scottish word for chorey, which is another good Scottish word for the act of stealing.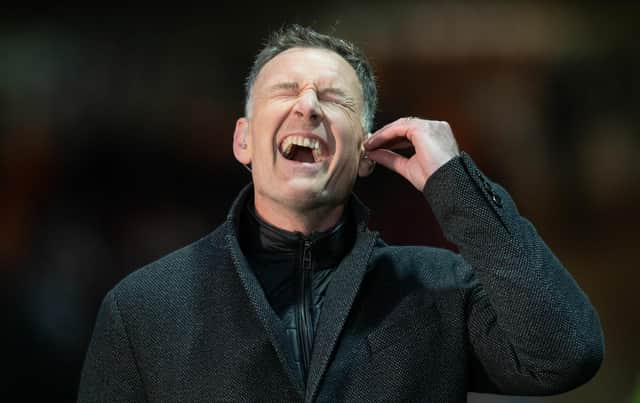 As in: "Bazza Ferguson got out the Monster Munch, pushed the box right into the middle of the room while Paul Le Guen's back was turned, did a daft wee dance behind the manager, only for Boydy to pochle the whole 24 packets and run off."
Boyd doesn't play football anymore and may no longer scoff the crispy maize snack shaped like claws and talons. He's now the preeminent pundit on Sky Sports, the preeminent broadcaster of the SPFL. Only the channel have just signed up Chris Sutton.
How will this play out, two monsters of the scene going head-to-head? Boydy likes to dominate the gantry. He's got an XXX-wide stance which can force fellow talking heids onto the steps, even down into the rabble. And when he flashes that Ultrabrite grin the dazzle can discombobulate the other pundits, making them forget what they were about to say.
Sutton – Suttony? – doesn't play second fiddle to anyone. He's an alpha pundit, numero uno for the version of mansplaining known as punditsplaining. He could start an argument in an empty studio or on a deserted touchline when it's just the seagulls squawking and the last of the outside broadcast gubbins is being loaded back onto the lorry.
There's so much talking in football now – how did this happen? Time was David Coleman roared "One-nil!" and these were just about the only words heard. Coleman didn't have a co-commentator and coverage was helmed by the presenter with maybe just a single analyst alongside.
The 1970 World Cup on ITV changed everything. Brian Moore anchored while sat in a row were four – count 'em, four – pundits. "We had never seen anything like it," writes Martin Kelner in Sit Down and Cheer, the definitive history of sport on the telly.
"Manchester City's flamboyant, fedora-wearing, bunny girl-chasing coach Malcolm Allison, the garrulous Northern Irish international Derek Dougan, Manchester United's Scottish midfielder with a twinkle in his eye Pat Crerand and the Arsenal defender with the unfeasibly bushy sideburns Bob McNab were 'The Panel', ostensibly engaged to provide informed punditry, but mostly selected because they mirrored the famous 'Englishman, Irishman, Scotsman' joke, and because of their potential for entertaining disagreement."
Nothing was the same again and briefly Kelner likens the ground-shaking impact of The Panel to the Sex Pistols igniting the punk rock revolution. From The Panel came radio phone-ins then entire radio stations devoted to football. Then entire TV stations and more recently all these podcasts.
Sportscene with a presenter and minimum-two pundits, copying Match of the Day, comes from the original Gang of Four. The Panel, Kelner writes, "would have been pretty lively sober but John Bromley, ITV's executive producer, ensured their tongues were loosened still further by locking them up for the duration of the tournament in [London's] Hendon Hall Hotel, giving them the keys to the minibar, and insisting they were woken each morning with a bottle of vintage champagne".
For the next World Cup in 1974 ITV made changes with Crerand and McNab being replaced by Jack Charlton and Ol' Bighead himself, Brian Clough. This is a long time ago now but I seem to remember Allison being the top dog, the Boydy of his day. Cloughie, though, would have been the kind of challenge - and threat - that Sutton presents now.
What do we think of punditry in Scotland? Here's Jack Ross who's dabbled in it and who I asked last year if, while out of management, he fancied a full-time gig: "I'd be interested if it was a platform for proper analysis of games but I don't think that's how it functions here. We don't examine football well enough. I'm guessing coverage is dictated by what it's thought the audience wants. Some chat about all the managers under pressure or proper discussion about tactics, shape and the choices which impact on games? I prefer the latter."
We're not the producers of the shows but we influence the content? Hang on, I don't remember filling out a questionnaire requesting more of Boydy's cheerleading for his favourite team. After a summer listening to cricket and tennis punditry, our football chitter-chatter can seem basic and a bit anodyne, although that's true of football chitter-chatter from England as well (and at least we're not the ones promoting Jermaine Jenas beyond his abilities).
If our punditry is a reflection on how we view football – and we're not going to have any of Ross's science – then at least can there be some knockabout fun and feistiness? It's all too puny and polite at the moment and on Sky the other pundits can seem intimidated by the main man's sheer Boydyness.
Sutton won't stand for this and so offers hope. I remember a newspaper profile of him from his Blackburn Rovers days which, in a profession where everyone tends to copy each other, portrayed him as a man apart. The example offered was his fondness for taking off to the hills on his own with the dogs. I was sceptical but when he worked Scottish games for BT Sport this made sense. He didn't follow the party line. He was combative. Though we're talking pundits and not Lyse Doucet and the war correspondents, he was fearless.
So I look forward to him bringing all of this to Sky and am almost feeling sorry for Boydy.
Comments
 0 comments
Want to join the conversation? Please or to comment on this article.