Aidan Smith: In the struggle of man versus machine, maybe intimidating Ibrox can curb AI
You never forget your first time. Your Ibrox initiation. The Big Hoose for an away fan is a rite of passage. Everyone needs to do it at least once. And probably more than that if you want to see your team awarded a penalty.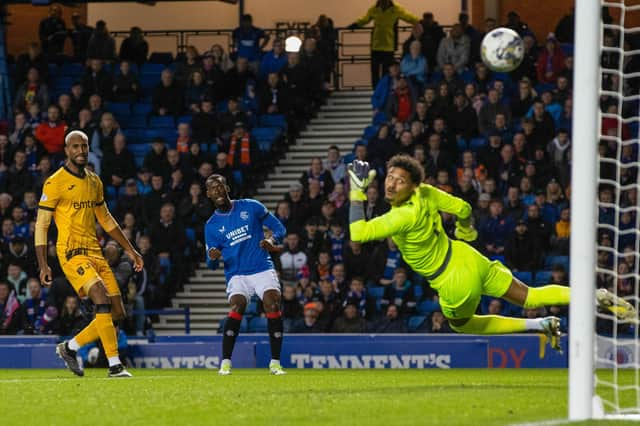 Bears, I'm kidding. Sort of. It did, however, take me 47 years. From 1971 to 2018. I wasn't there every season - nothing like. And I have to say that when it finally came along the award was dubious. And we almost missed.
What is beyond dispute is that Ibrox is a proper, grown-up, long-trousered football experience - complete sensory overload in one of our game's great citadels. If Rangers are going well and the match is in full swing it is a frighteningly exciting place. The howls of derision when something interrupts the regal procession towards yet another victory - a foul or, yikes, the concession of a goal - can be thunderous.
Back in '71, pre-segregation, I stood with my father on what was the terracing opposite the main stand, Rangers supporters all around us. I can scarcely believe this now but I was wearing a scarf in my team's colours knitted by my mother which was even longer than Tom Baker's when he was Doctor Who. When our centre-forward's header struck the square-fronted crossbar but didn't bounce straight back into play and instead popped over the line, the sheer elemental force of Govan's outrage threatened to blow the roof right off. You won't be surprised to learn that this middle-class wimp thought about trying to stuff his scarf into his anorak, realised this would be as futile as wrestling a cobra and so stayed silent.
Fans can shout and scream for their team (or stay silent). It is their passion-fuelled right. At key moments they are not deliberately trying to influence the referee; the din they make is purely instinctive. But influence it does. Or so millions of away supporters at big, intimidating arenas have always argued, and that is their right.
I wasn't at Ibrox last Wednesday and so can't speak for the decibel level of the cheers which greeted Rangers' opening goal in their Viaplay Cup win over Livingston. Fans are hardly likely to be circumspect in their acclaim for any advantage gained by their team, but I'm sure that even though the ground was only three-quarters full, and even though there's been grumpiness over recent performances and results, the din was loud enough.
Loud enough to crush any doubt? Livi manager didn't come right out and say this, but he insisted there was a "blatant foul" in the lead-up to Abdallah Sima's strike and his next words will have chimed with many visitors to places as daunting as Ibrox down the years: "I can't believe the goal was given … and can pretty much guarantee that we're not getting that if it's at the other end of the park."
There is no criticism of Rangers fans here; supporters of all clubs reserve the right to be subjective in their judgements, even myopic. Criticism of referee Willie Collum is tempered by the fact he wasn't able to dial up action replays. But the footage was available to Nick Walsh, in charge of VAR, who chose not to intervene.
Ah, VAR. It was supposed to settle such disputes definitively and be the final arbiter. Quieten down at the back, controversy over. Well, not in Scotland it's not. And certainly not when a competition like the Viaplay Cup doesn't take place on a level playing field with each tie being adjudicated in exactly the same manner.
Two of the quarter-finals had VAR; the other two did not. At Easter Road, St Mirren hands shot up in protest at Martin Boyle's late goal putting Hibernian ahead but there was no chance of any offside claims going to video review. In Dingwall Malky Mackay was convinced VAR would have resulted in red cards for two Aberdeen players and possibly a different outcome in the tie with his Ross County.
Either we're all in with VAR or we're not. It can't be piecemeal otherwise outcomes can be disputed, triumphs tainted and asterisks may be required. I know that for smaller clubs the cost of installation is prohibitive but by the time a national tournament reaches the last-eight stage there has to be universality. In extreme cases, half-VAR and half-not might not be all that different from games having different-sized goals or with strikers being restricted to scoring with only one foot.
But … and in Scottish football there's always a but and here's what I think is a good one: if an Ibrox crowd at its ragingly, roaringly rumbustious can immobilize technology is that not something of which we can be proud?
I know that VAR is operated by humans but still, doesn't it strike a blow for we who are dependent on blood surging round our bodies in the eternal struggle of man vs machine?
The ongoing anxiety if not downright panic of a future ruled by AI has been desperate for evidence and some sign that homo sapiens are not going to become redundant or at the very least subservient to new overlords created from super-sophisticated circuitry, the role we once envisaged for robots.
Well, maybe this is it. The moment to pause and reflect on just who, or what, should hold sway in football and that other slightly less-important realm, life itself. Maybe in the battle of bear vs machine there is only one winner.
Comments
 0 comments
Want to join the conversation? Please or to comment on this article.