Aidan Smith: If I can't get to see a game in the raw soon I may go off the whole idea completely
Did you see that story about Deveronvale supporters getting round Covid by watching their team from ladders? It made me smile until I read the last line. "It's disappointing that some fans have done this," said the Highland League club's president.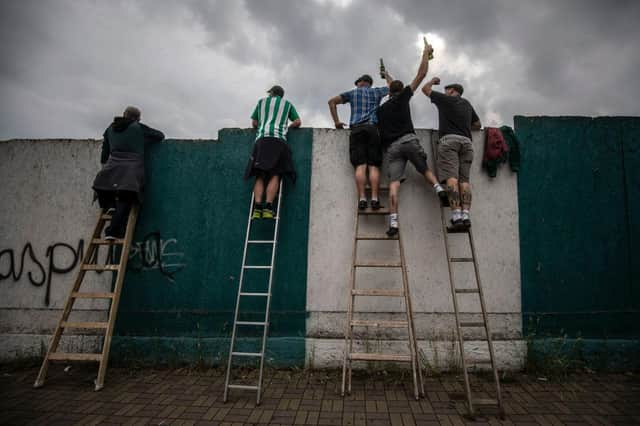 I mean, yes, okay, pandemics must have rules and Health & Safety probably won't have been too pleased either, but weren't these guys demonstrating their love for the team and how much they miss them?
It's not known if, to get to Princess Royal Park, they walked through Banff each with a ladder over their shoulders which I suppose might have posed a hazard for the Christmas shopping, the Saturday afternoon alternative the fans were obviously going to great lengths to avoid.
But I'm sorry, this just makes me smile. It evokes the memory of an old Eric Sykes movie, classic slapstick and virtually silent, revolving round the mishaps which befall some accident-prone workmen. [That film was called The Plank, not The Ladder, you plank - Sports Ed]. Or Laurel and Hardy encountering similar difficulties in arguably their greatest two-reeler when they were defeated by another inanimate object made of wood. [That wasn't The Ladder either - it was The Music Box].
Well, how do we know the Deveronvale fans weren't spaced out along the stadium wall the regulation two metres apart? I'm sure if I was watching a game from a ladder and others were doing the same I'd want to be a safe distance away. The others can fall off theirs if they like - they're not taking me down with them.
I reckon that the Deveronvale effort - nothing if not ingenious - was merely a reaction to how close we can appear to be to getting back inside grounds and yet how far away that prospect still seems.
In Scotland, on TV, we are seeing football being played in front of fans again. In England it's just 2,000 in selected stadia, but what a difference they're making to the atmosphere and sometimes the outcome. There was Jose Mourinho the other night grumbling about the huge advantage Liverpool would hold over his Spurs side because the Kop would be roaring once more. But this, for now, is the privilege of being the home team, as Liverpool almost found to their cost last weekend at Craven Cottage when Fulham were suddenly energised by their fans' presence.
Here we're still waiting for Nicola Sturgeon to inspect the hordes and declare them to be no longer a threat to civilisation. Doubtless Celtic supporters will be glad this wait will extend past the next Old Firm game at Ibrox on 2 January so Rangers don't have the advantage of a small but doubtless near-hysterical clump of their support intent on urging their favourites to halt ten in a row.
Now I've got in my head an image of fans on their hands and knees crawling along Copland Road, their red, white and blue matchday attire reduced to rags after nine long months of being denied this most life-giving of liquids - then finally glimpsing a shimmering outline of the stadium and gasping: "Bovril!"
But, with Deveronvale's hardy band wobbling on ladders, at least until they were ordered down, I'm also thinking of splendid and unusual and precarious vantage-points for taking in a game.
Fans perched on trees for the cup visit of a big team to a small town, silhouetted black like ravens as if forming part of the scenery for a horror B-movie, possibly how the tie turned out for the expensively-assembled favourites who just didn't fancy it. Fans clinging to roofs of factories (buildings which once upon a time more half the country called the workplace and where things were made - ask your dad about them). And fans draped from floodlight pylons.
Of all the images of supporters risking life and limb to see the action, this is the most evocative. And perhaps our most famous game of this type is the league match at East End Park on 30 April, 1968 - three days after Dunfermline Athletic had won the Scottish Cup and Celtic had been confirmed as league champs. Reports claim that 50,000 Celtic fans journeyed to Fife and the official attendance of 27,816 is still a ground record. But managers Jock Stein and George Farm had to plead with supporters to come down from the pylons, also the enclosure roof, and play was stopped twice to attempt to ease the crush and for treatment to injuries in the crowd. Tragically one fan fell to his death.
In the past not every supporter needed to take such risks for in their original configuration Easter Road, Tynecastle and some other venues offered brilliantly unobstructed - and entirely free - sitting-room views from just across the street. At my most obsessed, I yearned to live on top of a stadium like this, able to observe every training session when these were held on the pitch, every closed-doors game and reserve fixture and - yes - every plunge of the grumpy groundsman's fork. What a shame the new stands have blocked all of this off, especially at Tynie where a select few along Gorgie Road once enjoyed the best tenemental football vista to be found anywhere in the world.
Now, I'm not as obsessed as I used to be but here's the thing: fan-free football on TV is scunnering me and if I can't get back to a game soon there may be a risk I'll go off the idea altogether. So, rules are rules, but: you lot up at Deveronvale, any spare ladders?
A message from the Editor:Thank you for reading this article. We're more reliant on your support than ever as the shift in consumer habits brought about by Coronavirus impacts our advertisers. If you haven't already, please consider supporting our trusted, fact-checked journalism by taking out a digital subscription.
Comments
 0 comments
Want to join the conversation? Please or to comment on this article.