Aidan Smith: How Kieran Tierney stunned England with a poly bag
Ex-Celtic man is not as posh as David Beckham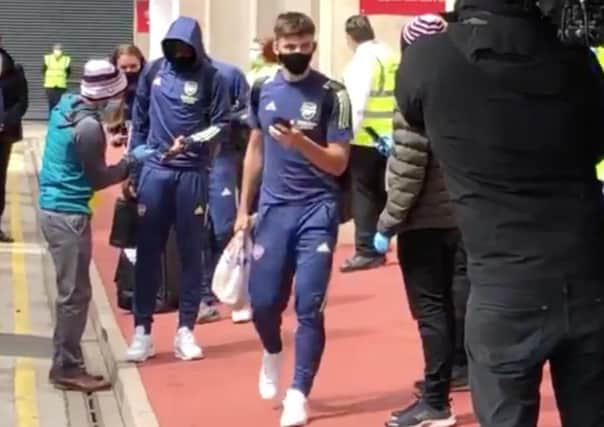 How much significance should be attached to Kieran Tierney's alternative means of ferrying his toiletries from home to stadium? Some desperately want to believe this is a turning-point for football, the moment when it draws back from disappearing up its own backside. Others contend that when all's said and done, at the end of the day (Brian), a Tesco poly bag is just a Tesco poly bag.
Before Arsenal's game at Sheffield United, the Scotland defender was photographed with said carrier about to enter the dressing-room. Other team-mates were pictured, their wash-bags out of view, but it's a pretty safe bet they were high-end and designer-labelled.
Some Louis Vuitton or Gucci, perhaps, that's what footballers like, and they all tend to like the same things and copy each other. Who was first to sport headphones for that stroll from the bus, short enough but still with the risk of having to engage with ordinary folk – and who was first to pretend to be on their phone? Both these moves would be condemned as depressing evidence of the people's game coming adrift from the people and you don't see so much of either now. But the ponce pouches are still flourished. "Hey, Great Unwashed – do you know how much this wash-bag cost?"
Enter, then, Tierney lugging his Tesco bag. The supermarket giant must have loved this and is surely signing him up for their big Christmas TV commercial. Perhaps anti-plastic campaigners would have been disappointed with the prominence given to the bag as the snap went viral but surely they were pleased by Tierney's resourcefulness. He'd acquired the bag for one purpose – we can speculate on which brand of lockdown biscuits are his favourite – and was re-using it for another.
For this simple act the ex-Celtic left-back has been hailed as an unassuming, unpretentious, un-self-absorbed, un-everything, humble, honest-to-goodness old-school footballer, the likes of which the game hasn't seen for far too long.
Doubtless Tierney will think this funny. He may be inclined, in the spirit of Lady Bracknell, to exclaim: "A Tesco bag?!" He was rushing out the door, grabbed the first transporter he could find. So, it was a stored-branded bag. Doesn't everyone have them lying about the house? Wouldn't everyone – every footballer – not think twice about using them for such a basic task? Evidently not.
The apotheosis of wash-bag culture – the nadir, I mean – came in 2013 when Gareth Bale encountered Cristiano Ronaldo in a Madrid car park, each carrying a dinky, vastly overpriced mini-holdall. The photo could have been the runner-up in Europe's Metrosexual Man of the Year Contest congratulating the winner. In fact, the Welshman had just signed for Real and the self-styled world's greatest wanted to find out what £85 million had bought his club.
Or, what Bale kept in his wash-bag."I'll show you what's in mine," Ronaldo might have been saying, "if you show me what's in yours?" But really, they looked like participants in a Monty Python sketch, about to engage in a duel with improbable weapons such as wet fish or lupins ("Stand and deliver: your lupins or your life!").
Then, four years ago, wash-bags were in the news again: "Everton's Seamus Coleman says Louis Vuitton wash-bags are 'what's wrong with football'." The Goodison right-back despaired of young players coveting the accessory. "If you're the only young lad in the changing-room without one then you'll feel the pressure of needing to go out and get one – even if you don't want one, even if you don't like the things," Coleman said. "They'll feel they all need to have the best to look good on Instagram but that's not what football is about. It's about training well and playing well on Saturday. This is all wrong."
Is it only full-backs who're compelled to take a stand against wash-bags? Perhaps, but you needn't detain yourself too long wondering who started the trend. The Coleman story reported that David Beckham was rocking LV – if douchebags could ever constitute rockingness – back in 2004.
Perhaps young players are still influenced by Becks, but I say to them: beware, not everything he has touched has turned to gold, and he may be losing the knack of being ahead of the cultural curve. For instance, he's just been granted planning permission for a secret tunnel leading from his home in the Cotswolds. The "underground escape route" was written up as vital news as if it's going to become the latest celeb must-have mod-con, which will probably please the publicity-obsessed Becks, but the tunnel ain't secret anymore.
Back to wash-bags: what the heck is in them? Were they flourished by players back in the era evoked by Tierney's unconscious gesture, there would be a fair old contrast between then and now. Now, the bags will doubtless contain all manner of grooming products, moisturisers and unguents, maybe nose-hair clippers, eyebrow trimmers and possibly even DIY kits for back, sack 'n' crack.
This is, as Coleman remarked, the Instagram Age. Back in the Instamatic Age a footballer's little knapsack, should he have carried such a thing, would perhaps hold a stud key, a lucky charm, a couple of Senior Service for pre-match nerves, some Murray Mints to get rid of the smoky breath – and if you're lucky a tube of bog-standard deodorant.
Tierney would almost be entitled to the full range of narcissistic aids – the Tesco bag itself buys him that right – but somehow I don't think he does. Playing for Celtic, he always seemed like a conscientious young man full of drive and ambition with no time to stop and look in the mirror. The poly bag has stunned England partly because he's at a club where over-pampered and under-performing players have been criticised, not least the £350,000-a-week Mesut Ozil.
Scotland has also sent John McGinn to the Prem and he's been teased by his Aston Villa team-mates for having modest wheels. His reason? "I wouldn't own a car my mum would be too embarrassed to get in."
We've produced the odd player who fancies himself rotten, of course, but that's not a charge you could lay at these two.
Meanwhile, if Tesco don't nab him, maybe throwback Tierney could star in a revival of those old soap-on-a-rope ads for Brut. With his old mate Scott Brown the pair could splash it all over like Kevin Keegan and 'Enery Cooper.
A message from the Editor:
Thank you for reading this story on our website. While I have your attention, I also have an important request to make of you.
The dramatic events of 2020 are having a major impact on many of our advertisers - and consequently the revenue we receive. We are now more reliant than ever on you taking out a digital subscription to support our journalism.
By supporting us, we are able to support you in providing trusted, fact-checked content for this website.
Comments
 0 comments
Want to join the conversation? Please or to comment on this article.