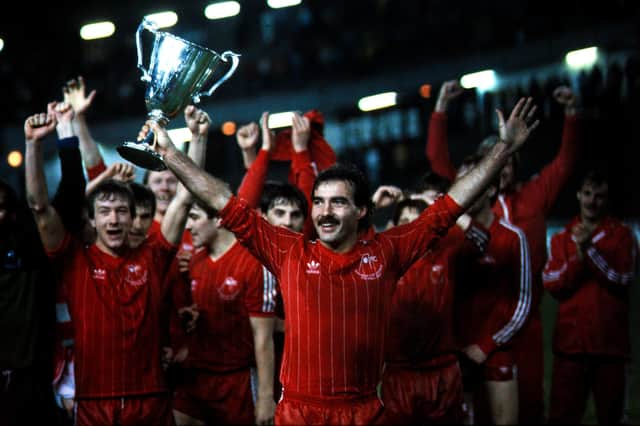 You see, two of the most macho characters in Scottish football - maybe Nos 1 and 2, indeed - are synonymous with hairdryers and I'm thinking of them both right now.
They are of course Graeme Souness and Sir Alex Ferguson. Souness used to buffet his barnet with 1,500 watts in the room he shared with Kenny Dalglish. Doubtless he was in front of the mirror in the skimpiest of pants, gold medallion round his neck, and all of this plus the Italian cologne on the shelf but mostly Souness' ownership of a hairdryer, persuaded his pal in the belief that he might be gay.
More recently, Souness's blasts from the pundits' studio have been one of the main reasons for owning a subscription to Sky Sports, but last week he signed off. No more will he excoriate midfield faffing, sideways passing and the game not being quite as good as it was in his day.
Fergie's hairdryer was of course metaphorical. We all have a cartoon image of him purple-faced and screaming at some poor unfortunate, the victim about to topple backwards with the sheer force. Well, guess what? This plays down what actually happened when the greatest manager of them all got angry.
"It wasn't so much a hairdryer as a pyroclastic blast," reveals Mark McGhee in a documentary coming to the BBC Scotland channel on Thursday. "And that was what did for Pompeii."
You get a better standard of quippery from guys who stuck in at school then stuck it out at uni for an architecture degree. Maybe McGhee should become a pundit. He certainly looks and sounds a whole lot better than the last time we saw him, all dour in the dugout at Dundee. He's let his hair grow and those curls, have they been teased with a … hairdryer?
But enough about them and more about the Dandy Dons. They're the subject of Aberdeen '83: Once in a Lifetime, Thursday being the 40th anniversary of Gothenburg. This is a fantastic story, one of our very best, and Fever Media, Motif Pictures and everyone involved have done it proud.
A different time, 1983. Sexuality, or the perception of it, was black and white. Rigorous management of one's staff was simply rigorous management of one's staff, so this was an era that Dominic Raab might have enjoyed.
For as Gordon Strachan says of Fergie: "He might have been the biggest bully in the world. Did we ever call him a bully? No, to us he was someone who pushed us to different levels and thank goodness we met him."
Before this force of football nature, Strachan was languishing in Aberdeen's reserves and by his own admission "floating about, thinking I was a player". Pre-Fergie, the Dons would turn up in Glasgow and be beaten by the Old Firm. He ordered them to toughen up. Strachan again: "'If I see four Celtic players surround the referee,' he told us, 'then next time it's got to be five of yooz.'"
Half of the Pittodrie squad contribute and for those not of a sheep persuasion, nicknames are revealed. Strachan is "Wee Man" and rather less obviously McGhee is "Dingus". Then there's Willie Miller ("Head Waiter") and Alex McLeish ("Big Red"), both men weel-kent. Remembering Neale Cooper who died in 2018, McLeish adds to the tributes: "He looked good as well." Miller, though, breaks down and halts the filming.
Big characters like Doug Rougvie and Stuart Kennedy - a highly amusing interview subject, nickname of "Petrocelli" for being legal-eagle sharp when bonuses had to be negotiated, missed Gothenburg through injury - are absent. But normally we never hear much from Neil Simpson ("Simmy") and John Hewitt ("Howitzer") so their presence here is most welcome.
Simmy - a player dogged by a dark shadow but in reality soft-spoken and smiley - offers further insight into Fergie's absolute will-to-win. Killing time before the Cup Winners' Cup final against Real Madrid, there was a quiz. What's the biggest name in Scottish football? The answer was Hamilton Academical but Miller was overruled by the boss because he'd added a rogue "s".
According to McGhee, players were allowed to question Fergie's decisions. Strachan: "The arguments never lasted too long because there was only going to be one winner." McGhee again: "Out on the pitch you were only trying to please him. If you didn't play well or made a mistake it was him you were letting down. And he was brilliant at making you realise that."
In the grainy archive footage, the city's granite walls look even more grey and to the European opposition in '83 they must have been uninviting. Uli Hoeness, the general-manager of quarter-final rivals Bayern Munich, declared before the tie: "There's no way Aberdeen can beat us." But in the tunnel before kick-off in the first leg, goalkeeper Jean-Marie Pfaff was worried: "None of them have any teeth!"
Presumably, then, there wasn't much chittering when Fergie, to liven up training, ordered the players down to the water's edge behind Pittodrie. The North Sea is perishing, more so when the sand is covered in snow. "A fabulous facility," laughs McLeish. Even the hard, hard manager complains a few times of feeling the cold during the run to glory. Hairdryers would have been handy but weren't available.
Aberdeen '83: Once in a Lifetime, 11 May, 10pm, BBC Scotland channel and iPlayer.