Aidan Smith: Gordon Banks, Martin Peters, Alan Mullery, you're boys took a helluva beating (once upon a time)
Funny the places your mind will wander when you'd rather be anywhere than watching your team being thumped. On Wednesday night I was remembering a classic Lenny Henry sketch, his spoof of Michael Jackson's "Thriller" video, and between the fourth and fifth goals I YouTubed it.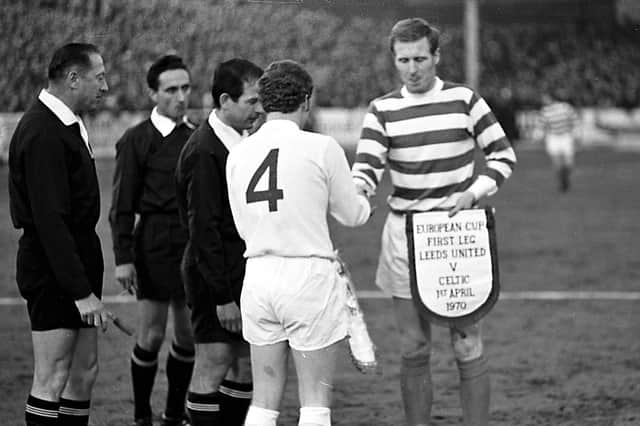 Classic? Hilarious? Hmm. Henry struggles for rhymes until, mist enveloping the graveyard, he sings of the dancing zombies that they "look as if they're fans of Aston Villa, ooo ooo ooo".
Can Hibernian be the undead in the second leg of the Europa Conference qualifier? Will arms shoot out of the ground and snare the fleet-footed EPL superstars, schlocky-horror style? Never going to happen. The only question remaining is whether Malmo's nine will be topped for the old Euro pioneers' worst-ever aggregate result in continental competition.
Henry's send-up has not aged well and neither have those "Battles of Britain" which used to fire the imagination, particularly on this side of the border. Once, Celtic could beat a Manchester United team managed by Sir Alex Ferguson and featuring Cristiano Ronaldo and Wayne Rooney. These days Rangers can concede seven at Ibrox to an erratic Liverpool. When it's a Scottish club against one from England we fear the worst, self-flagellate over allowing ourselves to get carried away with stirring tales from history - and hope that no one checks the Barnett formula too closely.
There were plenty of expressions of regret about how last Wednesday went down. Not just from wobegone Hibs fans but many who remember when the Scotland-England club rivalry was special. The former punk fanzine scribbler Danny Baker who graduated to TV as an all-round wit, is the same age as me and he remembers. He messaged: "Hibs beaten 5-0 at home by Villa tonight. It should have been more. The gap between Scots and England clubs is now insurmountable. A real shame. The rivalry was once intense, crucial and exciting. Now it's just a hopeless mismatch."
Villa's wage bill is £120 million, Hibs is £3.8 million. That's a state-of-the-art, go-faster, kick-harder football boot placed alongside a sock tie. A luxury all-mod-cons awaydays coach next to a mudflap. An entire hospitality suite feast with pints of beer poured from the bottom up versus just one pie. A mismatch for sure. And it's only ever going to be surmountable if the Saudis were to suddenly kill their Pro League and pitch tent in Scotland. (Unlikely, and by the way, unwanted).
Despite the discrepancy, obviously huge, Hibs disappointed. The manager wanted them to at least be bold but they seemed overawed, almost cowed, by the glitz and glamour of their opponents who were good but hardly sensational.
The crushing result prompted much grumpiness in Scotland, but as is typical of our football, wild black humour too. Then a biteback containing some truths. One wag suggested to Baker that it was English club football which had declined, in spiritual terms at any rate. The top flight had "sold its soul a long time ago. Sad to see it so disconnected from its fans". Another agreed, calling the EPL a "tourist league".
Humphrey Plugg - great name, from a Scott Walker song - insisted he wasn't envious of England's riches: "Never cared less tbh. More and more happy with Scottish football's lot with each passing year when you see what's happening in England. Far from perfect etc but phrases such as 'legacy fans' and 'sportswashing' are not remotely part of our lingo. It's nice."
The sentiments were echoed by Dave the Dunfy Dandie: "My local team were once able to beat Everton and West Brom as well as getting to European semi-finals. The club game has changed so much since these days but I still know where I want to be on a Saturday afternoon." Well said, that Dunfermline Athletic fan.
The last time Hibs jousted with an English team in Europe was against Liverpool in 1975. After winning at Easter Road, they were still leading at half-time in the Anfield return thanks to a goal from Alex Edwards. The Guardian's report commended their "bravery" in what was a "magnificent" match, Bob Paisley's men eventually squeezing through.
Previously Hibs had lost twice over two legs to the mighty Leeds United, the first time after being caught out by the brand new goalie four-step rule, the second by the width of a post. But Leeds would be undone by Celtic in the most famous of cross-border skirmishes under a continental banner.
In 1970 there wasn't a game which excited a Scottish schoolboy more than the second leg of that European Cup semi-final. Here were the stars of Shoot! magazine - including all Leeds' Scots - on parade in Glasgow, upgraded to Hampden, with the crowd listed as 136,505 but for certain it was even bigger. "What a noise those people made," the great Eddie Gray told me. "Do you know that before kick-off the away dressing-room was actually vibrating?"
I've still not mentioned the Texaco Cup. Morton vanquishing WBA, Ayr United pummeling Newcastle United, Hearts' thrilling comeback against Burnley, Motherwell despatching Gordon Banks and Stoke City, the Steelmen triumphing against Tottenham (the Martins, Peters and Chivers; the Alans, Gilzean and Mullery) … and Airdrie.
The Diamonds thrashed Huddersfield Town, beat some mob called Manchester City home and away and in 1972 lost the final narrowly to Brian Clough's Derby County. There was a bit of a rumpus afterwards when the Rams rushed off, leaving the Broomfield tea-lady's spread untouched. Wars have been provoked by less. Airdrie manager Ian McMillan said: "I was proud of the lads. I don't think they let the club, or Scotland, down."
Those were the days, and I bet those meat paste sandwiches were splendid.
Comments
 0 comments
Want to join the conversation? Please or to comment on this article.