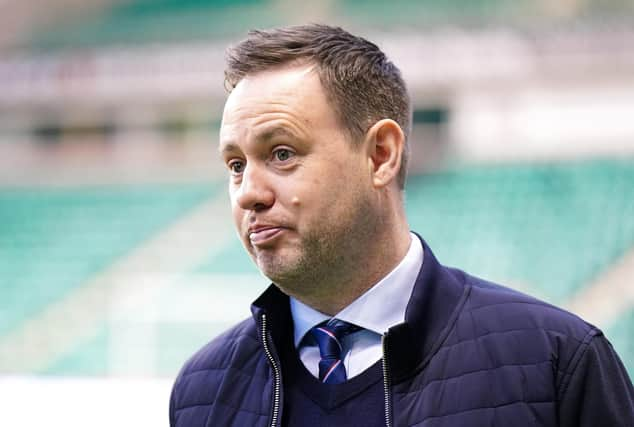 Oo-er, what's going on? Nothing we haven't witnessed before. Scottish football is having a moment. Its future is being keenly debated. Levein kicked off what by my reckoning is the 1,472nd edition of this never-ending story by proposing the Old Firm move to England. This would improve the game for the rest, he said. And so keen is he to see this happen that "I would absolutely drive them down there myself".
Beale since he took charge at Ibrox has joined the conversation whenever asked and his contributions have been good. In response to Levein he didn't address the proposal directly, but offered: "If people like Craig feel something, can't we get more of them in a room [which would] give us a plan moving forward?"
Car or room? Expanded league or as you were? Tomato (if you can find any) or tom-ay-to? Should the Old Firm stay or should they go? ("The indecision's buggin' me," sang the Clash). Almost every idea has been mooted, then thrashed around endlessly. All avenues have been explored, all one-way streets and cul-de-sacs too. There is nothing new under the sun in a country which prefers glowering grey skies. But that's never stopped us looking for a potential solution.
On the subject of the state of the game and how long it can continue in its current format, minds tend to be exercised most when Old Firm are being least exercised out on the parks. Simultaneous skelpings of the nearest challengers and we get anxious.
In the space of three days, Celtic twice saw off Hearts, who are third, by a combined score of 6-1. Hibernian - fourth and apparently resurgent - were to represent a threat to Rangers but Beale's men left Leith with a 4-1 win which really should have been greater.
So what's to be done? Levein's proposal has one obvious flaw. That the Old Firm be assimilated into English football has possibly been mooted 865 times but our friends in the south have not shown the slightest inclination to want to take them.
There's sometimes been the odd random English voice in agreement, and usually this has been a semi-retired pundit like Harry Redknapp. He said last week it would be "magnificent" if Celtic and Rangers came, but was forced to add: "Of course, this has been floated about for years."
The bold 'arry then turned to the Scottish clubs left behind and what their prospects might be like in a post-Old Firm universe. "You'd have a chance to win something if you're a Hibs or a Dundee United," he said. Has he checked on these teams' form this season? Probably not your actual Hibs; definitely not the real Dundee United.
North of the border, where we know the lie of the land rather better, Livingston manager David Martindale has joined the discussion but unlike Levein he's a remainer. That is, his futurescape has the Old Firm still very much among us, only in an enlarged top flight.
He said: "Is it time to look at restructuring? I think it is. Would [clubs then] be blooding more young players in the Premiership? I think they would." So enlarged by how many, Davie? "I would like to see 16 teams but pragmatically I think it would need to go to 14."
Ah, but then Scottish football - not for the first time and in fact probably the 761st - is confronted by the elephants in the room. Four of them, one for each of the occasions when Celtic and Rangers slug it out in the league. The jewels in the bunnet. The reason TV - currently Sky - chucks money at our game. The reason indeed we're all here.
Martindale has stressed that four Old Firm matches must, because they're so lucrative, be guaranteed under any enlargement of the league. But if Celtic and Rangers are to play each other four times then everyone must play everyone four times.
Beale, addressing a few issues last week, stated that the split is "unfair". Well, it would be more unfair if the Old Firm continued to the power of four and, just because that fixture is the top draw, the rest didn't. Then they really and truly would feel like grouting, or mere fluffers.
But, the split notwithstanding, if it remained four meetings all round, and with a quartet of additional teams involved, exactly how much Scottish football could even the most devout nutter find room for in his life?
With respect to those cousins over in Ayrshire, I struggle to get excited by my team facing up to Kilmarnock on four occasions. An additional four against Ayr United is unlikely to improve my mood. And by the way, I would completely understand these two clubs of grand tradition being underwhelmed by having to get so familiar with my rabble.
So, say Beale got his way and the split was abolished. And say Martindale got his way and the league was 16 teams. And, for the sake of fairness, every team played every other team, then met them again and again and again. Think of all those extra Sportscenes, all those additional Open all Mics. Think and weep. If this was to be how Scottish football envisages its bright and shining new tomorrow then I'm going to be nicking Craig Levein's car and driving far, far away. There will be some room in the boot and a couple more of you can hang off the roof rack.