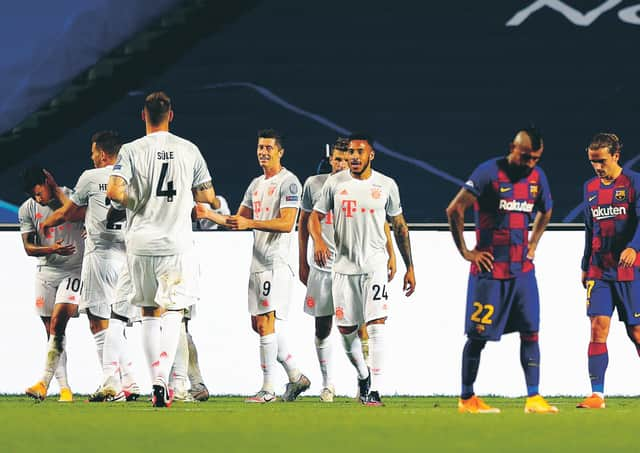 Bayern Munich's hammering of Barcelona was a seminal moment. Picture: Rafael Marchante/Getty Images
There's a scene in Monty Python's The Meaning of Life which I'm sure you know well. It's the one in the restaurant, John Cleese as the maitre d'
and Terry Jones as the diner, and recently it's made me think of the Champions League. Not this year, though.
Jones is enormously, waddlingly, ridiculously fat. He can't eat another thing, can he? John Cleese tries to tempt him: "Zis afternoon we have monsieur's favorit: ze jugged hare. Ze hare is very high and ze sauce is very rich with truffles, anchovies, Grand Marnier, bacon and cream." You remember what happens next: Jones explodes.
The Champions League was looking like it might explode. Too many teams and too many meaningless games. I'm imagining that the Uefa working lunch to decide whether to expand the tournament took place at the same restaurant and that everyone ordered the jugged hare.
But look at it now. It's been on a post-lockdown crash diet and the results are sensational. The greatest – club – football show on earth is living up to its billing at last. By dint of the quarter-finals onwards reverting to single ties, the tournament has gone from a bloated, overblown gargantuan to a sexy beast, from an oil tanker to the fastest yacht in the marina.
When the closing stages were rescheduled for August, all in the one country, I envisaged a rushed, unsatisfactory ending to the competition. Players possibly not in the best condition fulfilling TV obligations.
Got that wrong. Big-style. Apart from Chelsea, already doomed, the teams tore at each other from the first whistle. Caution – and, it seemed, gameplans and systems – were hurled at the breeze. The teams performed as if their lives depended on it, certainly as if football depended on it – maybe as if these were to be the last-ever games before the sport was pronounced "extinct, ceased to be" like the Pythons' parrot.
The matches, including the delayed last-16 second legs, were wide open, manically fast, do-or-die. Percentage football? No chance. Old stagers like Juventus couldn't cope and buckled.
Real Madrid, all in white like summer-resort lotharios, possibly playing in espadrilles, normally walk into the Champions League final like they were walking on to a yacht – but they couldn't clamber aboard this yacht.
Would RB Leipzig have reached the semi-finals if the business end of the tournament had stayed at two legs? Possibly not. But it was heartening to see some new faces, halting the traditional procession of the same old, same old. Lyon were newish faces, of course, because they used to make a noise in the Champions League when their wonderful Brazilian Juninho was banging in free-kicks from preposterous angles and distances – back before all the expansionism.
Manchester City buckled, Pep Guardiola being unnerved by Lyon's verve and benching most of his flair – a strange case of the arrogance City had shown in challenging financial fair play deserting them on the pitch. Maybe Pep should have played those crack lawyers who got the club off their two-year ban.
Properly-constructed teams were succeeding, fading aristocrats of the game weren't – and neither were sides playing from memory with inferior personnel and hoping that football's greatest could save the day for the umpteenth time.
For, most spectacularly, Barcelona buckled. They've been failing in the tournament for a while, and going down to heavy defeats, but 8-2 takes some doing. A few years ago people were calling Bayern Munich decadent but Barça went and out-decadented them. A once-great team died in that game. What a story for the new-style, wham-bam, utterly ruthless Champions League.
Can it stay this way, please? Can we have it like World Cup knockout every year – no home advantage, no cat-and-mouse, no private members' club guarantees for galacticos? Ach, won't happen and I suppose we'll be back to jugged hare soon enough, but this has been the most tremendous fun.