Aidan Smith: Ange will take one look at the Spurs archway and go: 'Mate, this isn't Stars in Their Eyes'
As he gets settled at Tottenham Hotspur's swanky stadium, what do you suppose Ange Postecoglou's first task will be?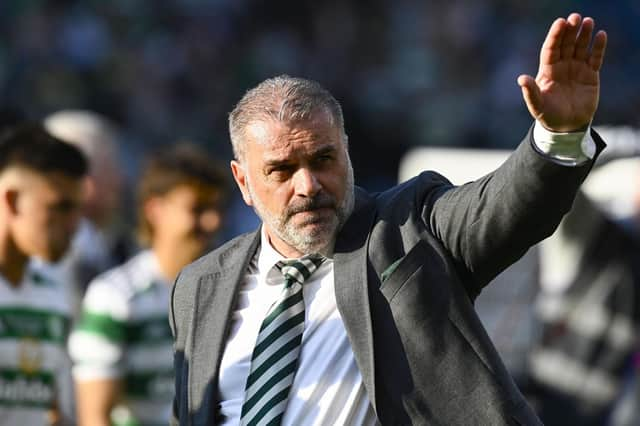 I don't mean produce Kyogo Furuhashi from a trolley-bag or wave off Harry "One of our own until Real Madrid come calling" Kane, although the former may arrive and the latter leave very soon.
No, I'm thinking about the archways leading from the changing-rooms to the tunnel. I reckon he might get rid of them. Or at least standardise them. Then in those gruff, don't-beat-about-the-bushwhacker Aussie tones, ask who the hell thought such level 1 psychological gimcrackery can still be effective in the modern game.
If you've never been up the Seven Sisters Road for a tour of Spurs' ground then you won't know what I'm talking about. But if you have, you'll remember those archways - one very big, one much smaller - and if your guide was anything like mine, the glee with which he explained their function.
This fellow had shown us the bars where the beer fills from the bottom of the glass and demonstrated the retractable grass pitch revealing the synthetic surface for NFL games underneath. The place is state-of-the-art and undeniably impressive, as it should be, given that £1 billion has been splashed on the upgrade from old White Hart Lane, but down where the players assemble pre-match my eagled-eyed son spotted what he was sure was a design flaw.
"Why are the archways different sizes?" I asked, as our group stood equidistant from them. The guide explained: "Both teams gather here to walk out onto the pitch but before that there's a moment when they're facing up to each other. The small archway is ours. Harry Kane, our captain, is a big guy but framed like that he looks absolutely massive. In the larger opening the opposition's skipper, no matter how tall he is, shrinks. Hopefully he's intimidated by Harry right away and we carry that into the game."
Who came up with this, Play School? On the old children's TV programme there would be mild intrigue as the young audience wondered which of three windows would offer up the latest filmed excursion into the outside world - round, square or arched. At the start of each edition presenter Brian Cant would ask: "Ready to play?" Maybe Kane, emerging as if from a doll's house, challenges teams like this. Well, last season it didn't really work. In the league, Arsenal, Liverpool, Newcastle United, Aston Villa and Brentford were among the teams who failed to be spooked by the optical illusion and left with three points. Spurs exited both cups early, got through three managers and failed to make Europe.
Or perhaps the idea came from Matthew Kelly. You know, the Stars in Their Eyes guy. And originally it involved a fog of dry ice and a minor theatrical explosion with Kane - done up like Elton or Marc Almond or Ricky Martin - declaring: "This afternoon, Matthew, I'd going to be the leader of a credible, serious top four team and we're really, really going to beat Bournemouth." Except last term they lost that one, too.
Even without studying Tottenham's recent record, I can imagine Postecoglou scoffing at this somewhat desperate attempt to cow opponents through architecture. Almost as desperate is the fact the home changing-room is luxurious while the away one has off-white tiled walls of the kind found in municipal swimming baths.
Surely he won't be impressed. His mantra, after all, is: "We never stop." It is most definitely not: "We never stop at our archway and think, hmm, you lot over there seem awfully puny. Are you sure you want to take us on?"
Ange may already have decided that the stadium's overarching theme has done nothing for Spurs' underachievement - the continuing failure to win anything - and booked a wrecking ball. Then, after having done away with these silly attempts to gain some advantage, he might want to check the staff lists to see if the club employ anyone who sounds like a fortune teller or a spiritualist or even a witch doctor - such must be the torment over their last trophy being the 2008 League Cup with the title of champions having eluded them for 62 years.
Do Tottenham have an account with Goop? Are they followers of the cult of Gwyneth Paltrow, sometime actress but these days more and more the wellness guru behind vaginal steaming and rectal ozone therapy? Somehow, you imagine the players trying her Psychic Vampire Repellent Spray, which is supposed to banish "bad vibes" - the kind which can invade minds before a tricky third-round away day in the FA Cup, a trophy Spurs used to hoist quite a lot.
Postecoglou has left serial winners to join a club who, in the harsh context of the EPL, are serial losers. Far bigger names and self-styled alpha managers like Antonio Conte and Jose Mourinho - the type who won't look at you when shaking hands or who might jab you in the eye - have failed in north London. Ange hails from a properly macho country but is too classy to be seen throwing his weight around on the touchline. Tottenham, though, have to try something different as, to quote Paltrow again, they seem to have consciously uncoupled themselves from the game's honours.
The stadium isn't all gizmos and whimsy. A link to Spurs' very beginnings is the Cockerel Clock and the local council have just granted permission for a new location on the street outside so it can welcome fans. Let's hope this is a sign that one of Scotland's favourite Aussies will be given that most precious of commodities in football management - time.
Comments
 0 comments
Want to join the conversation? Please or to comment on this article.