Serena Williams: what she said following Australian Open loss to Naomi Osaka - and could she be set to retire?
The 39-year-old was reduced to tears during her post-match press conference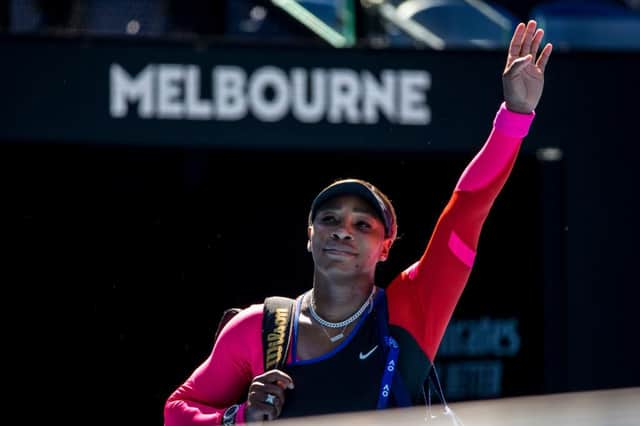 Williams, 39, bade a tearful farewell to the Australian Open amid questions about whether she may have played at the tournament for the last time.
Williams gave the crowd inside the Rod Laver Arena a long wave goodbye with her hand on her heart following her 6-3 6-4 semi-final defeat by Naomi Osaka.
The gesture prompted speculation about whether the 39-year-old would ever be back competing at Melbourne Park, where she has won the title seven times.
What did Serena Williams say?
In her post-match press conference, Williams, who had never previously lost a semi-final in Melbourne, responded to suggestions of retirement.
She said: "I don't know. If I ever say farewell, I wouldn't tell anyone. So…"
Williams then became tearful during the next question, a relatively mundane enquiry about her unforced errors during the match, and said: "I don't know. I'm done," before leaving the room.
Why is one more grand slam win so important for Serena Williams?
Williams once again came up short in her 11th attempt to move level with Margaret Court's record haul of 24 grand slam singles titles, and it is now a year-and-a-half since she made a final.
Her coach Patrick Mouratoglou has said that Williams is not "obsessed" with clinching the record, but he American has used the record as motivation to return to the court.
Some are of the mindset that if she equalled Court's record there would be no disputing her status as the greatest tennis player of all time.
Fans of the all-time great would argue that she has already secured that status, however.
How is Serena Williams' form?
Prior to the semi-final Williams was in exceptional form.
A big difference this fortnight has been Williams' improved movement and willingness to stick in rallies rather than go for winners too early.
Her power game, of course, remains her big weapon and she came out all guns blazing before fighting back from 1-3 in the second set after errors crept into her game.
Williams will be 40 if she appears at he next Australian Open, and old rival Justine Henin has argued that her rivals are starting to pull away from her.
Speaking on Eurosport, she said: "I think she was better 10 years ago. Also the impact she had on the other players, we were really scared to play Serena. She was impressive, she was winning a lot.
"The determination – I don't say she doesn't have the same motivation but her life also has changed. Physically she was also probably at a better level.
"She's 39, it's amazing what she's able to do, physically, mentally, but the game also has changed, it's getting faster and faster and all the players know they can beat Serena, she's going to be more pushed, and this is what's the hardest for her."