The Scots are in Newcastle to take on the world's number one side at Kingston Park in round one of the TikTok Women's Six Nations - and it would take a brave person to bet on the visitors causing an upset.
That is because England have dominated this fixture for many, many years, indeed just looking at the last five Six Nations fixtures between the sides dating back to 2018 shows an aggregate score of 285-23 in the Red Roses' favour.
The hosts come into this sold-out game after a Rugby World Cup final defeat to New Zealand in Auckland, but before that they had won 30 Tests on the spin which is a world record. Scotland, on the other hand, have lost nine Tests in a row since defeating Colombia early last year and are 10th in the world.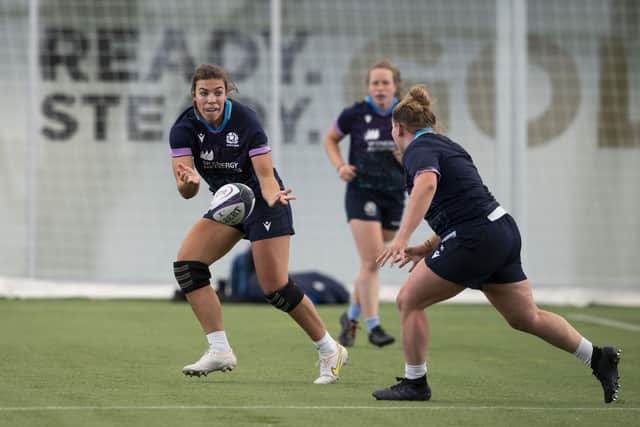 From those bare facts it is no surprise that second-row McMillan, the 25-year-old who will be earning her 40th cap, refers to the challenge as mammoth. However, she has already seen massive differences in the Scotland squad since 28 players were handed contracts by Scottish Rugby in December.
She is one of the 19 of those 28 involved in this game and she said: "Being professional has completely changed this squad.
"I think back to even the Six Nations last season when girls couldn't get a day off sometimes between matches because they were working, so it is really exciting that we now have a squad that feels like it is on the same level as other teams.
"Yeah, completely [we can go toe-to-toe with England]. I think this is a great opportunity for us we are all really excited to play. We really want to prove to everyone how much these contracts are making a difference and show that the more support that is put into us the better we will play. That is something the team is really passionate about, putting down a marker and building from here.
"England are one of the best teams in the world, there is no getting away from it, this is my seventh Six Nations and I certainly know what sort of mammoth challenge we will be up against. But we want to come from a point of difference this season and know that if we all execute our roles then we can put the performance out there that we want to".
Previously McMillan juggled playing for Hillhead Jordanhill in Glasgow with her Scotland commitments and her studies - and then work - in law. In recent months she has moved down south to play for Saracens and that, coupled with her Scottish Rugby contract, has really allowed her to focus on rugby and take her game to the next level.
She is one of three Saracens players in the Scotland matchday 23 while seven are in the England squad including debutante loosehead prop - and McMillan's flatmate - Mackenzie Carson. The match is a 4.45pm kick-off and is live on BBC Two.
Meanwhile, after the main event the Scotland Futures will be taking on England under-20 at the same ground at 7.45pm.
Scotland: Chloe Rollie; Coreen Grant, Emma Orr, Meryl Smith, Francesca McGhie; Helen Nelson, Caity Mattinson; Leah Bartlett, Lana Skeldon, Christine Belisle, Lyndsay O'Donnell, Louise McMillan, Rachel Malcolm (C), Rachel McLachlan, Evie Gallagher. Subs: Jodie Rettie, Anne Young, Elliann Clarke, Eva Donaldson, Eilidh Sinclair, Mairi McDonald, Beth Blacklock, Lis Musgrove.