Wales could be all the poorer for Alun Wyn Jones absence at World Cup
The most surprising news of recent weeks in rugby was the withdrawal of Alun Wyn Jones, Justin Tipuric and Rhys Webb from the Welsh training squad for the World Cup, the trio announcing their retirement from international rugby. The immediate assumption is by Warren Gatland that they would not be required for the tournament. This seems odd, however, Gatland can scarcely have learned anything new about them in the last couple of weeks.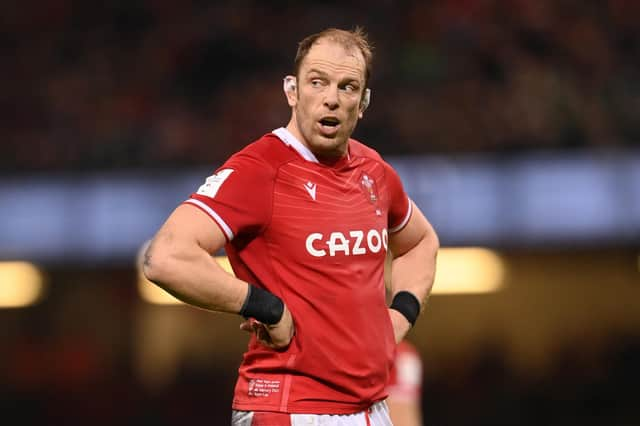 Whatever the truth of the matter, it's a sad way for their international careers to end. This is especially the case with Alun Wyn Jones, one of the greatest Welsh players of the 21st century who has been a heroic and inspiring play for his country.
We saw him first at Murrayfield in February 2007. It was a wet day with a nasty swirling wind. Scotland won 21-9 thanks to seven penalties kicked by Chris Paterson – Scotland hadn't then formed the habit of disdaining penalty goals and going to the corner in the hope of mauling their way across the try-line. Alan Wyn Jones was that day marking, or being marked by, Scott Murray and it helps to put his career in perspective if that one recalls that Murray, one of our finest locks, had won his first cap against Australia in November 1997 in a XV that also featured Alan Tait who, as a young Kelso laddie, had won his first Scotland cap in thee first-ever World Cup in 1987. How the years flit by.
I can't pretend that Alun Wyn Jones made any particular impression on me in his first Murrayfield appearance, perhaps not on anyone much, for a match report tells me that "Scott Murray ruled the line-out", but it wasn't long before he made his mark, scoring a try in his next match against us by handing-off our full-back Hugo Southwell and dominating the line-out. Indeed, Wales made a habit of beating us and he was at the heart of it.
Which brings me to 2017, and one of my many misjudgements. We had just beaten Ireland in a lively match, but, even so, were scarcely favourites against a strong Welsh team captained by Alun Wyn Jones. He didn't have a great game, either as player or captain, and even in the line-out came off second-best to Jonny Gray. Well, he was approaching the veteran stage, or so it seemed. He was surely about to shuffle off into the past, while Jonny Gray represented the future. I had no doubt that when the Lions Party for New Zealand was announced a few months later, Jonny would be on the plane and Alun Wyn Jones wouldn't,
Well, of course I was wrong, very wrong, had made an idiotic judgement, carried away by enthusiasm. I had also of course forgotten that the LLons Party would be selected by Warren Gatland, and he wasn't likely to prefer a still inexperienced Scot to one of his Welsh Old Reliables. Of course his judgement was proved right. The Lions drew the series 1-1, with the Third Test ending 15-15, and Alun Wyn Jones was one of the heroes. Jonny Gray wasn't in the party and still isn't a Lion – though there's time for him yet.
Still, thinking of all this, it seems odder still that Alun Wyn Jones won't be in the Welsh Squad in France this September. Wales have, after all, a fair chance of advancing to the semi-final or at least the quarter-final. Thanks to World Rugby's brilliant decision to name the pools and timetable three years ago, the bottom half of the drawn is, as everyone now know, much the weaker, and so Wales are in a happy position. But if the Welsh should go far, I can't but think that when the going gets tough, they will miss the experience, skill, determination and sheer bloody-mindedness of their Old Hero. The time for a new-look team is after the cup is over, not now.